Photo of girl scout standing up to Neo-Nazi goes viral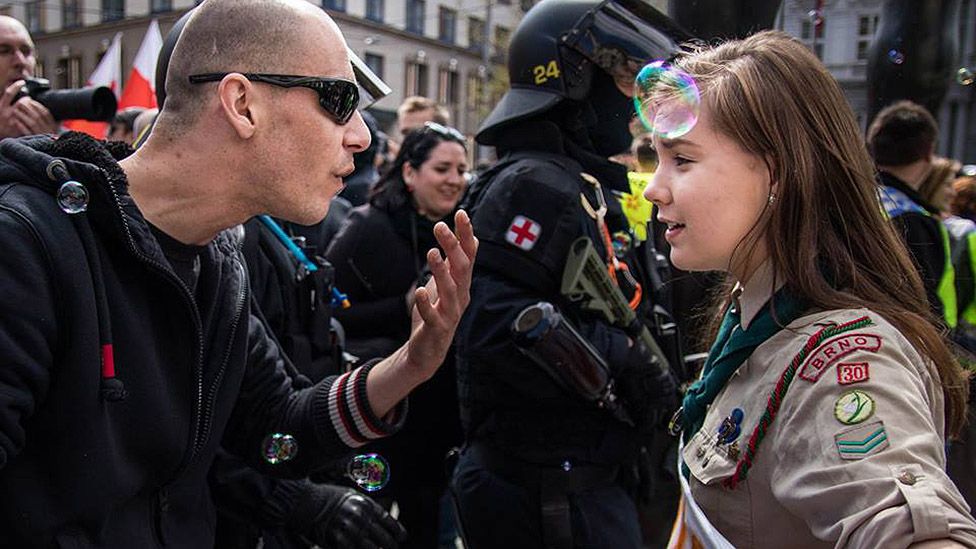 A photograph of a girl scout standing up to a Neo-Nazi at a protest in the Czech Republic has become a viral hit.
The image has been shared nearly 2,000 times since it was posted on Facebook by photographer Vladimir Cicmanec.
He took the picture when hundreds of people protested at a march organised by far-right nationalists, the Workers' Social Justice Party.
The 150 marchers were reportedly outnumbered by drummers, dancers and other protesters.
There were 11 arrests at the protest, from both political sides.
A video shot by another person at the protest, Honza Poboril, shows the girl stood calmly while the the Nazi she was photographed with speaks aggressively in her face.
May contain third party ads.
The girl in Vladimir's photograph was one of the people protesting against the far-right organisation.
"It all started with a guy from the anti-fascist side trying to explain that the concept of 'nation' is obsolete," Vladimir has told Newsbeat.
A comment left on the photo, seemingly from the girl herself, reveals the conversation that took place between the pair.
"He [the Neo-Nazi demonstrator] asked me why they [immigrants] came up here, and why they came exactly here and that they would take our money and that they would rape me," reports The Daily Dot.
"I think none of what he said can be considered an argument."
Other photos show the unnamed girl scout holding a sign which translates as 'We will raise your children' and posing with other scouts at the protest.
Find us on Instagram at BBCNewsbeat and follow us on Snapchat, search for bbc_newsbeat