'Luxury' Fyre Festival is cancelled with ticket-holders still stranded in Bahamas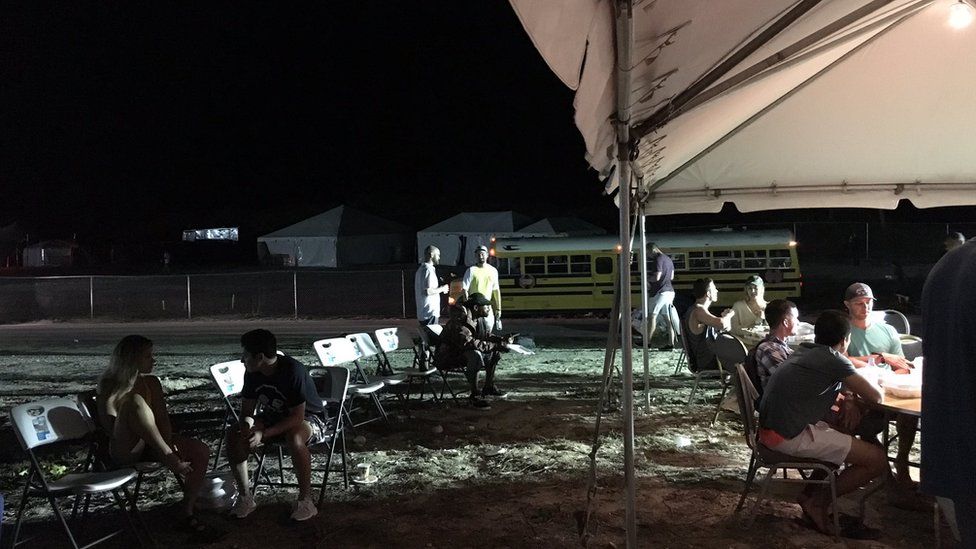 A luxury music festival in the Bahamas, with tickets costing up to $12,000 (£9,200), has now been officially postponed after reports of no security and cancelled flights.
Fyre Festival, co-organised by Ja Rule, promised a "cultural moment created from a blend of music, art and food".
Tickets included a flight from Miami, a stay in a "geodesic dome" and activities including yoga and kayaking.
Festival-goers have described the event as a "complete disaster".
Now organisers have officially cancelled the event.
William N Finley IV has been documenting his experience of Fyre Festival on social media.
"Night has fallen, we have no luggage," William later wrote.
Earlier Fyre Festival made an announcement on Instagram, saying flights to the event had been cancelled.
"Things got off to an unexpected start at day one of Fyre Festival," they said.
Blink-182, who were set to be headlining, pulled out of the festival on Thursday.
Major Lazer, Skepta and Disclosure were all set to perform as well.
For those still on the the Exuma islands, where the festival was being held, organisers said assistance would be available.
"We are working to comfortably accommodate guests and deliver a great experience," they said.
"If you have needs, please head to the Blue House on the main festival site. Security, first aid and Fyre Festival staff are here to assist immediately, 24/7."

Some people are still trying to leave the festival but getting a flight is proving to be a problem for some.
Early on Friday, William was updating his social media from a plane bound for the US.
William is now back in Miami after finally taking off from the Exuma islands.
Lamaan El Gallal was also stuck at the festival but is also back in the US.
She's told Newsbeat that the event was the "biggest scam ever".
"It was a very traumatic experience," she said. "Although a lot of people are making it a mockery - that it's rich kids not knowing how to camp - that's not the situation at all.
"It was truly the worst 27 hours of my life.
"Fyre Festival seemed very calm. They had an entire schedule, like yoga and massages and water sports - that's the kind of thing we enjoy doing.
"It ended up being the closest thing to war I've ever seen. There was no food, no water. As soon as it got dark it was not a safe place to be.
"They had instructed us not to bring any cash with us. Everything was inclusive and we had bands where we put money. But without cash, it was a huge problem.
"There are still people there that can't leave whose passports are missing, their things got robbed and they have no way of contacting anyone or charge their phones.
"There are people still there. We were the first people to leave. That's the concern. It's dangerous."
Festival organisers said earlier that anyone having to leave the event would be refunded, but it's unclear if all ticket holders will get their money back.
"Your ticket and any funds uploaded to your RFID [contactless payment] band will be refunded.
"Thank you for bearing with us as we work through the growing pains that every first year event experiences.
"Revised itinerary information will be shared soon for the remainder of this weekend and weekend two."
Ja Rule has yet to comment on what's happened at the festival.
Earlier this week he shared photographs on social media of preparations.
The event had been endorsed by a number of high-profile models and influencers such as Bella Hadid, Emily Ratajkowski and Hailey Baldwin.
Meanwhile, the Bahamas Ministry of Tourism has apologised to festival-goers on behalf of the nation.
Fyre Cay in the Exuma islands was once home to the pirate Blackbeard and Colombian drug lord Pablo Escobar.
Find us on Instagram at BBCNewsbeat and follow us on Snapchat, search for bbc_newsbeat