New England Patriots deny squad snubbed Donald Trump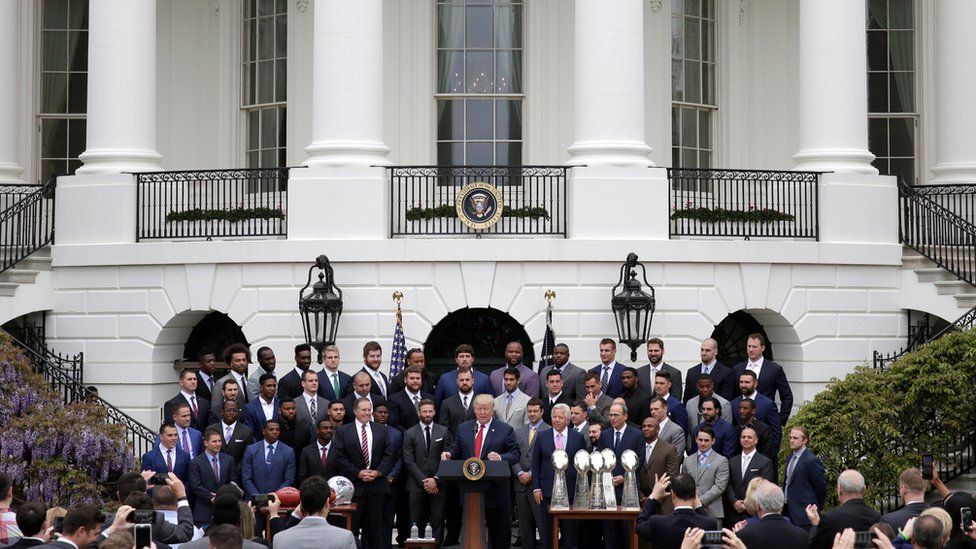 The Super Bowl-winning New England Patriots deny players snubbed a White House ceremony because it was being hosted by President Trump.
Pictures shared by the New York Times appear to show fewer people at the event than when President Obama hosted the team in 2015.
But the Patriots say the images "lack context".
In posts made on social media, the team say members of the coaching staff were on the lawn and therefore not pictured.
A Patriots spokesperson said many players "did not see the need to go twice in three years".
Some of the players are understood to have refused to attend because of some of President Trump's past comments.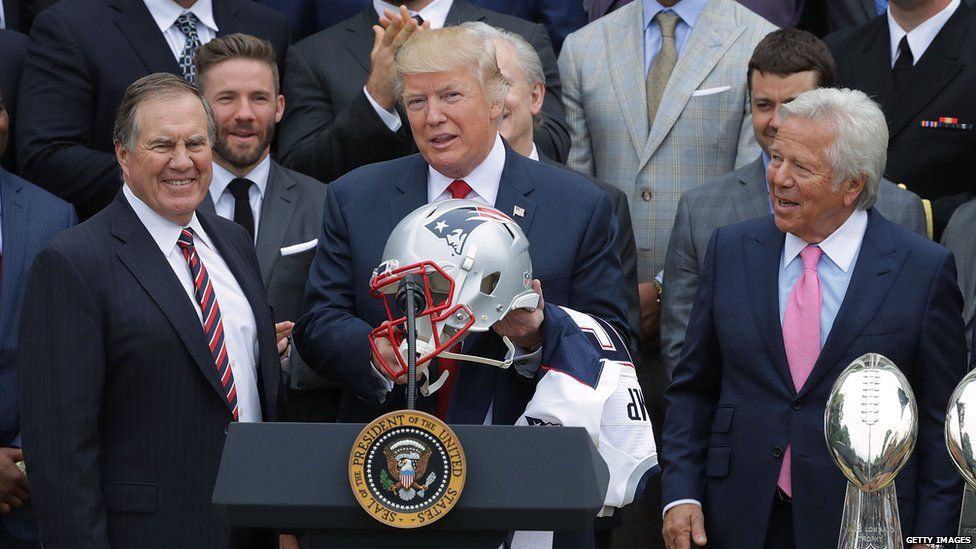 "It's disgusting the way that he talks about women and I just can't deal with it and that's why I have no interest in going and shaking his hand," defensive tackle Alan Branch told American news network CNN.
"I've got to go back home and look my daughters in the eye, and I don't want them to view me in a different light, just because I did that."
President Trump has called his comments "locker-room talk".
"A great honour to host the @SuperBowl Champion New England @Patriots at the White House today. Congratulations!" President Trump tweeted after the meeting."
The Patriots said: "Approximately half of the Super Bowl LI squad accepted the invitation to be honoured by Donald J Trump, America's 45th president."
The club also addressed claims star quarterback Tom Brady rejected the offer to attend, saying: "Brady was expected to be among them, but at the last minute, he announced that, due to an unforeseen family matter, he would be unable to join his teammates, coaches, and other Patriots staff in Washington."
The Patriots' official Twitter account responded to the claims showing pictures from both events.
Donald Trump used the occasion to make a few political points.
"With your backs against the wall, and the pundits - good old pundits, boy, they're wrong a lot, aren't they? - saying you couldn't do it, the game was over, you pulled off the greatest Super Bowl comeback of all time."
President Trump also thanked the club's coach, Bill Belichick, for writing a letter before the election praising him.
"Whether you're trying to win a Super Bowl or rebuild our country, as Coach Belichick would say, 'There are no days off.'"
Find us on Instagram at BBCNewsbeat and follow us on Snapchat, search for bbc_newsbeat