The $400 smart juicer, criticised after hand-squeezing got similar results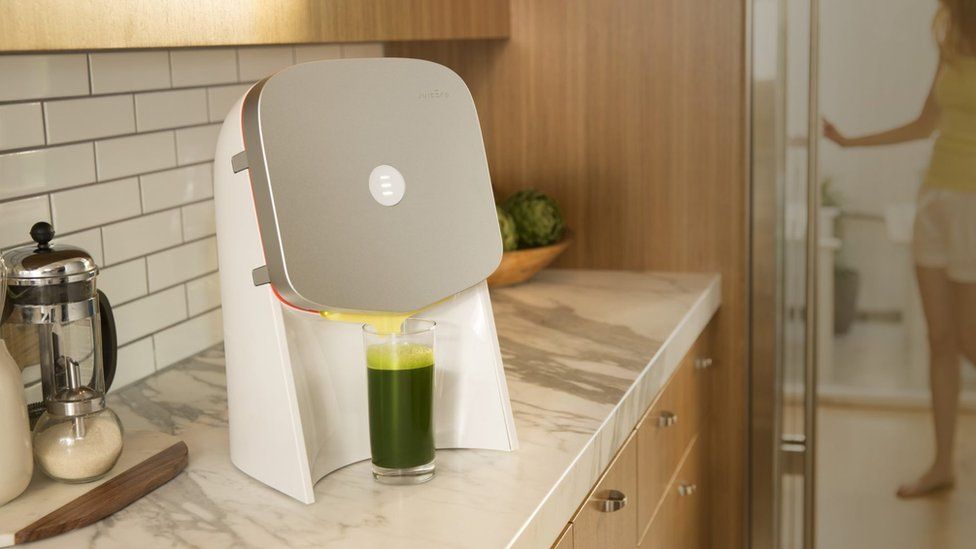 A $400 (£310) smart juicer, which squeezes special fruit packs using "industrial-strength power" has been criticised after testers found they got similar results using their hands.
The Juicero has wifi connectivity and connects to smartphones using a QR code to keep track of juicing habits.
Juice enthusiasts order special fruit and vegetable packs online which are then pressed by the machine.
Critics say just grasping and squeezing packs in your hands works as well.
Initially launching in California, with plans for expansion in the near future, Juicero has had some interest from high profile celebrities.
But other social media users are not impressed.
The company claims the technology "brings industrial-strength power" to user's kitchens.
Juicero only works with packs produced by the company.
They use organic fruits and vegetable, which are chopped and packed into individual pouches.
The machine then puts the pouches under pressure, using a press.
"The packaging can withstand up to four tons of force generated by the Juicero Press," says the company on its website.
"The juice you'll enjoy is the result of years of fine tuning both the Press and Packs."
But journalists at Bloomberg who tested the product, claim that just squashing the packs with your hands, rather than using the press, produces a significant amount of juice.
The company has been responding to criticism it's faced.
"While it is never easy to face some of this week's headlines and critiques, we're still learning, listening, and improving," Jeff Dunn, Juicero CEO writes in a new blog.
"We confidently stand behind our promise to help people on their journey to health."
The company says that it is not fair to say that you can get as much juice by squeezing the bags by hand.
"The sum of the system — the Press, Produce Packs and App — working together is what enables a great experience.
"However, you won't experience that value by hand-squeezing Produce Packs, which to be clear, contain nothing but fresh, raw, organic chopped produce, not juice.
"What you will get with hand-squeezed hacks is a mediocre (and maybe very messy) experience that you won't want to repeat once, let alone every day."
It's had the support of Oprah Winfrey and Olympic gold medallist Nastia Liukin.
A search on Twitter for reaction to the Juicero also finds people poking fun at the product.
Juicero is said to have been one of the best funded new companies in America last year.
Earlier this year bosses reduced the original sale price of $700 (£550).
Find us on Instagram at BBCNewsbeat and follow us on Snapchat, search for bbc_newsbeat