Kendall Jenner criticised over Pepsi advert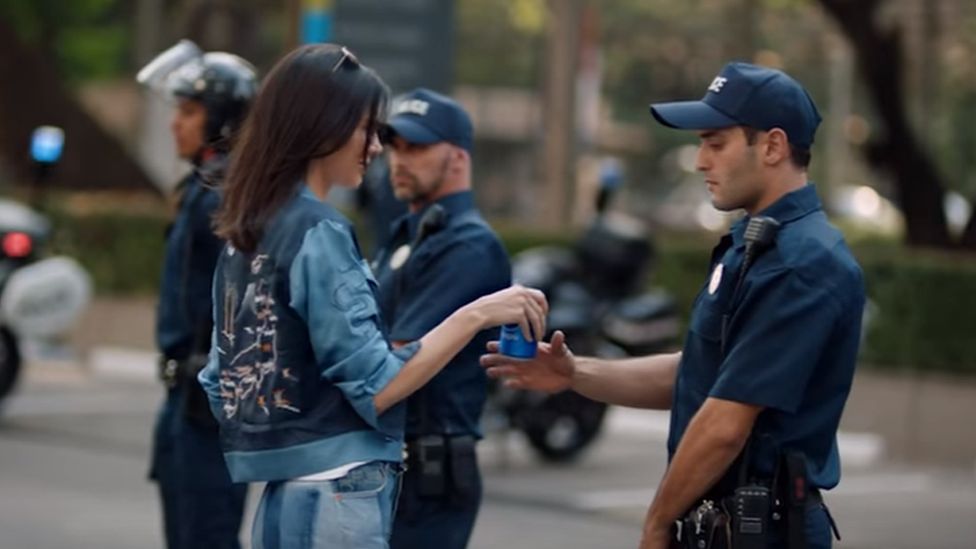 Kendall Jenner has been accused of undermining the Black Lives Matter movement in her new advert for Pepsi.
In it, she leaves a photoshoot to join protesters calling for love and peace, before handing a can to police as a peace offering.
The officer cracks a smile and the crowd cheers.
Critics think the ad is based on recent protests over police brutality against black people in America.
It's been criticised for painting a "privileged, white" supermodel as a peacemaker between civil rights activists and police.
Pepsi posted the advert on its YouTube channel.
Some have suggested the ad looks similar to a picture of Ieshia Evans who was charged by riot police in Baton Rouge, Louisiana, in 2016.
In a statement, Pepsi said: "This is a global ad that reflects people from different walks of life coming together in a spirit of harmony.
"We think that's an important message to convey."
There's no word from Kendall yet.
In 1971, Coca-Cola made a similar advert based on the Vietnam War.
Find us on Instagram at BBCNewsbeat and follow us on Snapchat, search for bbc_newsbeat