Tonnes of rubbish is being cleared from Mount Everest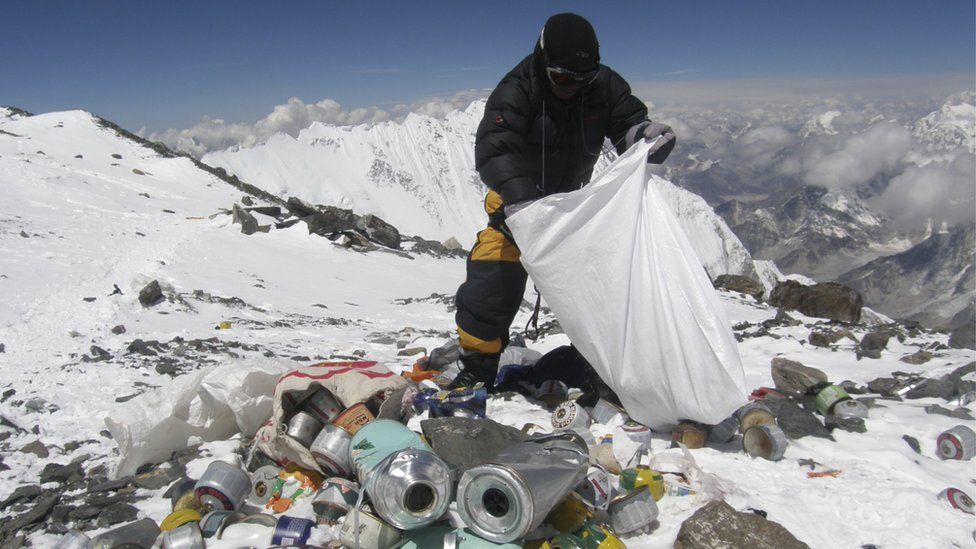 A huge clear up is taking place on Mount Everest as the climbing season starts.
Tonnes of old equipment, rubbish and human waste litter the world's highest mountain.
Now climbers are being asked to help remove it.
Canvas bags have been left around the various camps. Since 2014, climbers have been fined if they don't bring enough rubbish back with them after scaling the peak.
Everest is sometimes described as the world's highest garbage dump.
The worst of the rubbish is found at Camp Two - 6,400m (21,000ft) above sea level. Helicopters are being used to bring down the trash, which includes oxygen tanks, tents, eating utensils and other camping materials.
In the past, around 16 tonnes of rubbish has been removed from the mountain but it's not known how much is still up there.
As well as the normal rubbish left behind by climbers, the situation was made worse by the deadly earthquakes in 2015 - which killed 9,000 people across Nepal - and left lots of abandoned camps on the mountain.
Sherpas are actually paid $2 for each kilo of trash they pick up, but it's all volunteer work for the tourist climbers.
"This way we hope to bring down the trash without any extra cost" says the Tourism Department official Durga Dutta Dhakal.
But some of the things that won't be coming down the mountain are the dead climbers. At least 200 bodies are thought to still be on Mount Everest - a frozen reminder to the perils of tackling the summit.
Find us on Instagram at BBCNewsbeat and follow us on Snapchat, search for bbc_newsbeat