Britain's top vet wants you to avoid cute dogs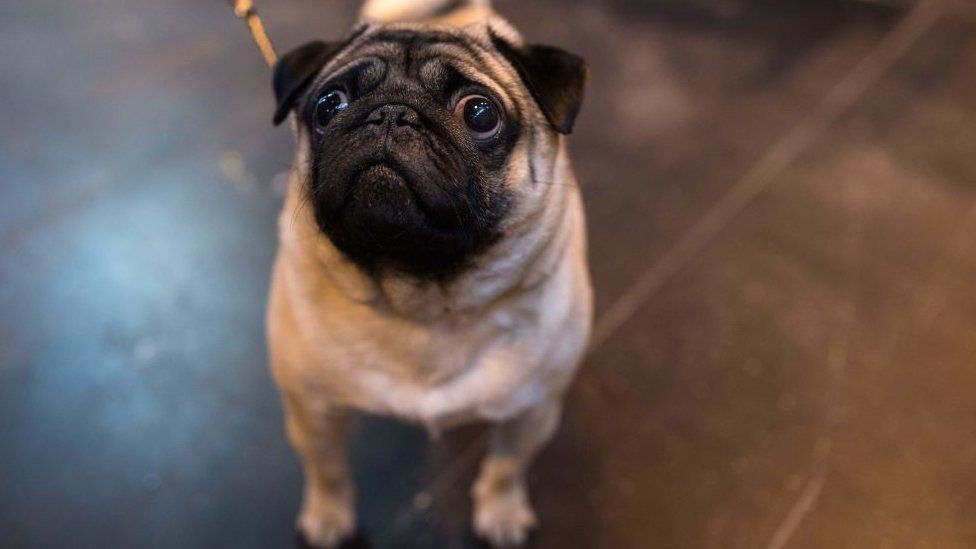 People should avoid cute dogs bred for their baby-like looks rather than their health.
That's what the president of the British Veterinary Association has said - and she chose her timing carefully.
Crufts, the world's biggest dog show, was held over the weekend, showcasing the world's cutest - and cleverest - dogs.
But Gudrun Ravetz says we should think twice before selecting fashionable breeds as pets.
She's talking about brachycephalic, or "brachy" dogs (like pugs, bulldogs or boxers) which are bred for their distinctive looks.
Sometimes they cannot breathe and their skin folds can become infected.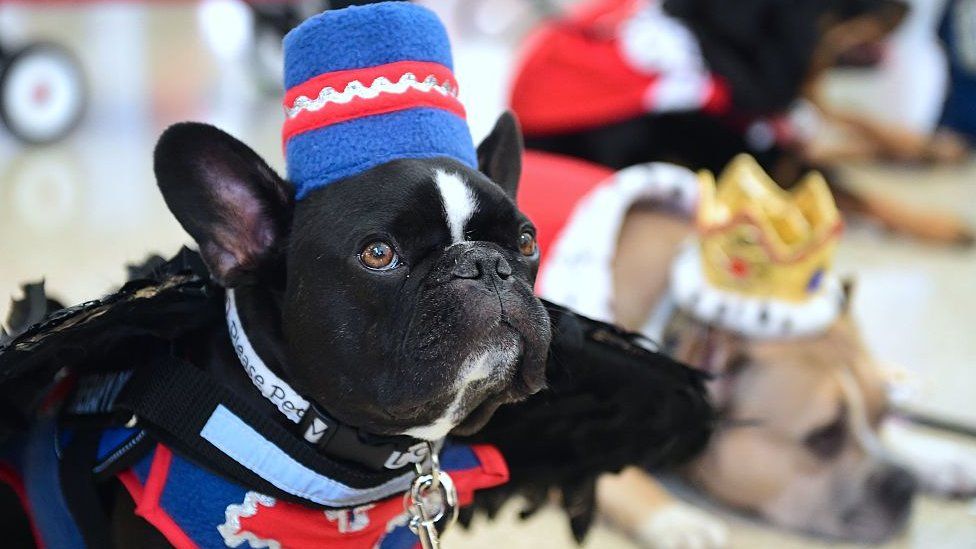 Her comments come as the French bulldog is set to overtake the Labrador Retriever as most popular UK breed for the first time in 27 years.
Numbers of pugs, Pekingese and shih-tzus are also on the rise.
Many of their facial features, like their squashed-up noses and wrinkly skin, cause the animals' life expectancy to reduce.
Vets operate to make dogs 'normal'
President Gudrun Ravetz's advice for people wanting to buy a new pet is: "Avoid these breeds and look at a healthier breed or a cross-breed.
"They have short-noses which means breathing problems.
Imagine breathing through a straw or running with a peg on your nose - that's what it's like for these dogs
Gudrun Ravetz
British Veterinary Association President
"And it's not just breathing, the amount of their wrinkly skin can cause skin ulcers and their wide bug-eyes also mean a catalogue of issues.
"In fact over 80 percent of brachys need caesarean sections because they can't give birth properly.
"It's not fair that vets up and down the country are having to operate on these dogs just to make them 'normal' when they have been suffering from day one."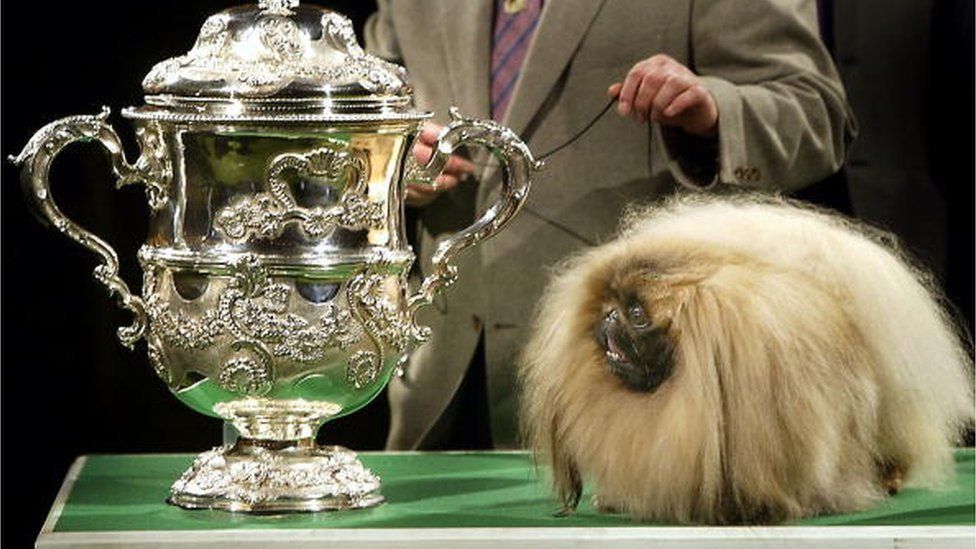 TV vet Emma Milne agrees. She told Newsbeat: "We can't get away from these dogs on social media and it's almost impossible to get people to stop sharing them.
"But I want to raise awareness that many of these breeds suffer serious health problems.
"Shows like Crufts that promote these types of dogs should be careful. It's really important that we don't promote them as 'fashionable'."
Brachys in fashion
The Kennel Club, which organises Crufts, says the dramatic increase in numbers of brachys is due to people choosing the breed because of fashion.
Their registrations only account for around 30 percent of the total population of dogs in the UK so there are concerns the number of unhealthy brachys is likely to be far higher in reality.
Caroline Kisko, Kennel Club Secretary, said: "Sudden boosts in popularity of certain breeds can result in a huge market opening up for unscrupulous breeders to sell to.
"They often churn out puppies with little or no regard for their health and welfare, solely for profit, because they know they can sell them easily.
"There is also growing concern amongst animal charities about the number of puppies being smuggled in illegally from Eastern Europe.
"This highlights the importance of a Kennel Club Assured Breeder, or considering a rescue dog."
Most pug owners are a bit mad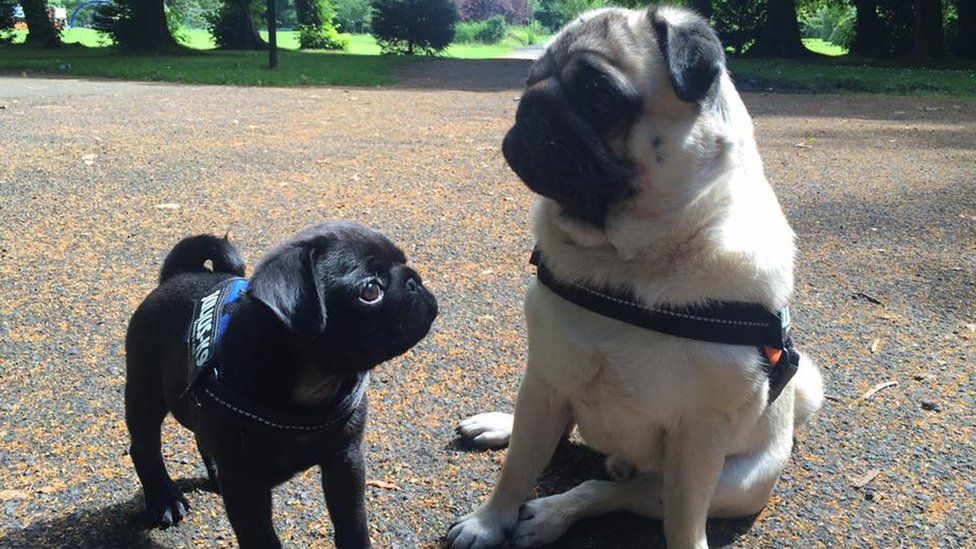 Euan Neilson from Glasgow has two pugs, Kendrick and Biscuit. He told Newsbeat: "I got them because they are suitable to live in my top-floor flat and they don't need much exercise.
"I spent a lot of time researching where to buy them and the place I went in down Cumbria was reputable and recommended by the Kennel Club. I paid £1,000 each for my dogs. I've seen a lot of them advertised online, for a lot cheaper.
"Most pug owners are a bit mad but it is a great community to be part of, we have a meet-up once a month and everyone's dogs are different. They are definitely seen as popular.
"When I was young I don't remember seeing any pugs when out walking, but now you can't get away from them."
Find us on Instagram at BBCNewsbeat and follow us on Snapchat, search for bbc_newsbeat