How Ed Sheeran owned the charts - with 16 tracks heading for top 40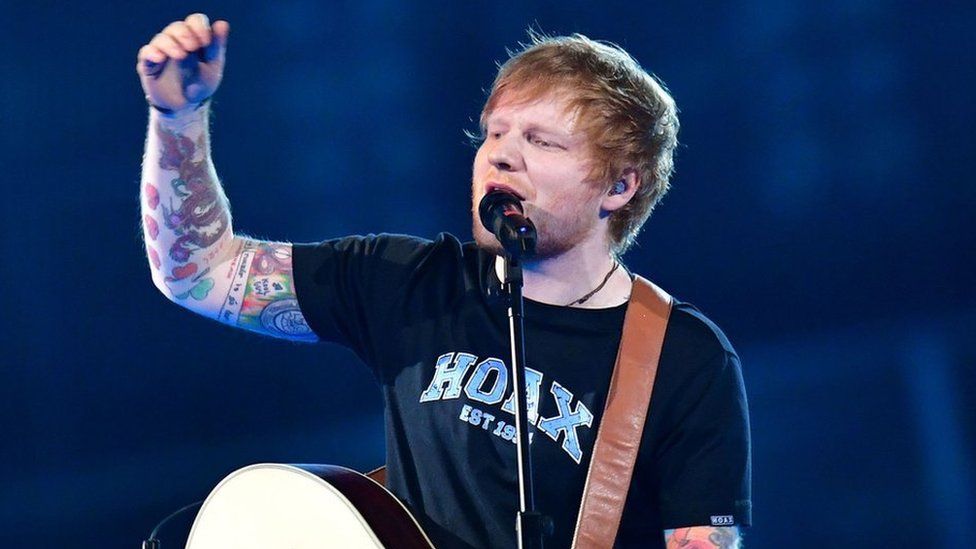 Ed Sheeran's new songs are currently hogging 16 places in the Official Chart's Top 40.
And based on current sales the singer's new album ÷ is set to sell more than 500,000 in its first week.
It will be the most any artist has sold in the UK since Adele's 25 in November 2015, with 800,307 copies.
Sheeran utterly dominates the top 10 in the midweek chart, to the point that you'll probably think your eyes are playing tricks.
The only exception being Chainsmokers and Coldplay's Something Just Like This at number five.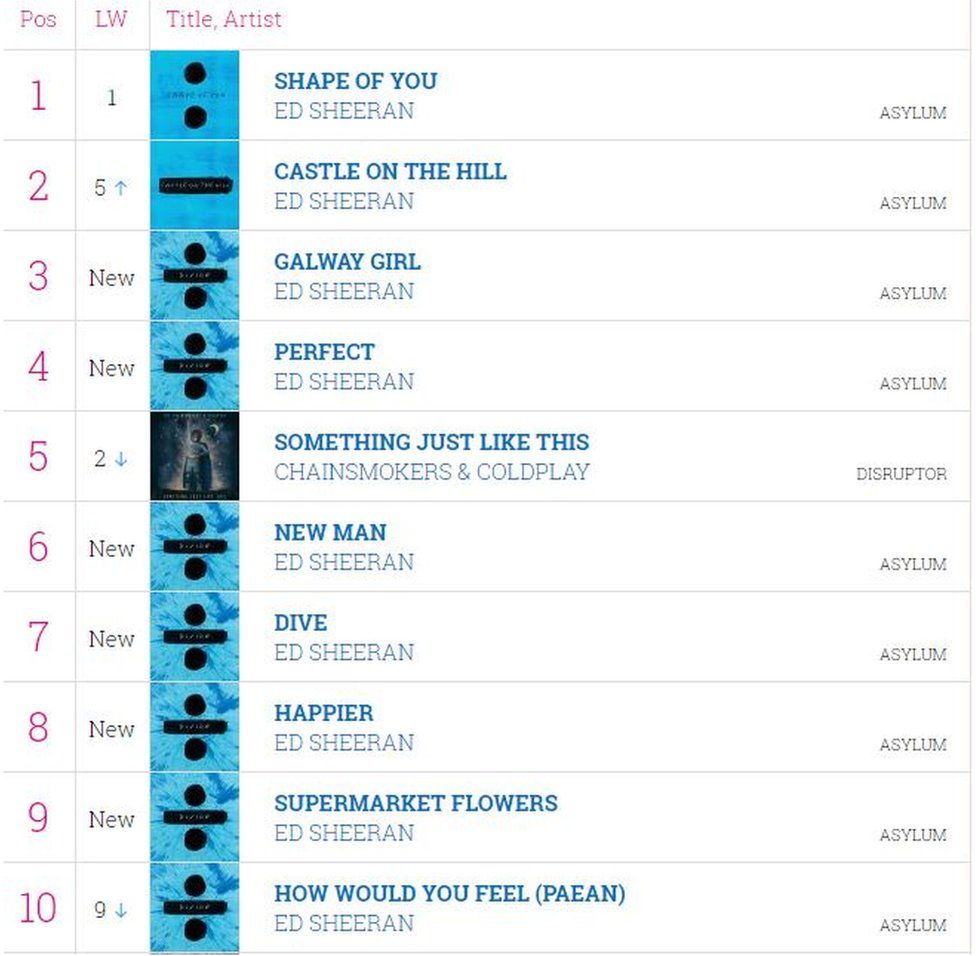 So how is Ed doing this, if Adele didn't?
Despite Adele selling more than 800,000 in seven days, her album didn't take over the singles charts because 25 wasn't initially available on streaming services.
Because a lot of people are streaming the whole of Sheeran's ÷ on repeat, pretty much all its tracks are getting the numbers that singles normally command.
He recently told GQ magazine: "Adele is the one person who's sold more records than me in the past 10 years.
"She's the only person I need to sell more records than. That's a big feat because her last album sold 20 million.
"But if I don't set her as the benchmark then I'm selling myself short."
Streaming, a huge marketing campaign and a Brit Awards performance have all boosted Sheeran's chart onslaught.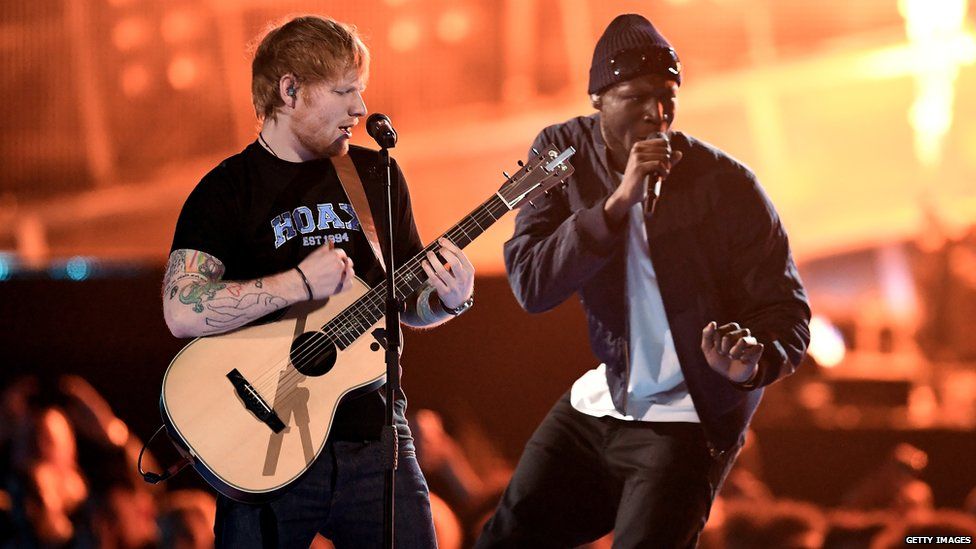 Sheeran is 'borderline obsessed with stats'
"Traditionally you might see an artist start to dominate the charts after an awards show or following a death," says Newsbeat Music Reporter Jimmy Blake.
"In Ed's case it's seemingly down to a perfectly timed return.
"After very publicly announcing a year out, he's capitalised on his fans being excited for him to come back.
"He's also borderline obsessed with stats and the inner workings of the music industry and has admitted the album was delayed by a few months to avoid other releases which might have been competition.
"It's also interesting to compare Ed's figure to last week's number one album, Stormzy's Gang Signs and Prayer.
"Stormzy, who doesn't have the backing of a major label, became the most successful independent British artists on Spotify with 4.3 million monthly listeners off the back of his release.
"He got just over 20 million in its first week.
"Tracks from ÷ with the backing of Atlantic Records and Warner Music, had 56.7m streams on the first day the album came out a day."
It takes 150 streams of a song to count as one sale on the charts.
That recently changed from 100:1 as execs hoped it would break the bottleneck at the top of the charts, as hits on streaming services linger for weeks on end.
Only 11 songs reached number one in 2016.
When it comes to album sales, that figure increases to 1,000 streams per one sale.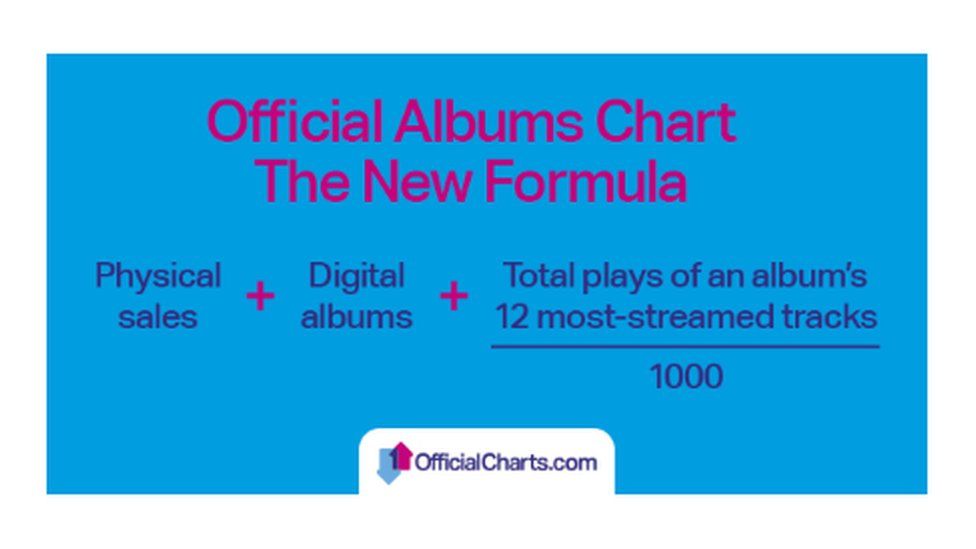 "Official Charts will take the 12 most streamed tracks from the standard version of the album, the top two songs will be down-weighted in line with the average of the rest," a chart spokesman explains.
"The total of these streams will be divided by 1000 and added to the physical and digital sales of the album (the 1,000 ratio is used to reflect the broad difference in value between a track stream and the price paid for an album)."
Find us on Instagram at BBCNewsbeat and follow us on Snapchat, search for bbc_newsbeat