Sainsbury's delivers 53 food items in 23 plastic bags
An online food order from Sainsbury's was delivered to Andrea Berry with 23 carrier bags, despite her only buying 53 items.
She did ask for her order to be delivered in bags, but that's fewer than three items per bag, on average.
The mother of two posted on the company's Facebook page calling for their "pickers to use less bags".
And although Andrea says she hands back the bags the following week, she says it is "wasteful".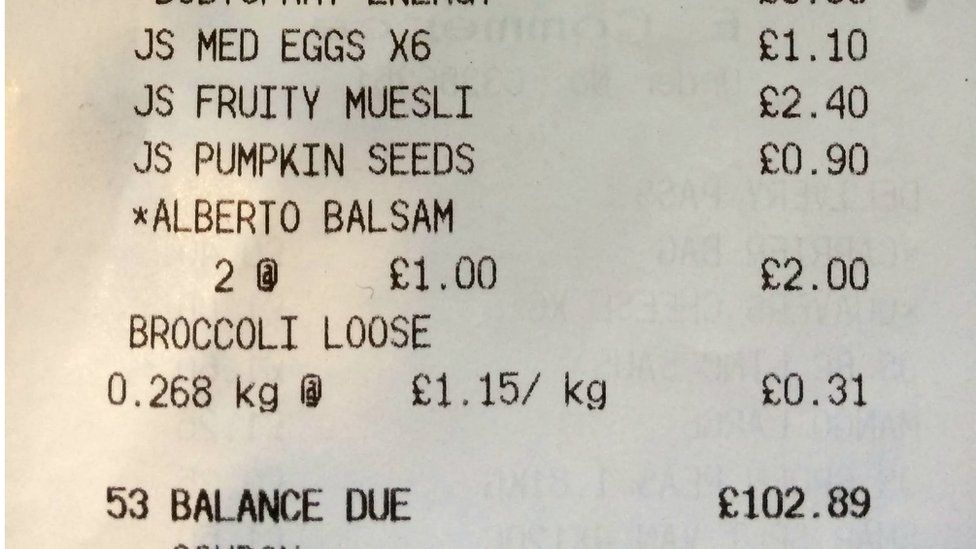 Many online grocery delivery services charge a flat 40p rate to have your shopping delivered in bags.
If the "no bags" option is selected the food arrives in plastic crates which are taken away by the driver once they have been unloaded.
Andrea says that in one of the bags there was a lone mango and that the three packages of raw meat she ordered were double-bagged.
She told the Daily Mail: "I think I had two packets of mince and some stewing casserole steak and they put this in individual small bags.
"Each one was then in a bigger carrier bag, but surely if it's all meat you can stick it in together."
A Sainsbury's spokesperson told Newsbeat: "We offer our customers the choice of having their orders delivered with plastic bags and without.
"Our drivers will also take back any unwanted bags."
It's not only Sainsbury's though
Other customers have shared their experiences on social media as well.
Lisa Bissland tweeted Asda about her click-and-collect order which contained some plastic bags with only one item in.
Earlier today Mark Crowley tweeted Tesco with a picture of his shopping saying he asked for no bags.
A quick search on Twitter for Amazon packaging brings up a lot of interesting results.
Adam ordered two boxes of crackers and was so surprised by the amount of packaging he measured it.
In each of the situations above the company has responded to the customer on social media, asking for them to DM their details to follow up further.
Find us on Instagram at BBCNewsbeat and follow us on Snapchat, search for bbc_newsbeat