Pumpkin artwork valued up to £600,000 smashed by selfie-taker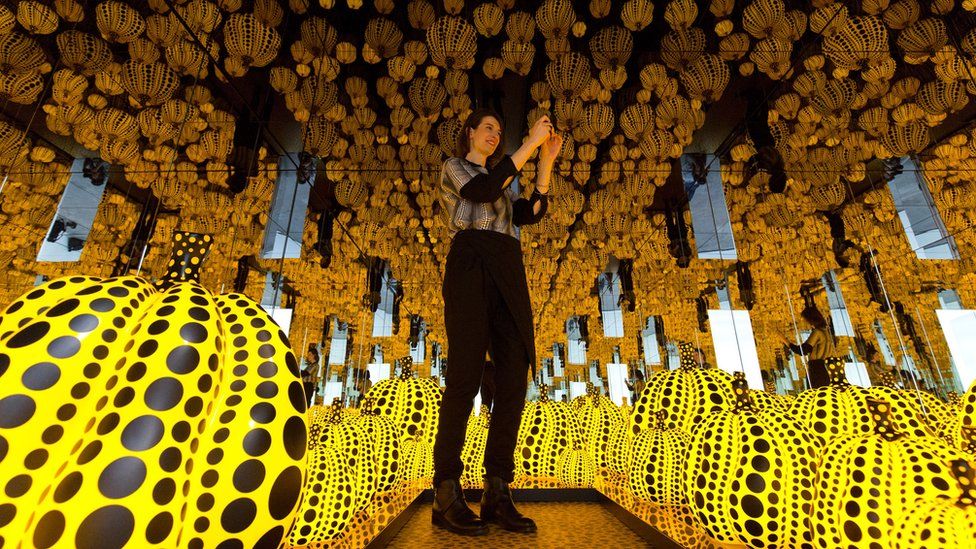 A visitor to the Infinity Mirrors art exhibition in Washington DC has lost his footing, reportedly whilst taking a selfie, and fallen into one of Yayoi Kusama's signature polka-dot pumpkins.
It happened in the All the Eternal Love I Have for the Pumpkins room.
It is one of the six immersive mirror-rooms presented as a celebration of the Japanese artist's 65-year career.
A similar sculpture sold for almost $784,485 (£635,000) in 2015 according to Artnet.
But Alison Peck, a spokeswoman for the Hirshhorn Museum, told the New York Times that as the pumpkin was part of a larger piece and not a standalone work like the one sold at auction two years ago it was not necessarily comparable.
Peck was unable to confirm what the visitor was doing when they damaged the sculpture.
Yayoi Kusama is known for her strong feminist stance as well as her obsession for polka dots and iconic pumpkin images.
According to the Tate, "Kusama has claimed that her fascination for dots was the result of hallucinations she suffered as a child."
Born in Japan, but having moved to the United States in her 20s, she quickly became associated with the pop art movement of the 1960s.
She and some of her friends became well-known after painting their naked bodies with polka-dots and visiting public places like Central Park.
In 2011 she created a London Underground map front cover as part of the Art on the Underground campaign.
The exhibition has now reopened with extra staff following a short closure after the incident.
Alison Peck also assured the public that it was "very much an accident", confirming that no arrests have been made and a replacement is on its way.
Find us on Instagram at BBCNewsbeat and follow us on Snapchat, search for bbc_newsbeat