Stormzy's album cover looks like a famous painting of Jesus Christ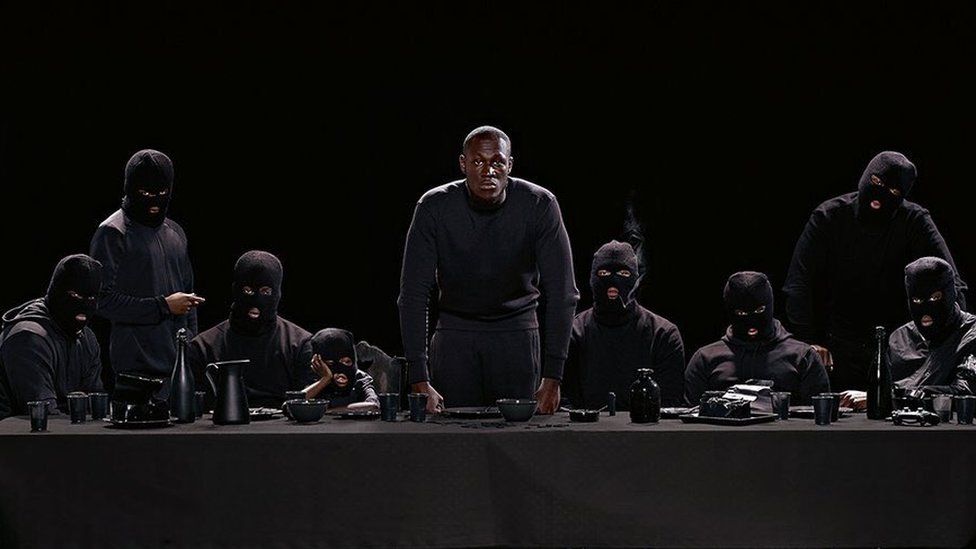 Gang Signs & Prayer, Stormzy's highly-anticipated debut, is out and fans are already calling the cover "iconic".
It features the artist at the centre of a long table with eight balaclava-clad people alongside him - reminiscent of the painting, The Last Supper.
But what could Stormzy, who stands in the same place as Jesus Christ does in Leonardo Da Vinci's painting, be saying with this cover?
Newsbeat asked art historian Prof Khadija von Zinnenburg to analyse it.
'He's obviously thinking of himself as Jesus Christ'
For Professor Carroll, from the University of Birmingham, the album cover immediately made her think of The Last Supper.
That painting, from the 15th century, refers to the Bible story where Jesus predicts his own betrayal which leads to his crucifixion.
"Basically, the gang is in a moment of crisis, because one of them has betrayed the leader," says Prof Carroll.
Jesus' disciples - also known as apostles - are at the Last Supper.
"That parallel of the 12 apostles as the 'ultimate gang' hiding behind black masks is interesting," says Prof Carroll.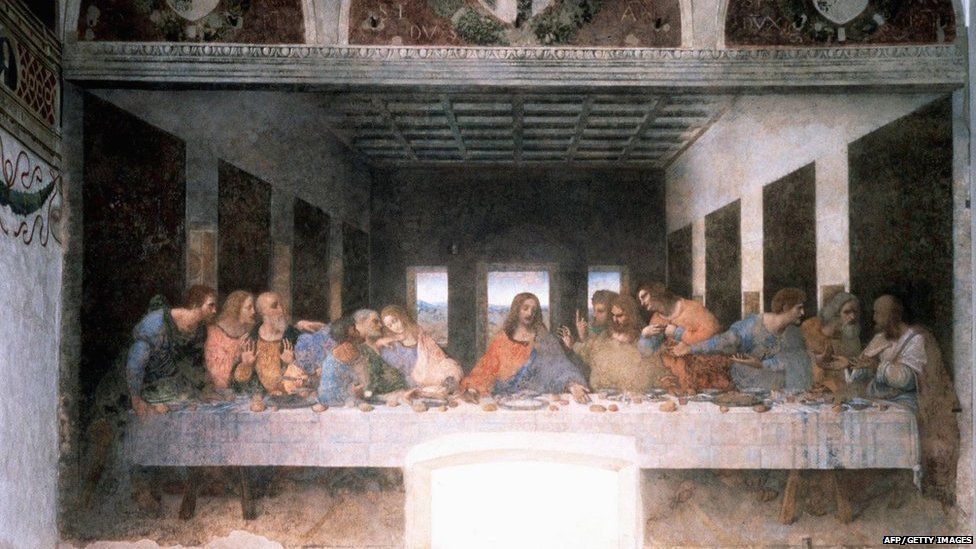 There are also other signs that Stormzy's album cover is inspired by the da Vinci painting, she says- for example the jugs and bottles on the trestle table.
"The signs are a mix of Renaissance signs, like the [pointing] hands of the apostles and the table.
"And then these very contemporary consumer signs like the PlayStation controller and the balaclavas and smoke."
She adds: "The little kid next to Stormzy is quite striking, and they have even set him up in the position of Judas Escariot."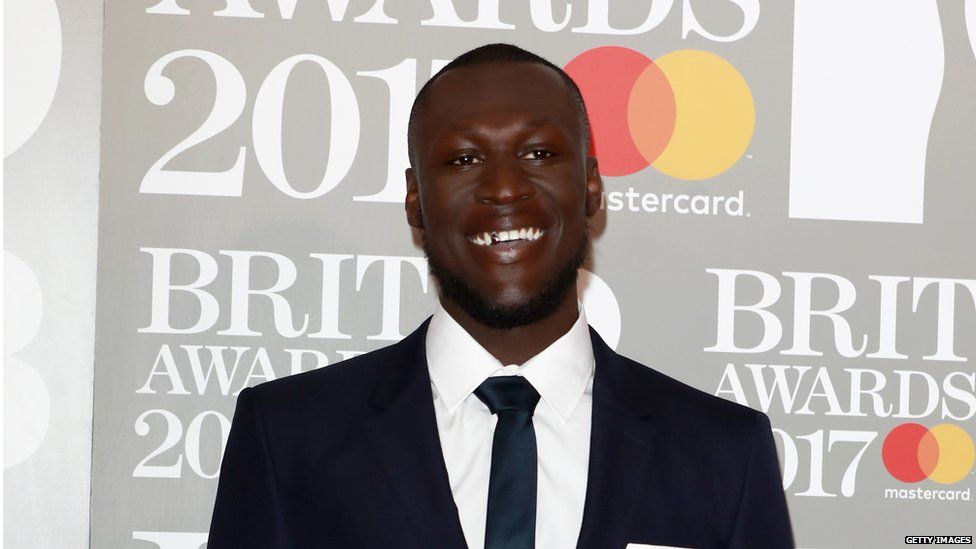 Judas was the apostle who betrayed Jesus, which led to his death a few days later.
In da Vinci's painting he is hunched and his face is obscured.
It has religious connotations. It's kind of putting him as the figurehead in his group
Professor Carroll suggests that the fact that the only child in Stormzy's picture is the betrayer might show "a loss of innocence".
With Stormzy in the middle, she says "he's obviously thinking of himself as Jesus Christ - that's the clearest thing you see straight away.
"The way it's lit - it's given him this backlit halo."
'He looks like he's on a warpath'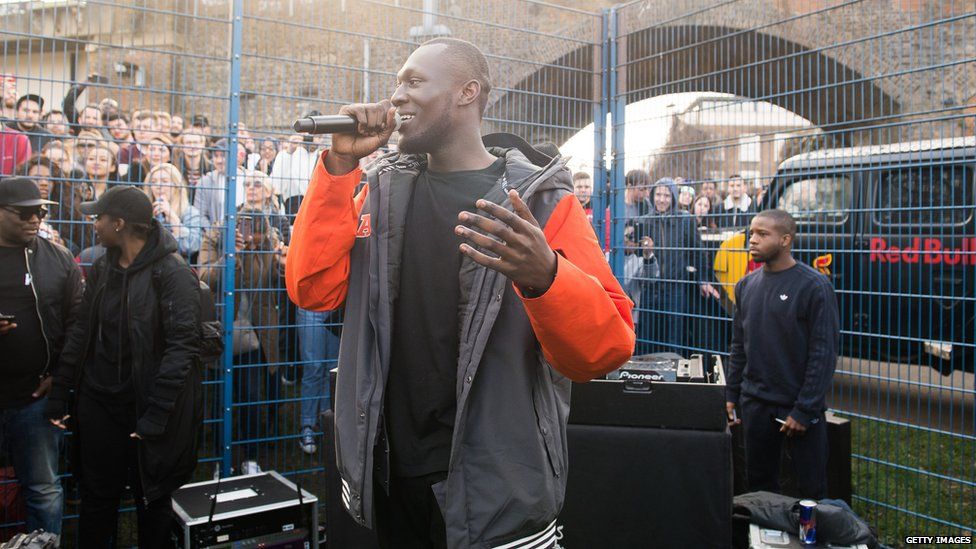 Prof Carroll is a big fan of the artistry that's gone into the shot.
"I really like this complete immersion in the black studio - the sitelessness or the locationlessness of it," she says.
"To draw it into a photographic studio has something very cinematic and high-tech about it, rather than the much more documentary-type things that he's done in the past, that are much more roving around his neighbourhood."
Here, she says, "he's elevating himself into high art."
She adds: "I definitely think he's set himself up as being the saviour. There's power in being the saviour.
"He's so much larger as well - the difference in scale is really powerful.
He's elevating himself into high art
Prof Khadija von Zinnenburg Carroll
Art historian
"He looks like he's on a warpath."
Professor Carroll adds that Stormzy is really aiming to make a big impact with his debut album, but stopped short of saying whether she thinks this will go down as a classic album cover - as a historian, she "doesn't really deal in predictions".
But she admits that the cover art had an impact on her straight away when she saw it.
"It's so earnest, he's so serious - it's like a moment of retribution.
"There's an intensity to it - I feel like it's really strong."
What do the fans think?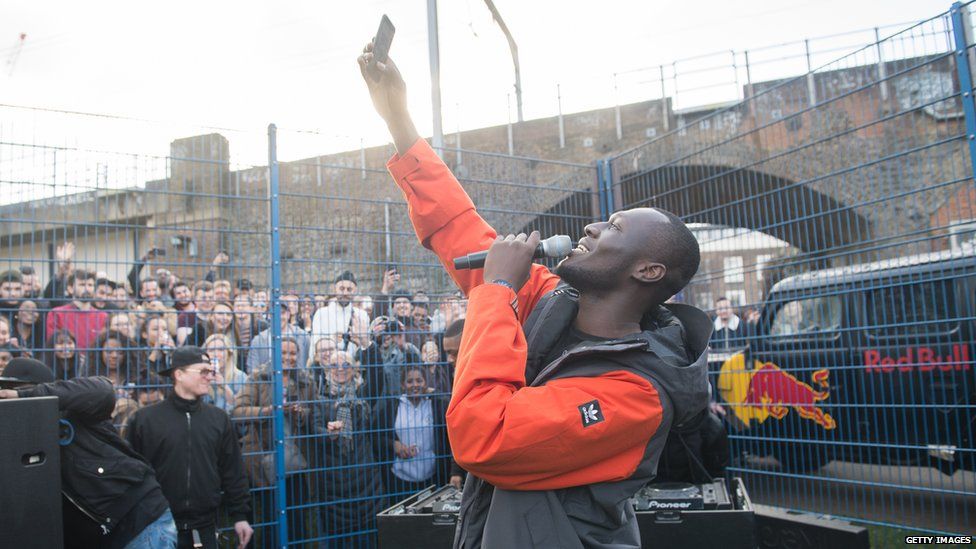 Stormzy held a surprise gig in Camden to celebrate the album launch and fans there were talking about the cover artwork.
"It's just him showing that anyone can make it, and that, no matter your background, doesn't matter who you are, where you come from, you can make it," said 17-year-old Eyulaelemma.
"Despite what the media portray people as, that's not you."
Lots of people agreed it looked like The Last Supper.
"It has religious connotations. It's kind of putting him as the figurehead in his group," said 20-year-old Flora.
"It's like a balaclavaed-up Last Supper - but doesn't that imply that he's going to die?" asked Lewis, 25.
"Or save the world - which perhaps is more accurate?"
Find us on Instagram at BBCNewsbeat and follow us on Snapchat, search for bbc_newsbeat