Why #thankyouMattDamon is trending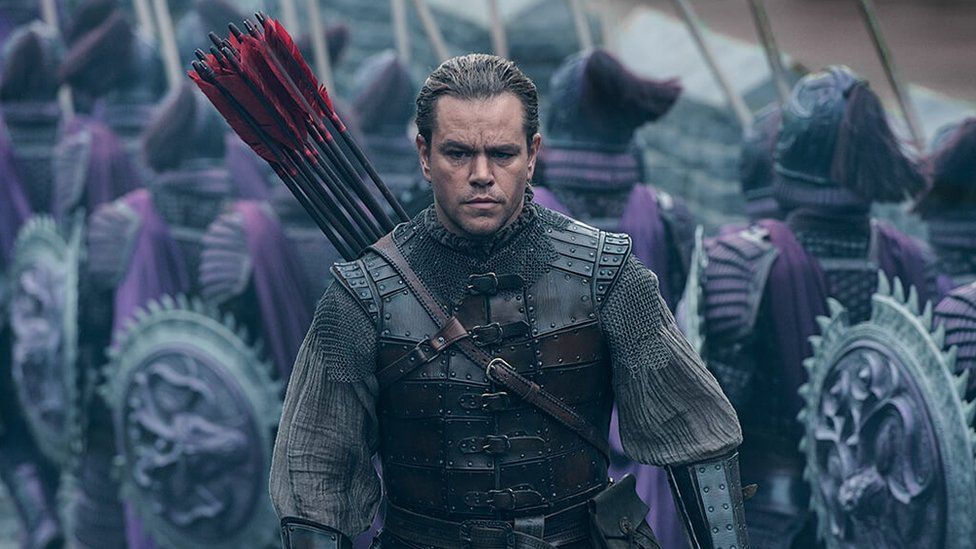 Matt Damon's taking a battering on social media for playing a "white warrior" who saves the Chinese in new film, The Great Wall.
Set in medieval China, he plays a European soldier caught up in a battle between the Chinese army and some monsters.
The $150m film is already a success in China, but after its Hollywood premiere #thankyouMattDamon started to trend.
And that wasn't because people are genuinely grateful.
It looks like the comedian Jenny Yang was the first to ironically "thank" Damon after a screening of the film.
Yang was pointing out that the film's whole premise - China needing a white man to come and save it from monsters - is problematic.
Theresa Wang agreed.
And Jenny took it to the next step.
The criticism follows the controversy surrounding another film out later this year, Ghost in the Shell.
It stars Scarlett Johansson in the role of a Japanese manga character and has been accused of "whitewashing" - the casting of white actors in non-white roles.
Vogue was also accused of whitewashing earlier this week, when it emerged that it cast white model Karlie Kloss as a Japanese geisha in its "diversity" issue.
The Great Wall had a Chinese director, crew and cast, but is mostly English-language and was designed to appeal to both Chinese and international audiences.
Although the filmmakers say they sidestepped whitewashing by deliberately casting Damon as a European character, not everyone was convinced that this avoided its race problem.
And it didn't take long for Asian Twitter to get involved.
And black Twitter appreciated the sass.
Despite the criticism abroad, the movie has been hugely popular since it was released in China in December and has made more than $225m internationally.
Up to now, the buzz around The Great Wall has been all about whether it will be an example of a Chinese-made English-language film that could appeal to north American audiences.
But while Chinese audiences seem happy about Hollywood actors in epic films about China (if the box office is anything to go by), the hashtag shows some Western audiences think filmmakers need to get woke.
Find us on Instagram at BBCNewsbeat and follow us on Snapchat, search for bbc_newsbeat