Did Donald Trump adviser Kellyanne Conway just invent a massacre?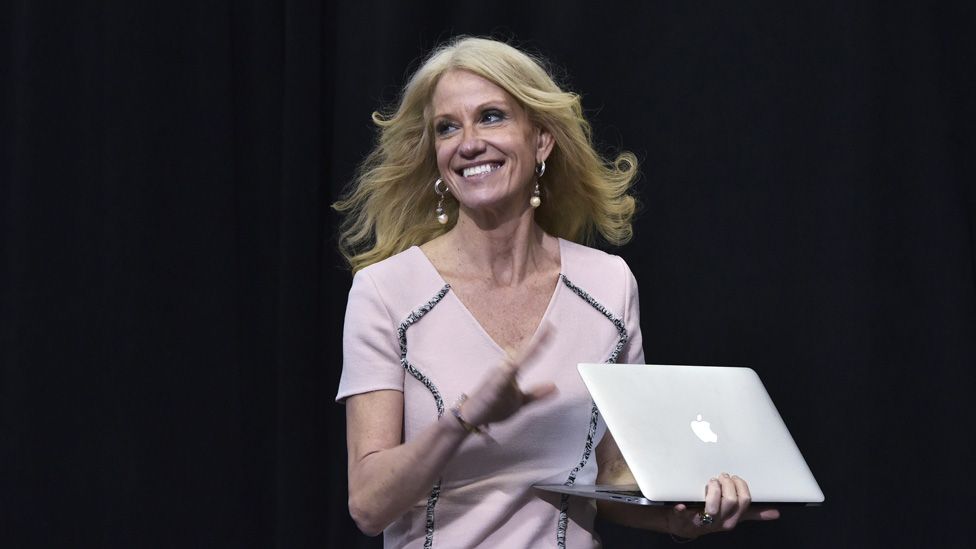 Kellyanne Conway, an adviser to Donald Trump, has talked about a massacre while defending the president's controversial travel ban.
Critics have pointed out there was never a "Bowling Green massacre" in the US, so what was she referring to?
Conway is already famous for her phrase "alternative facts" which she used in the debate over the size of Donald Trump's inauguration crowd.
This page explains the 2011 event she mentioned, in which no-one died.
First, let's look at the quote from Kellyanne Conway's interview with MSNBC
"I bet it's brand new information to people that President Obama had a six-month ban on the Iraqi refugee programme after two Iraqis came here to this country, were radicalised, and they were the masterminds between the Bowling Green massacre. Most people don't know that because it didn't get covered," she said.
Third party content, may contain ads
These are the facts about the two Iraqis she mentioned
Two men, originally from Iraq, were found guilty of terrorism offences back in May 2011.
They lived in Bowling Green, Kentucky, and they admitted using improvised explosive devices (IEDs) against US soldiers in Iraq.
They also attempted to send weapons and money to al-Qaeda in Iraq.
Mohanad Shareef Hammadi, 25, was sentenced to life, and Waad Ramadan Alwan, 31, was handed a 40-year term.
This US TV news report on the two men is from 2013, when they were jailed.
Third party content, may contain ads
"They were not charged with plotting an attack in the United States," prosecutors said at the time. They were conspiring to harm Americans abroad.
So there was no massacre
No. But the pair did try to kill soldiers abroad.
"These are experienced terrorists who willingly and enthusiastically participated in what they believed were insurgent support operations designed to harm American soldiers in Iraq," US Attorney David Hale said in 2013.
So what about the 2011 refugee ban?
The Obama "ban" Kellyanne Conway is referring to was a tightening of security checks for entry into the US which followed the two Iraqis' arrest in May 2011.
They were mistakenly admitted to America as Iraqi refugees in 2009 and resettled in Bowling Green.
President Trump's travel ban affects people from Iran, Iraq, Syria, Yemen, Sudan, Libya and Somalia.
Research into terrorist attacks on US soil between 1975 and 2015 shows foreign nationals from those countries have killed no Americans.
Chris Matthews did not challenge Kellyanne Conway further on her "Bowling Green massacre" claim.
The phrase trended top on Twitter in the US and elsewhere overnight.
Later on Friday she tweeted an old news article about the case and said "I meant to say 'Bowling Green terrorists'".
Find us on Instagram at BBCNewsbeat and follow us on Snapchat, search for bbc_newsbeat