Glass Caves: The band who busk for a living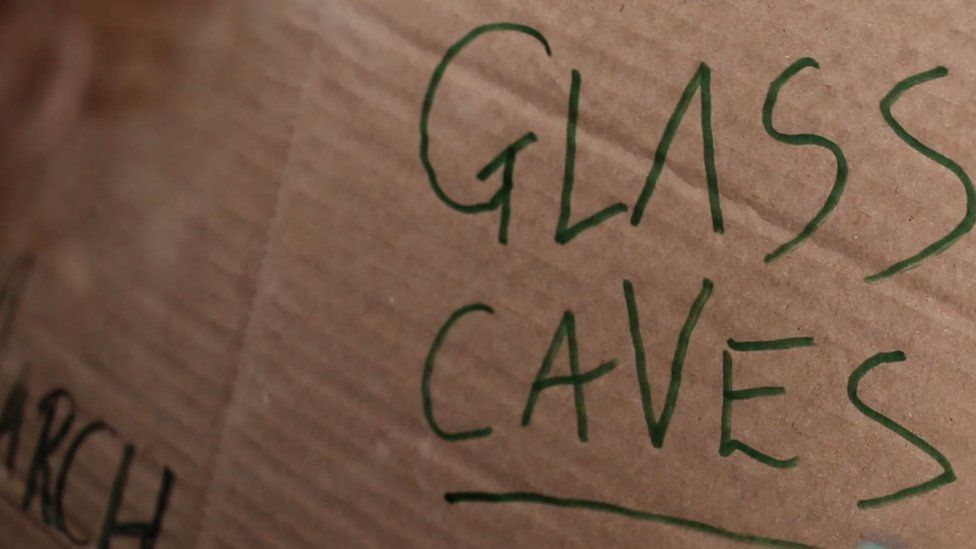 Glass Caves admit being "petrified" when they first went busking in 2011.
"We didn't know if people were going to throw stuff or boo us," says singer Matt Hallas.
"But we went out and we made a reasonable amount. We looked at each other and thought 'we're onto something here'."
Six years on, the York four-piece have started to make a living from playing on streets around the UK.
Drummer Elliott Fletcher explains: "Once a fanbase started growing people would ask if we had a CD.
"We stayed up until three in the morning burning them but we would get through hundreds in a weekend."
"We came out of uni and instead of getting a job we were in a band - busking allowed us to do that."
"It's like we were burning five pound notes," adds guitarist Connor Thorpe.
"We only worked [busked] two days a week."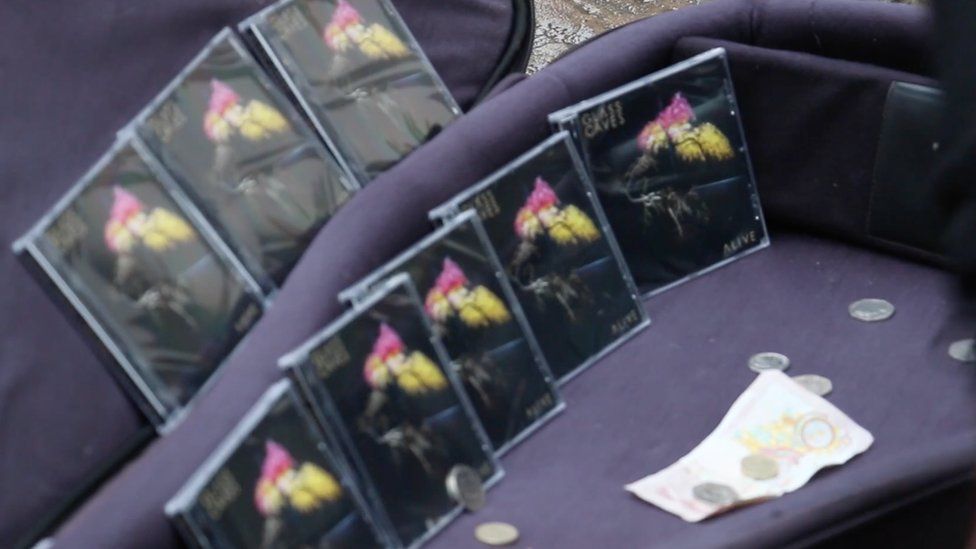 The band say they were making between £150 and £200 a day so would spend the rest of the week writing songs and gigging.
They self-funded their debut album and a UK tour through busking but Matt says it hasn't come without its challenges.
"We've had days where we've thought 'why the hell are we doing this?'
"People have said 'you should get a real job' but we love it."
Elliott adds: "We'd always regret not trying.
"It's hard but there's always one of us who will carry the rest of us through the rubbish days.
"It's always worth going out."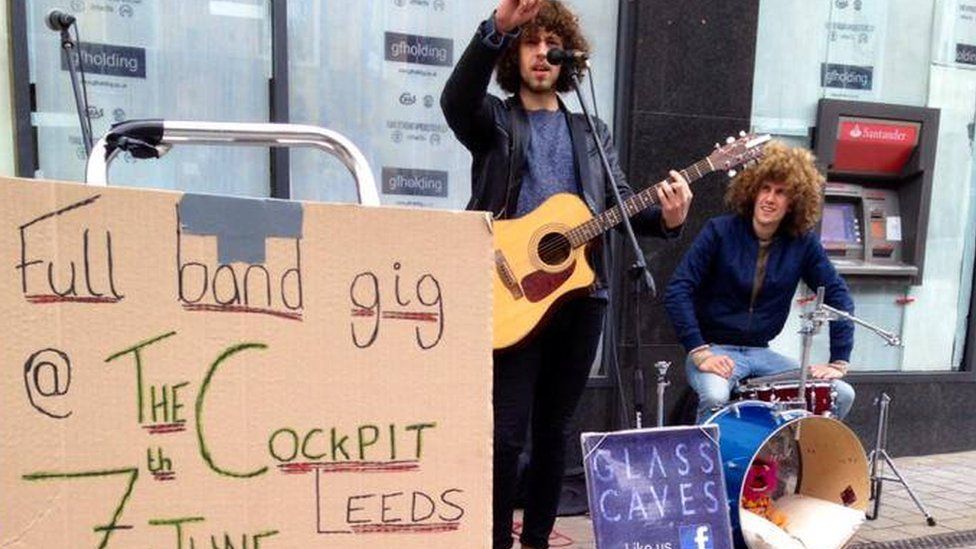 As well as a way of making money, Glass Caves use busking to promote upcoming gigs.
They say it helps them build relationships with independent venue owners around the country.
Connor says: "We just get out there on the day of the gig to spread the word.
"Even if one extra person comes it's worth it isn't?"
"Promoters loves the fact that we're working to get people to the gig," adds Elliott.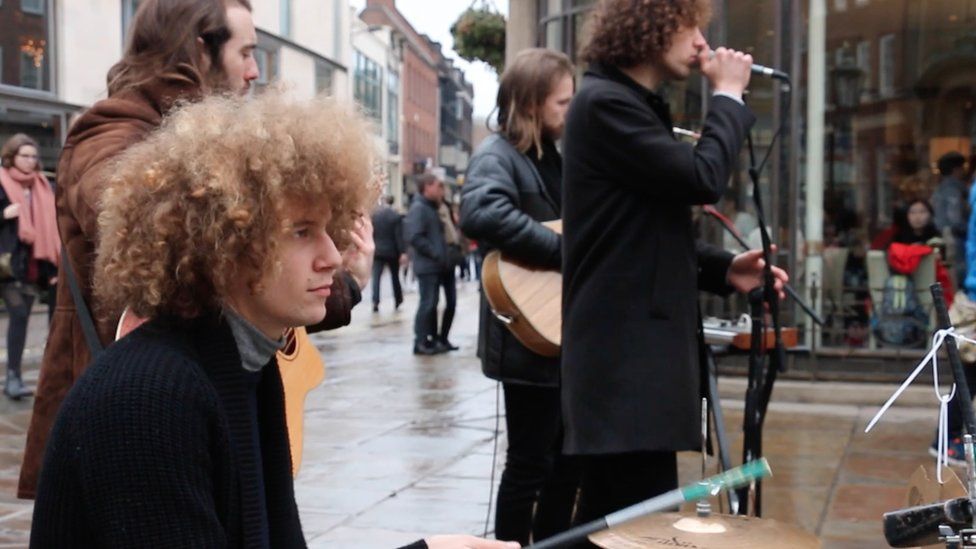 Bassist Will Groves says: "We get to meet everyone who buys our CD as well, that's a good place to be.
"It's proper fan interaction.
They've been backed by BBC introducing and have been played on BBC Radio 1 and Radio 2 and live-stream some of the their busking sessions to thousands of fans on Facebook.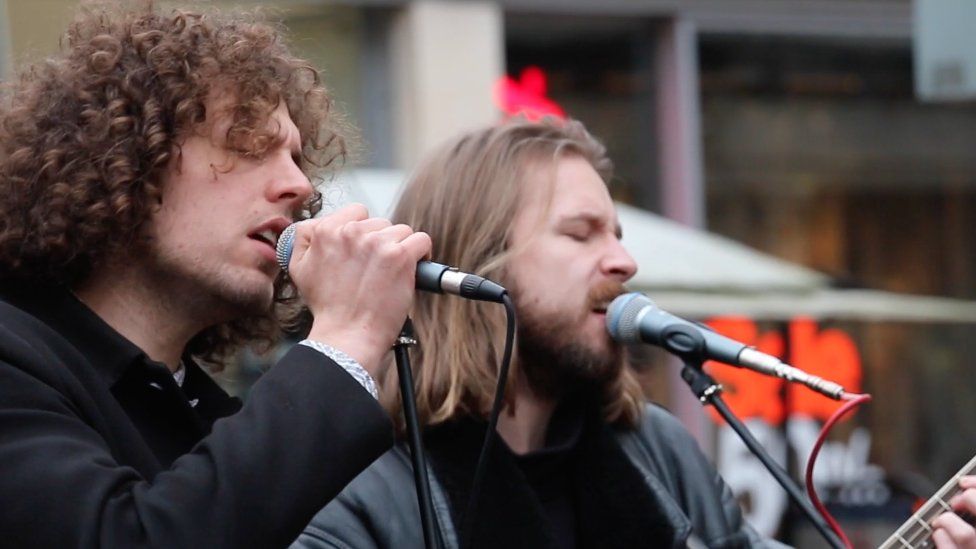 But while many emerging unsigned bands tend to focus on social media and platforms like SoundCloud, Glass Caves plan on sticking to their more traditional route of self-promotion.
"We've gone the opposite way," sad Elliott.
"It seems like a back door, we've found our own way of doing it."
Matt adds: "It is a back door but it's got a glass ceiling.
"You need a label, you need bit of money you need an injection to take you to the next step.
"But so far so good, we're loving what we do and we'll smash that glass ceiling."
Find us on Instagram at BBCNewsbeat and follow us on Snapchat, search for bbc_newsbeat