How this song became the anthem of the #WomensMarch against Donald Trump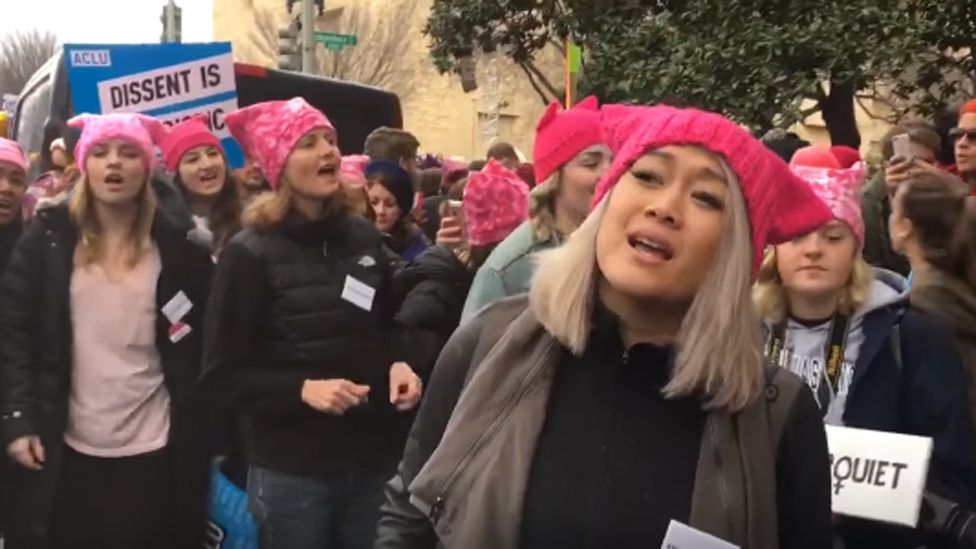 A video of a song performed at Washington DC's Women's March has fast become a viral hit and been viewed by 12 million on Facebook alone.
A small group sang alongside the 500,000 women who took to DC's streets on Saturday.
The lyrics of the chorus are: "I can't keep quiet, no... A one woman riot."
And they have chimed with the estimated two million people worldwide who took to the streets after Donald Trump's inauguration.
(Video above, via Alma Har'el)
In comments online, people have said how much the song captured the spirit of the Women's March.
What's really exciting is that I think something new is being born and it's way bigger than me
Tony Milano wrote: "This was what I experienced mostly at the March on Saturday....soul much more then just Big Joe...it was about supporting Women Rights."
Other people were suggesting it to choirs to add to their repertoire, while Steve Schuster said on Facebook: "Artists will create the language of this movement."
The self-described "song of empowerment" was originally written by LA singer Milck to express her experience as a survivor of sexual abuse.
But she thought it could apply to the ethos of the Women's March.
'Turning pain into something beautiful'
"With the political climate of what's going on in our world, I think that people will really benefit from practicing turning pain into something beautiful," she told Newsbeat. "I'm hoping that my art will always encourage that and make people feel less alone."
Milck had the original idea back in December and started to get in touch with other people going to the DC Women's March.
She then got to work arranging her song for a choir, writing out sheet music by hand and making recordings to send to singers so that they could practice individually, despite living in different cities.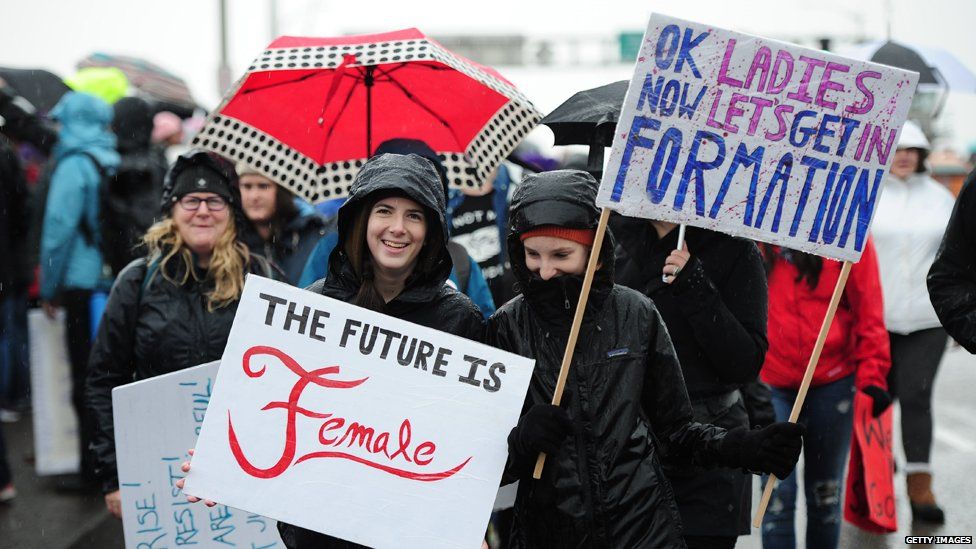 On the day flashmob
Eventually Milck organised a group of 26 singers from LA and Washington and planned a series of guerrilla flashmob performances around Washington DC during Saturday's Women's March.
She had rehearsed with some smaller groups, but they hadn't sang together as a unit until the morning of the march itself.
Calling themselves the #icantkeepquiet choir, they partnered with the Pussy Hat Project, and handed out the pink anti-Trump hats to women in the crowds in between their performances.
As well as the 500,000 strong march in DC, protests were held in over 600 cities worldwide, including 14 in the UK where between 80,000 and 100,000 people marched in central London.
Many people were voicing opposition to Donald Trump's presidency, but groups representing refugee rights, human rights and perceived infringements to women's rights were also out in force.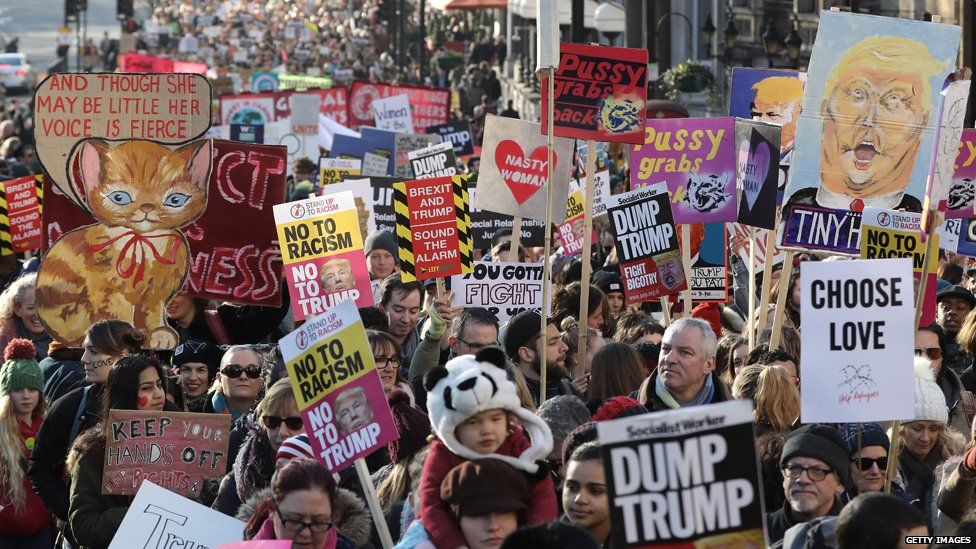 Since the video was posted online, it has been "non-stop craziness", Milck told Newsbeat, and she's been inundated by messages: "From people who want to do interviews, to people who want to share their stories, music fans - I'm getting messages to get the sheet music."
She added: "What's really exciting is that I think something new is being born and it's way bigger than me. And it's people wanting to use this song to unite with their choir friends to make it their own."
Find us on Instagram at BBCNewsbeat and follow us on Snapchat, search for bbc_newsbeat