Pregnant model Porsche Thomas body-shamed for showing her belly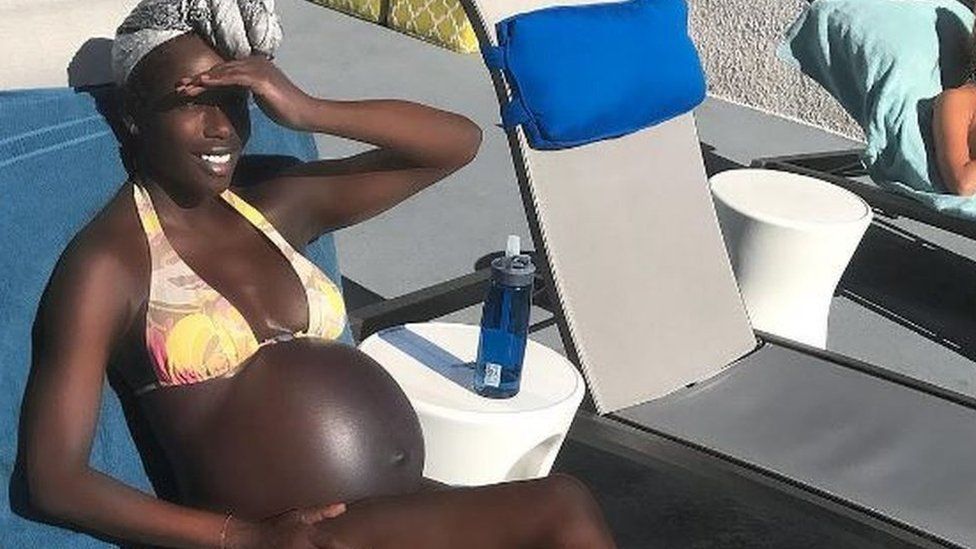 US model Porsche Thomas has been body-shamed for showing her belly while nine months pregnant.
The daughter of Real Housewives of Atlanta star Peter Thomas put a bikini photo of herself on Instagram at the end of last month, just before giving birth to twins.
But she's since been trolled over the shot, with one person asking why her belly was "so black".
Another user said her pregnant body looked "nasty".
The model, actress and writer, who gave birth to twins August and Berlin on Saturday, has responded to say she's now getting on with her life.
"We don't really get to see black baby bumps and when we do, people have a negative reaction to it, for some reason, like it's vulgar," Porsche told BET.
"I don't hold on to other people's opinions that have nothing to do with me. I laugh at the ignorance.
"I know it exists, it's there and it's sad. The fact that we're in a Trump era made it less funny.
"But I don't let things like that bother me. I'm pretty secure in myself."
The 32-year-old also says African-Americans are "so quick to turn on each other" after getting criticism from black people.
"Most of the negative comments I received were from black people, a lot of dark-skinned black people, a lot of young black people, which is crazy to me," she says.
"We live in a time with social media and the internet. The world is so small and you'd think it would open people's minds and a lot of that old thinking would be history and it's not.
"It almost feels like it's getting worse."
Find us on Instagram at BBCNewsbeat and follow us on Snapchat, search for bbc_newsbeat