Taylor Swift sings at US war veteran's home in Missouri as Christmas surprise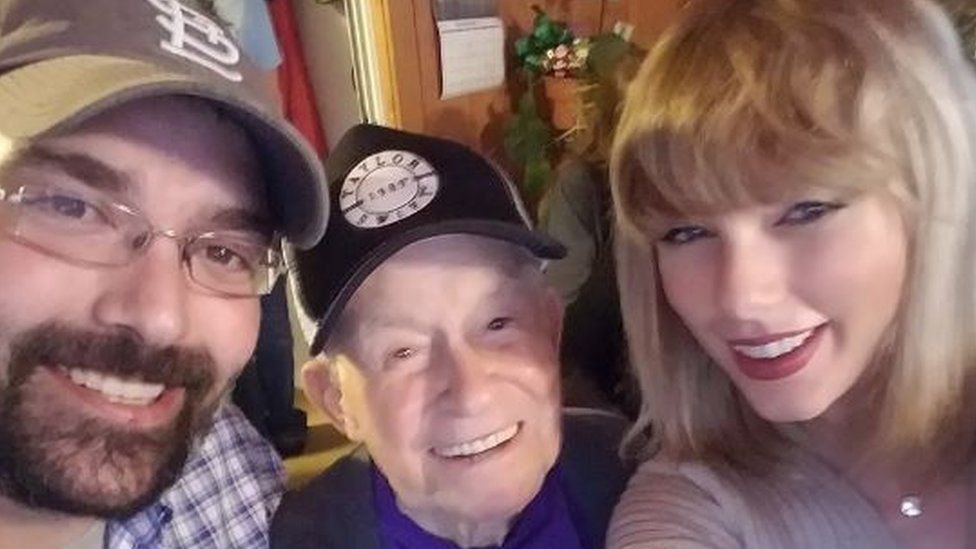 Taylor Swift surprised a US war veteran by turning up at his home on Boxing Day and singing for him and his family.
Cyrus Porter, 96, told a TV station in Missouri earlier this year that he'd taken his grandchildren to her concert and was her oldest fan.
So as a Christmas surprise, the singer travelled to his home in New Madrid, Missouri, and performed Shake It Off on his enclosed back porch.
Taylor was also given a personal tour of Cyrus' World War Two memorabilia.
Grandchild Robert Frye posted several photos on Twitter and said it was a "Christmas miracle".
Another of his grandchildren posted a video of Taylor Swift arriving at the house during a thunderstorm.
When interviewed about her earlier this year on KFVS 12, Cyrus said he liked Taylor Swift because she put on a proper concert.
"Look what she does, she puts on a show no-one else puts on," he said.
"I just liked the way she did stuff."
After fighting in Germany, Cyrus Porter spent decades working and farming in Missouri.
He's been married to his wife, 89-year-old Harriett, for 69 years and raised nine children.
Cyrus had hosted 72 people for a family Christmas the day earlier.
Many of his relatives were still there when a van pulled into the driveway of his home about 130 miles south of St Louis.
"My daughter opened the door and said, 'It's Taylor Swift,'" Cyrus told The Associated Press. "I couldn't believe it. It's not a miracle but I'd say it's pretty close.
"I got lipstick on my face."
Cyrus Porter's daughter - 66-year-old Carolyn Allred from Bowling Green, Kentucky - said: "It's really special she takes time out to do something like that."
Cyrus said he'd driven to gigs in Memphis and St Louis to see Taylor Swift and liked the one where everyone's wristbands lit up.
He went to the concerts with his daughter and two of his grandchildren but has 49 grandchildren and great-grandchildren in total.
He was diagnosed with cancer earlier this year and says his next goal is to see Taylor Swift on her next tour.
Find us on Instagram at BBCNewsbeat and follow us on Snapchat, search for bbc_newsbeat