How Disney helped this autistic boy find his voice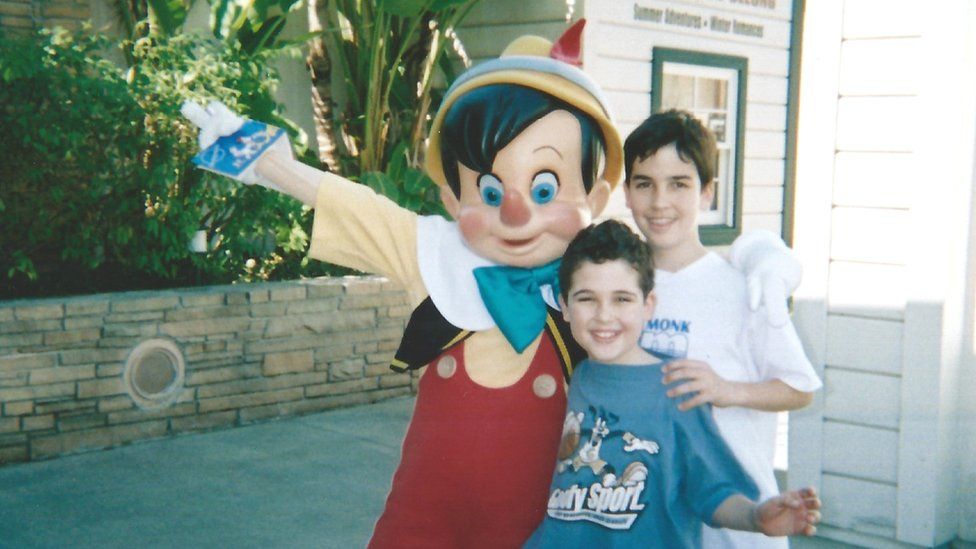 Owen Suskind stopped talking when he was three years old.
His parents were told that he might never utter another word after he was diagnosed with autism as a toddler.
Like many of the one in 100 people with autism in the UK, Owen disappeared into his shell: he couldn't focus and even found it difficult to walk.
Disney helped me find my place in the world
The only time Owen seemed engaged and relaxed was while watching Disney films. His parents and older brother Walter indulged the obsession, sitting through endless repeats and rewinds in an attempt for the family to have some shared experiences.
Then on his brother Walter's ninth birthday, Owen suddenly ran inside and spoke to his parents for the first time in nearly four years: "Walter doesn't want to grow up - like Peter Pan and Mowgli."
Amazed, his dad Ron followed him upstairs to his room and grabbed Owen's puppet of Iago, the parrot from Aladdin.
Thinking fast about how best to engage his son, Ron put on the character's voice and asked: "How does it feel to be you?"
Owen replied: "I'm not happy. I don't have friends. I can't understand what people say."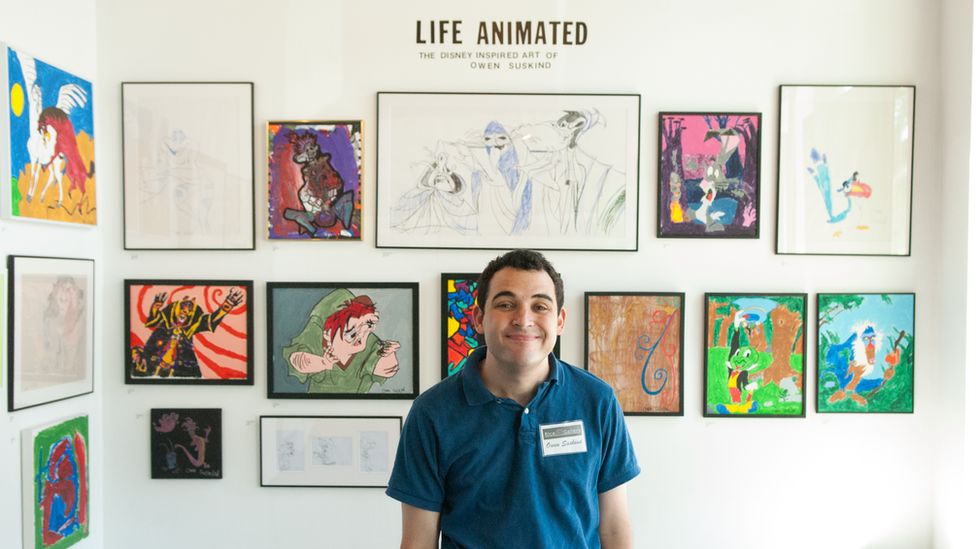 Owen is now 25 and things have improved beyond everyone's expectations: he has two jobs - at a toy store and a local cinema - and lives independently in sheltered accommodation.
And he says it's largely thanks to Disney's classic animated films. "Disney helped me find my place in the world," he tells Newsbeat.
Aladdin is one of his favourites and he quotes the genie's most inspiring line from memory: "All joking aside, you really ought to be yourself".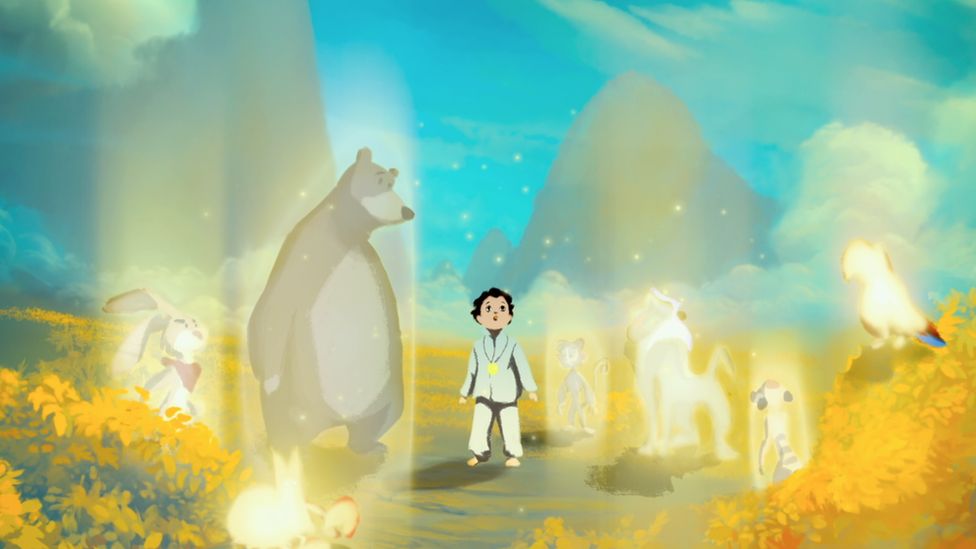 A new film - Life, Animated - based on Ron's 2014 book of the same name, is released in cinemas on Friday and charts Owen's incredible journey.
It's being supported by the National Autistic Society (NAS) and as part of their #AutismTMI campaign, a 90-second virtual reality film is being made available at special screenings to give viewers the chance to experience what a sensory overload feels like for someone who is autistic. "The film just shows the importance of working with an autistic person's passions and strengths to help them develop their skills," says Tom Purser from the NAS. "It's about working with the way they see the world - not trying to force an idea of how they should be seeing the world."
Warning: third party video may include adverts
Disney films were 'a map to crack the codes of his feelings'
After the initial breakthrough, the family began speaking to Owen in Disney; reciting lines from the films to which he would respond - in character and as himself.
He was memorising all the movies and using them as a map to crack the codes of his feelings, his relation to others
"We found that he was memorising all the movies and using them as a map - a mirror, a code-breaker - to crack the codes of his feelings, his relation to other," Owen's dad Ron tells Newsbeat in London.
Disney vs the real world
Owen's psychologist believes that the exaggerated emotions and expressions in Disney make it easier to understand than the real world. For example, the film shows Owen watching Bambi on the first night in his own home, a film about a baby foal having to fend for himself after being abandoned by his mother.
However, there's a big difference between the world of Disney and real life. When his first girlfriend of three years broke up with him, Owen was inconsolable: Disney's 'happy ever after' endings didn't prepare him for the fact that in the real world, you don't always get the girl.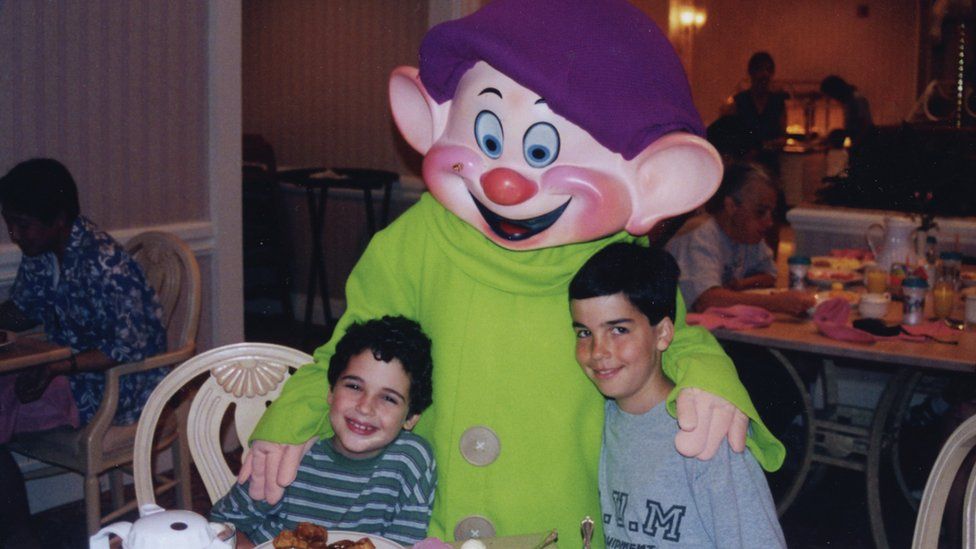 Without the right support, people with autism can feel hugely isolated: at least one in three in the UK suffers from mental health problems as a result, according to the National Autism Society.
Owen's message to people going through a hard time, like he did, is: "Just be yourself. Sometimes it's hard to do. I learned that."
And of course, he has a Disney quote on hand to back it up.
"Remember who you are. You are my son - the one true son," he says, reciting The Lion King in full Mustafa voice. "It means look inside yourself and find the answer."
Find us on Instagram at BBCNewsbeat and follow us on Snapchat, search for bbc_newsbeat