Bad day? Bad 2016? Gilmore Girls might be the comfort you need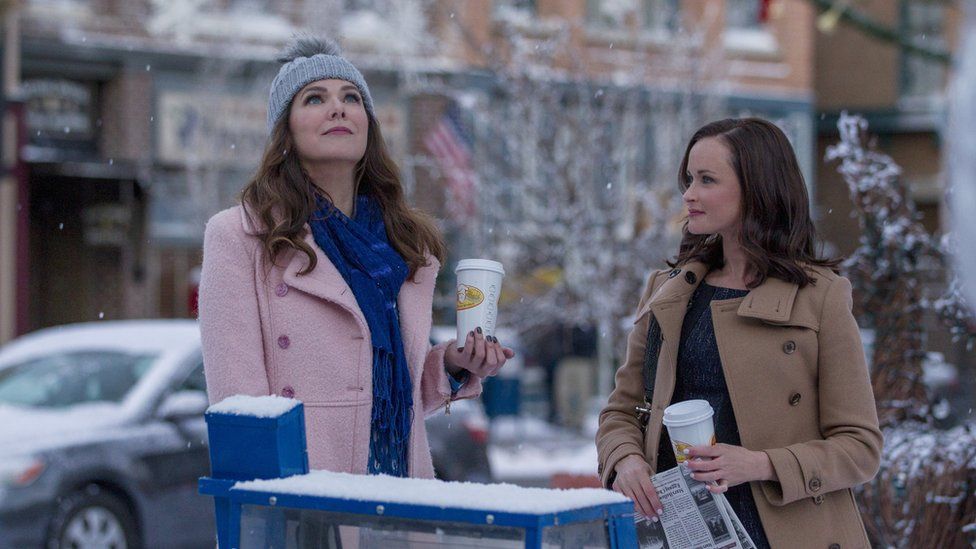 If you were to stumble into Stars Hollow, the fictional Connecticut town which is home to Gilmore Girls, you'd be oblivious to the discontent felt across many parts of the US.
From Black Lives Matter to Not My President, 2016 has been a year marked by protests and political division.
It's a week since Republican candidate Donald Trump won the US election.
Since then, some news reports suggest there has been an increase in racial, religious and misogynistic abuse.
So why does a programme like Gilmore Girls, about two white women, from a wealthy and privileged background, provide a refuge for so many viewers?
In one post shared on Facebook, a woman describes being shouted at while driving her car, with the man yelling: "Trump won [racist abuse]! You lose [sexist abuse]!"
She concludes her story saying: "I'm really done with today. I really want to be home and in bed, watching Gilmore Girls."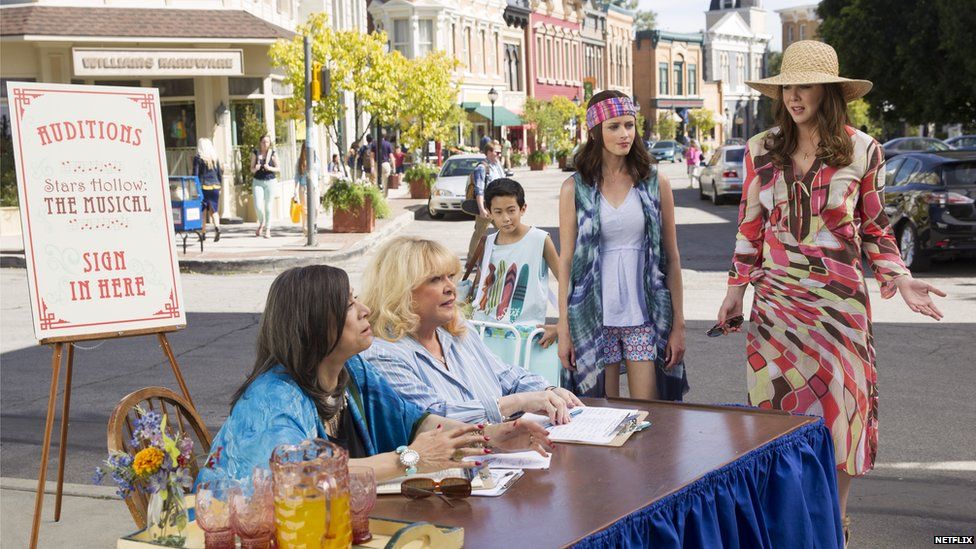 Newsbeat reads this post to Lauren Graham and Alexis Bledel, who play mother Lorelai Gilmore and her daughter Rory, respectively.
"I think the world of the show is really comforting," says Alexis.
"It's this small town where time has kind of stood still."
Lauren chips in, adding: "It's a place where kindness prevails, which I think is the world we'd like to live in."
Originally airing in the US between 2000 and 2007, Gilmore Girls was the ultimate in cosy - if not downright twee - binge TV.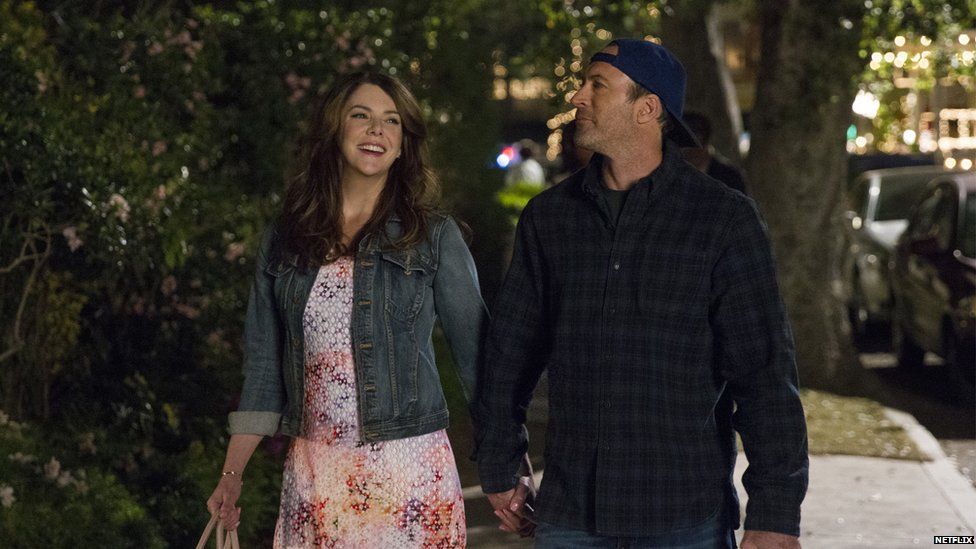 Focusing on the lives of 30-something Lorelai Gilmore and her teenage daughter Rory, the drama centred around would-they-wouldn't-they romances and small town American life.
Almost a decade on, Netflix has picked up the series for a four-part reboot.
Both stars credit the return of Gilmore Girls in part due to the "grassroots" campaigns of loyal fans. And they're not ruling out more episodes in the future.
"I think it's a combination of we want it to be satisfying but we don't want to stay at the party too long, so we'll just see what people think," says Lauren.
"We don't want to exploit something that people love just to keep doing more," adds Alexis.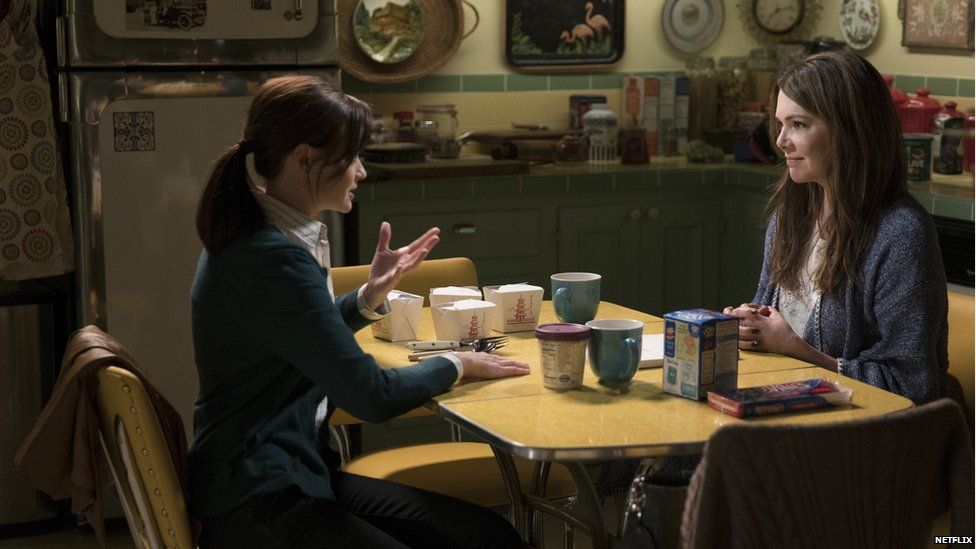 It's certainly not the most diverse leading cast when it comes to ethnicity, class or faith. But the stars say the overall attitude of the show is one of tolerance and acceptance.
"I think it's like going back to a place that's a little bit untouched," says Alexis.
"That being said there are some modern updates. I mean, Rory is on her phone quite a bit in the first episode.
"I think it's not really a comment on where we are politically."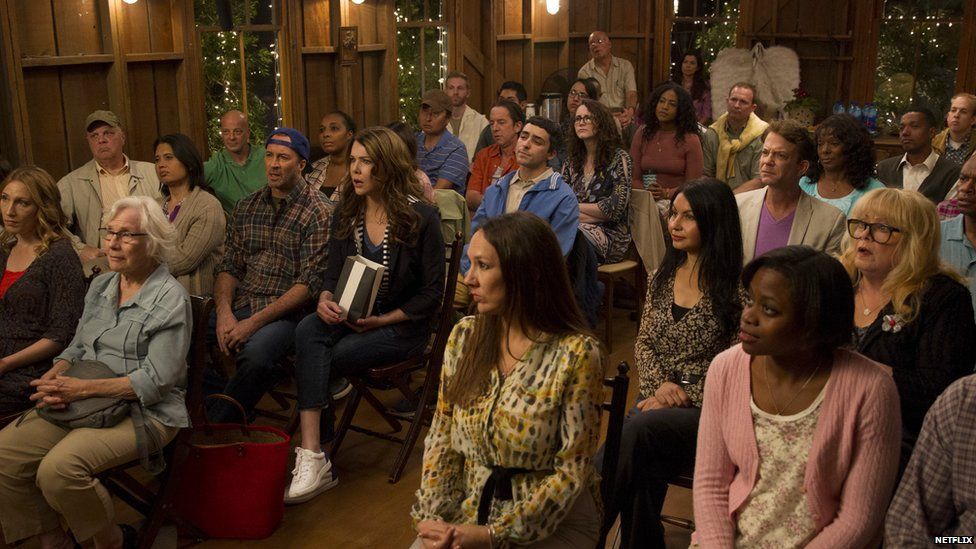 Lauren points out that the show was shot almost a year ago.
"We couldn't possibly have foreseen what was happening," she says.
"I think the town itself is a place of diversity in terms of welcoming everybody.
"I feel we're just entertainers and in that capacity I just hope this offers a little bit of comfort.
"It is a happy and kind world that we live in on this show and that is where I hope we can live in real life."
Gilmore Girls: A Year In The Life launches on Netflix on Friday 25 November.
Find us on Instagram at BBCNewsbeat and follow us on Snapchat, search for bbc_newsbeat