Uber detours and how to fight them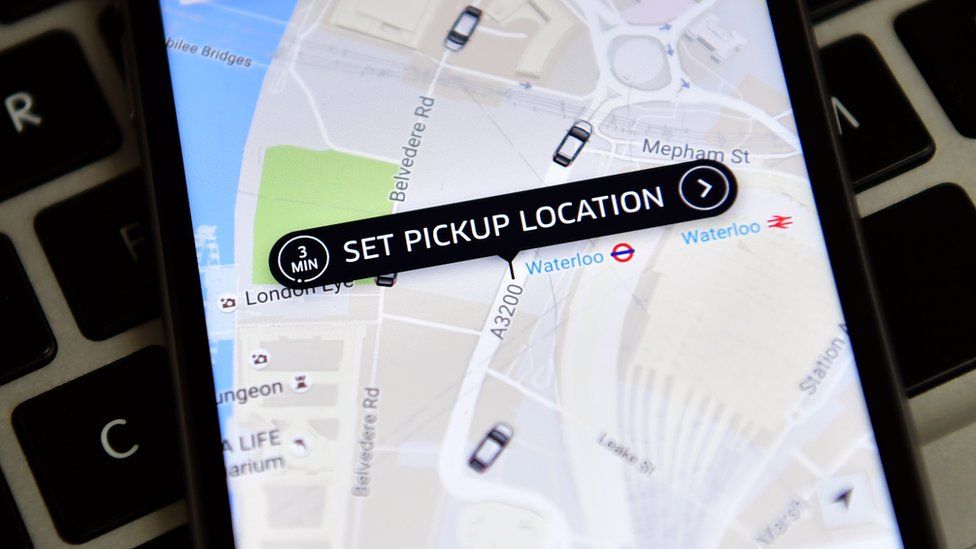 Another Uber rider is claiming to have been taken for a ride - a particularly long and unnecessary one.
Hannah Warman says she was charged £85 for a journey in east London which should have taken five minutes.
She told London's Evening Standard: "I must've fallen asleep in the car. I woke up a couple of times and said 'Why is this taking so long?
She's been given a refund and Uber is investigating.
"We are speaking to the licensed driver to establish exactly what happened. However, our systems show that the requested destination changed three times during the trip," the firm said in a statement.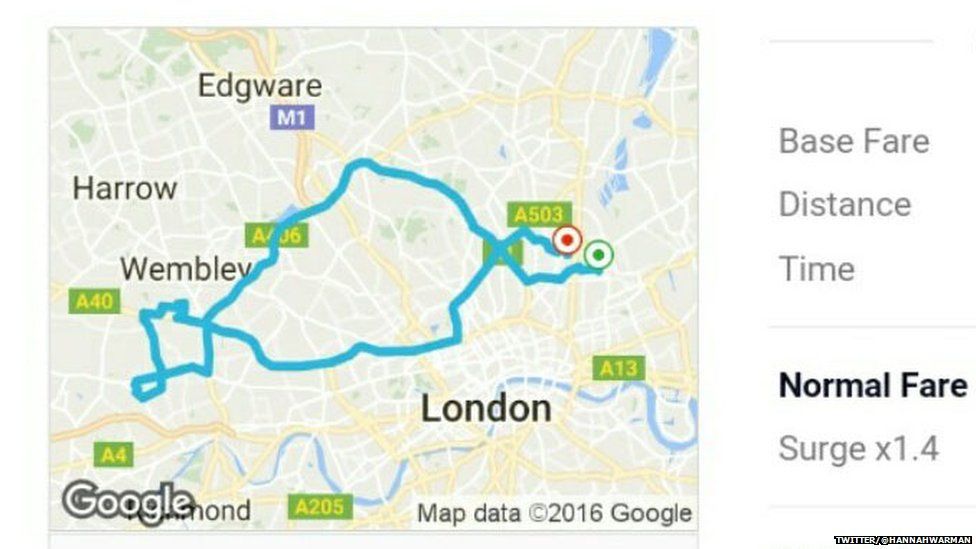 It isn't the first story of this kind.
Back in March Daniel Kaizen was charged more than £100 for a journey which should have cost £15.
Why doesn't it happen to other taxi companies?
To recap, Uber is a taxi-hailing app which allows riders to link up with drivers to book a car journey in many British cities.
The app automatically charges the credit or debit card linked to an account, once the journey is completed.
You can see how much you have been charged by looking at the app, but often riders don't notice a larger than expected fee until the receipt arrives in their email inbox.
Before Uber, most taxi journeys involved paying the driver in person at the end of the ride - allowing passengers to question the amount if necessary.
There are some interesting routes out there
PJ is not happy with the route his driver took.
Lucy wanted an explanation for this route choice.
Ross tweeted a complaint to Uber in July for this journey.
When asked about the company's policy on efficient routes, Uber's spokesman said the firm "invites drivers to take the most efficient route, or the one requested by the rider.
"We provide navigation in the app for them to use."
Uber says it doesn't see drivers taking detours deliberately
"Unlike other transport options Uber's technology records every trip and sends riders a receipt with a map of the route taken.
"This transparency and accountability means if there is an issue it can be quickly resolved.
"The drivers would be wasting their time detouring because they know we will investigate."
Uber says it refunds the fare when there is a complaint of this type.
But the offending drivers are unlikely to be stopped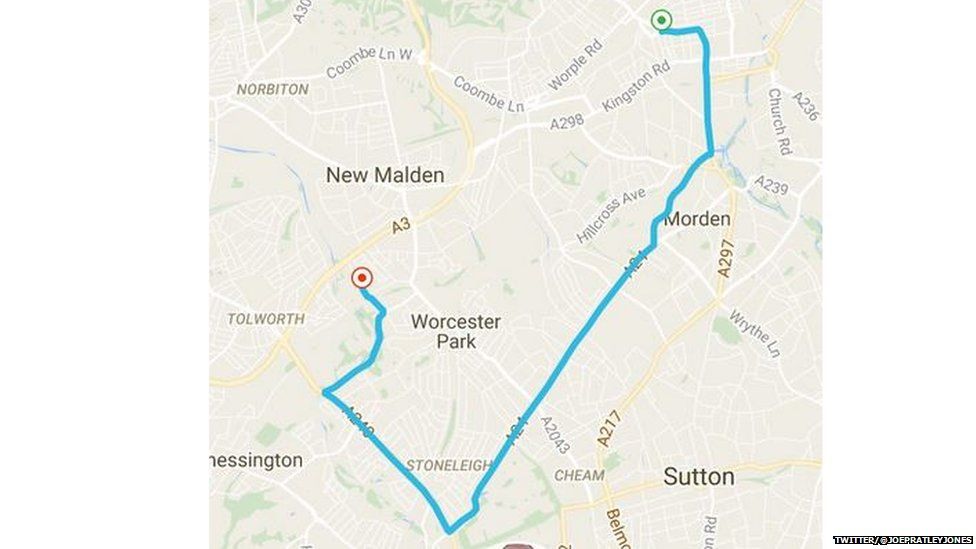 "If it was the first time they probably wouldn't be deactivated," Uber tells Newsbeat.
"The rating system tends to deal with this sort of thing.
"If someone has a bad journey they will give the driver a poor rating and this will bring down their average score."
Uber give tips to drivers with a low rating to try and help them increase that score - and sometimes the company partners them up with a high-rated driver for tips.
Uber says it will always try to get back to your complaints within a couple of hours
If you have an issue to raise the company suggests the best way to get in touch is via the app - or on social media.
Find us on Instagram at BBCNewsbeat and follow us on Snapchat, search for bbc_newsbeat