Architects guitarist Tom Searle dies after battle with cancer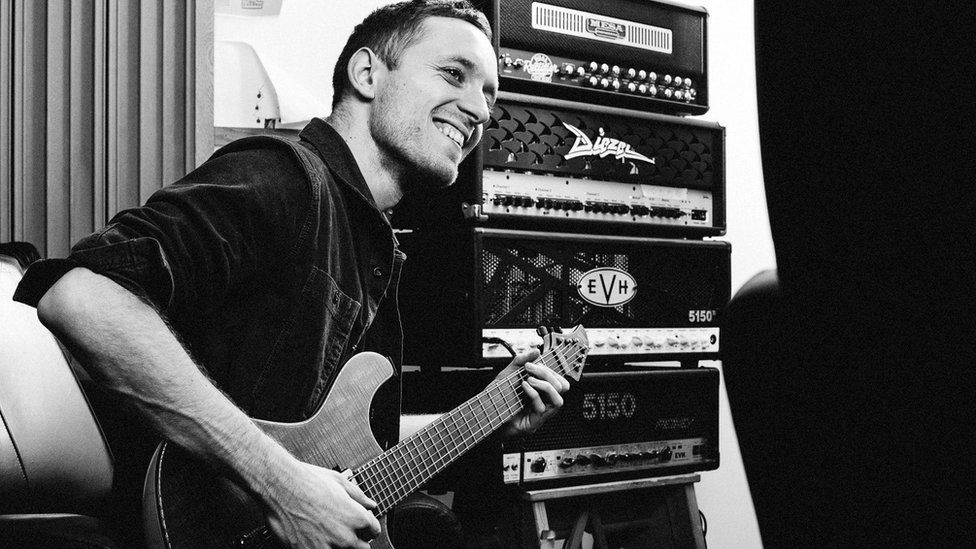 Architects guitarist Tom Searle has died, aged 28, after a battle with cancer.
A post by his twin brother Dan on the band's Facebook page said Tom had been living with cancer for three years.
"In the last two weeks it suddenly took a turn for the worse and finally he left us," he wrote.
"He spent the last two months fighting with everything he had to overcome the disease and things appeared to be moving in the right direction."
The metal band from Brighton are regularly played on the Radio 1 Rock show with Daniel P Carter.
He posted a simple 'X' on Twitter after finding out about Tom's death.
"He was an incredible songwriter and guitarist," Dan wrote. He was my closest and oldest friend. He was a funny, intelligent and sweet man and he leaves an enormous void in all of our lives."
The band will continue on their tour with a UK and European headline slot starting in October.
In June, they cancelled their North American headline tour.
"We hope that these shows will be an opportunity for everyone out there to show their respects to my wonderful brother. It won't be easy for us to get on stage and play every night without him, but its something that we must do."
But it's unclear what will happen after that.
"I don't know what will become of Architects," Dan posted. "Me and Tom started playing in a band together when we were 13 and, really, Architects is just an evolution of the band that we started all the way back then, over half my life ago.
"To pretend that Tom wasn't at the heart of everything that the band created would be to show a complete lack of respect to the amazing talent that he was."
"The band will never be the same and there is simply no denying it," he continued.
"We want to carry on, that is important to say, and we will strive to do so, but we will not release any music unless we truly believe that it is something that Tom would have been proud of.
"Whether or not we can achieve that is something that we will have to discover in time."
Find us on Instagram at BBCNewsbeat and follow us on Snapchat, search for bbc_newsbeat