Five facts about the Refugee Olympic Team competing at Rio 2016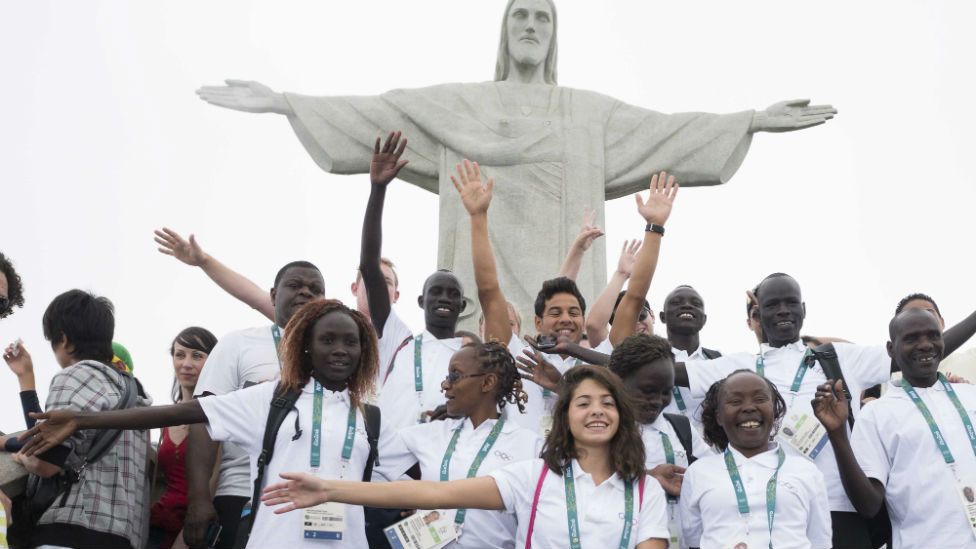 Ten athletes in Rio are not competing for their country - because they are the Refugee Olympic Team (ROT).
They come from countries including South Sudan, Ethiopia, Congo and Syria.
They now live in Belgium, Kenya, Germany and Olympic hosts, Brazil.
But what do we know about them and what can we expect from their performances?
Watch the video and see our five facts about Team Refugees below.
1. They're already heroes... who can Samba dance
The ROT arrived at the Olympic village on Wednesday to a rapturous welcome from fellow athletes.
Syrian swimmer Rami Anis broke out into some pretty impressive Samba moves with the local welcoming party.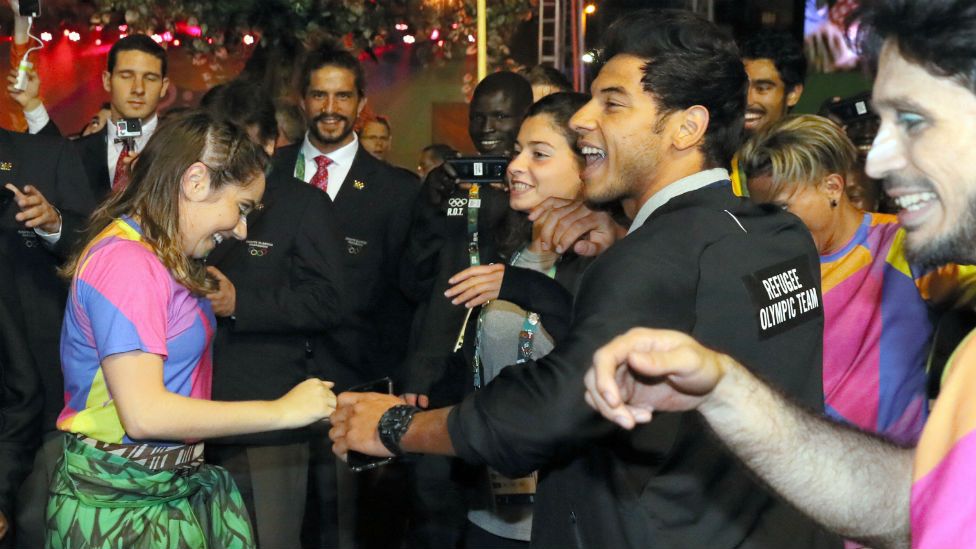 South Sudanese 400m runner James Nyang Chiengjiek gave a powerful speech about how sport helps create tolerance.
He said the very existence of the team shows that "peace is possible".
2. They have all fled war
It's a sad fact that parts of Africa and the Middle East have been ravaged by war for decades.
The athletes of the ROT have at some point escaped wars in Kenya, Syria, South Sudan, Democratic Republic of Congo (DRC) and Ethiopia.
In the EU alone 292,450 refugees were granted asylum in 2015, with the majority trying to escape war from those areas. This is from millions of applications.
Seeing these athletes compete at the Olympics will show the world that there is more to refugees than struggle and pain.
3. Two team members will feel at home
Two ROT members, judo stars Yolande Bukasa Mabika and Popole Misenga, live and train in Brazil.
Their lives have long been affected by both the fighting and the aftermath of the brutal civil war in DRC (1998-2003).
Together they sought asylum in their adopted county following the 2013 World Judo Championships.
It means you can expect the Brazilian crowd to raise the roof when this pair hit the judo mat.
4. They have fans on Sesame Street
On Thursday Sesame Street's Grover recorded a touching message of support for Team Refugees.
Grover said the "super special" team deserves kids' support for their courage and determination.
5. But don't get your hopes up for medals...
The athletes of the ROT are undoubtedly in Rio on merit.
But although seeing one of the team on the podium would be incredible, be aware that it's very unlikely to happen.
None of the competitors are anywhere near the top 10 rankings of their respective sports, so any medal glory would require a huge upset.
And the members of the Refugee Olympic Team are...
• Rami Anis (M): Country of origin - Syria; host NOC - Belgium; sport - swimming
• Yiech Pur Biel (M): Country of origin - South Sudan; host NOC - Kenya; sport - athletics, 800m
• James Nyang Chiengjiek (M): Country of origin - South Sudan; host NOC - Kenya; sport - athletics, 400m
• Yonas Kinde (M): Country of origin - Ethiopia; host NOC - Luxembourg; sport - athletics, marathon
• Anjelina Nada Lohalith (F): Country of origin - South Sudan; host NOC - Kenya; sport - athletics, 1500m
• Rose Nathike Lokonyen (F): Country of origin - South Sudan; host NOC - Kenya; sport - athletics, 800m
• Paulo Amotun Lokoro (M): Country of origin - South Sudan; host NOC - Kenya; sport - athletics, 1500m
• Yolande Bukasa Mabika (F): Country of origin - Democratic Republic of the Congo; host NOC - Brazil; sport - judo, -70kg
• Yusra Mardini (F): Country of origin - Syria; host NOC - Germany; sport - swimming
• Popole Misenga (M): Country of origin - Democratic Republic of the Congo; host NOC - Brazil; sport - judo, -90kg
Find us on Instagram at BBCNewsbeat and follow us on Snapchat, search for bbc_newsbeat