How the new Carpool Karaoke spin-off will be different from James Corden's version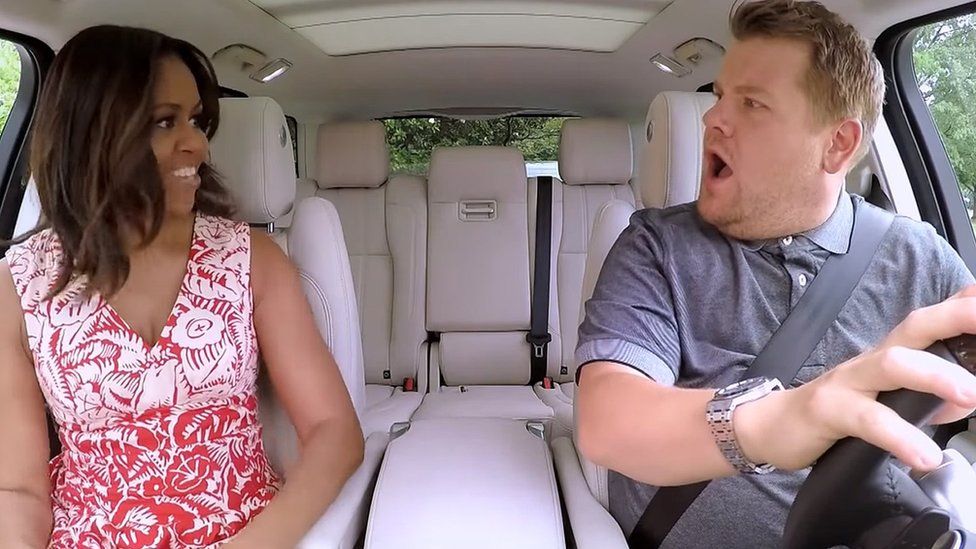 The standalone Carpool Karaoke show will feature more celebrities rather than just musicians.
It's an idea bosses had after Julia Roberts and George Clooney starred in the Gwen Stefani video.
Now they want to see "what a certain actor's playlist is" or what a sports star listens to "when they get in the zone", explains Ben Winston.
He's the executive producer of The Late Late Show with James Corden and will be working on the new series.
The spin-off show comes after the success of the feature within the Late Late Show aired on CBS in America, and uploaded on YouTube.
Carpool Karaoke was at first "a concept people just didn't get or buy into," he tells Newsbeat.
That was until Mariah Carey agreed to be the first to appear in the feature.
Warning: Third party content may contain adverts
"If you can think of an artist in the world, we probably asked them and they definitely said no," explains Ben.
"There's still a lot more people that we've got our eyes on. I'd love to do Madonna, Beyonce, Rolling Stones or Bruno Mars."
But it's been pretty star-studded.
In the past 18 months James Corden has driven around Los Angeles with the likes of One Direction, Coldplay, Jennifer Lopez and Stevie Wonder.
Warning: Third party content may contain adverts
"It made a big difference to the show because as soon as Stevie Wonder had done it, all these other artists were willing," Ben says.
That's the one he got the most starstruck filming but admits "it will be hard to beat in my entire career being at the White House filming with Michelle Obama".
The first lady singing along to Beyonce and Missy Elliot has amassed more than 35 million views on YouTube in one week.
Unfortunately her husband won't be making an appearance before he leaves the White House next year.
"I feel like we might have missed the boat now with the president," he believes.
"We didn't meet him but we did see the back of his head. That was a real buzz, I've never been so excited to see the back of someone's head in all my life."
Carpool Karaoke getting its own show isn't a first for a TV feature - it happened with Lip Sync Battle as well.
But it doesn't happen in the UK that often.
"Late night TV in America is about being on every night," Ben explains. "People have grown up with the tradition that when they go to bed they turn on the television and they fall asleep to their favourite talk show host.
"[The UK] is very different, I think it would be very hard to make a daily talk show. There's a lot fewer celebrities, actors and musicians. It would be very difficult to do 220 episodes a year like we do out here."
Although Ben does say he's a big fan of Ant and Dec's Saturday Night Takeaway.
And finally, what about those rumours Carpool Karaoke was inspired by Greg James and Taylor Swift?
Warning: Third party content may contain adverts
"As much as I love Greg James, it absolutely wasn't inspired by that," he laughs.
"We did it a lot earlier than that - when George Michael got in the car with Smithy for Comic Relief."
That was in 2011 and five years later James Corden, no longer in character as Gavin and Stacey's Smithy, has dueted with some of the biggest music stars in the world.
Find us on Instagram at BBCNewsbeat and follow us on Snapchat, search for bbc_newsbeat