How Drake's One Dance ruled the chart - without a music video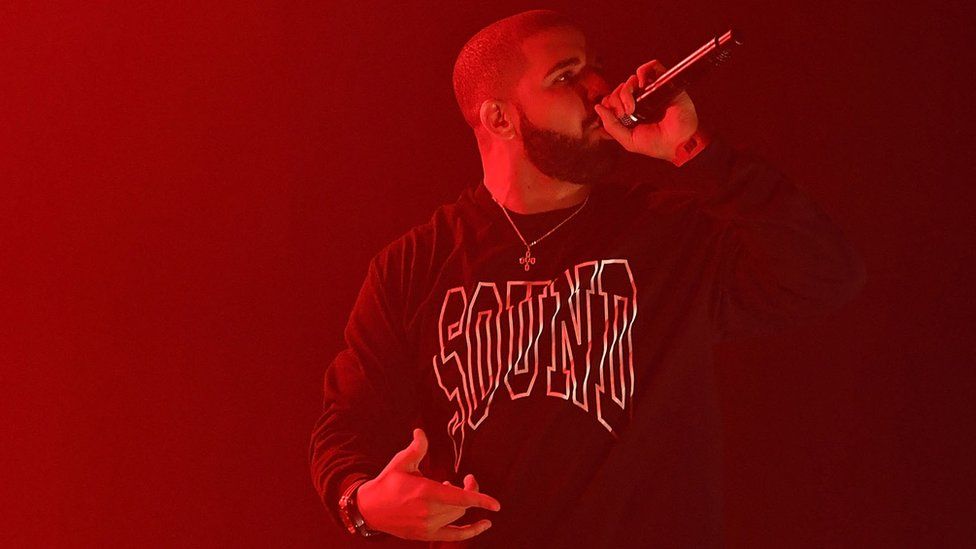 Drake may have only asked for One Dance but his feet must be hurting because it lasted nearly four months.
The Canadian rapper fell just one week short of UK chart history.
One Dance, which is taken from his album Views, was the UK's top performing single for 15 weeks.
Streaming and the lack of a music video are two of the key reasons it did so well. So could that become a trend in music?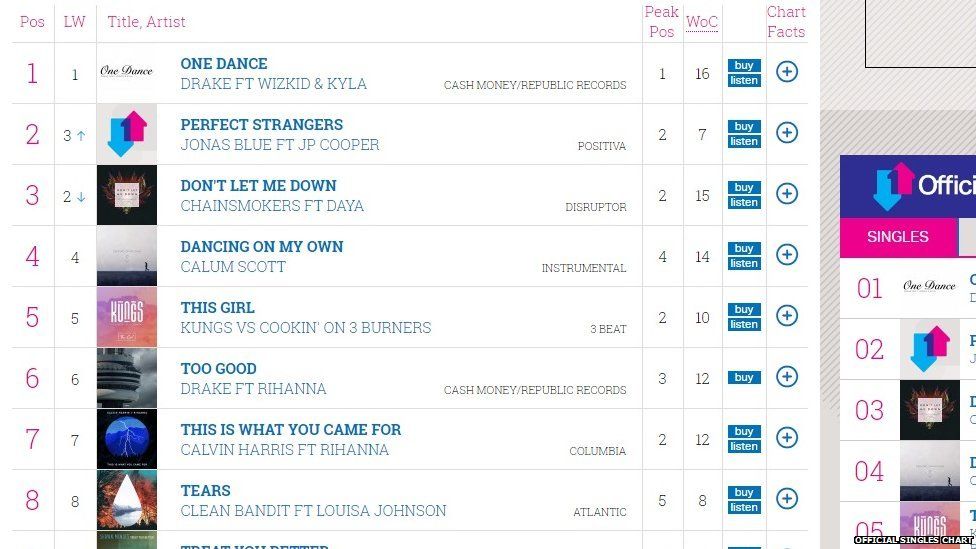 Another Canadian, Bryan Adams, holds onto the record for the UK's longest ever number one single.
His song, Everything I Do (I Do It For You), was released in 1991 and held onto the top spot for 16 weeks.
'This has been a huge track in terms of streams'
In an office located on the second floor of a building overlooking the River Thames in London, excitement has started to build at the prospect Drake could be about to equal that epic run.
"We recently introduced a new award, an official record breakers award, which so far has been presented to Justin Bieber and Sir Paul McCartney," said Martin Talbot who is chief executive of the Official Charts Company.
"It was given to them for having the biggest albums of all time in the UK. I think if Drake makes the mark this afternoon he could be in one for one of those."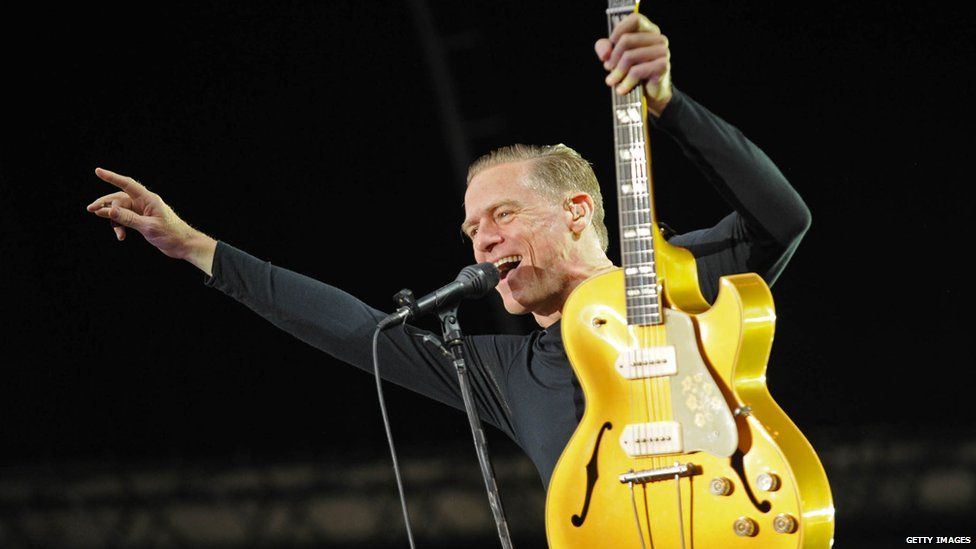 People listening to Drake on streaming services like Tidal, Apple Music and Spotify have played a huge part in the rapper maintaining his stay on top of the UK singles charts.
Longest consecutive No.1 singles
Bryan Adams - (Everything I Do) I Do It For You - 16 weeks
Drake - One Dance* - 15 weeks
Wet Wet Wet - Love Is All Around - 15 weeks
Queen - Bohemian Rhapsody - 14 weeks
Slim Whitman - Rose Marie - 11 weeks
Audio streams were introduced as part of the chart make-up two years ago.
They are combined with physical sales and downloads to determine a song's overall consumption.
"This has been a huge track in terms of streams. I think to date it's done almost 90 million streams in just 15/16 weeks, that's extraordinary," says Talbot.
No music video
Although some songs released during the 15-week period have sold more downloads and physical copies - Drake's dominance in the streaming market has seen off the competition.
"There are only been a couple tracks that have passed the 100 million streams mark.
One Dance will be the fastest song to ever reach that level, we are pretty sure of that," Martin Talbot added.
The fact Drake's song has no music video is another possible reason it's performed so well.
That might be because people who use YouTube to listen to music are being forced to use a streaming service to hear the track.
YouTube streams don't count towards the chart as they do elsewhere in the world.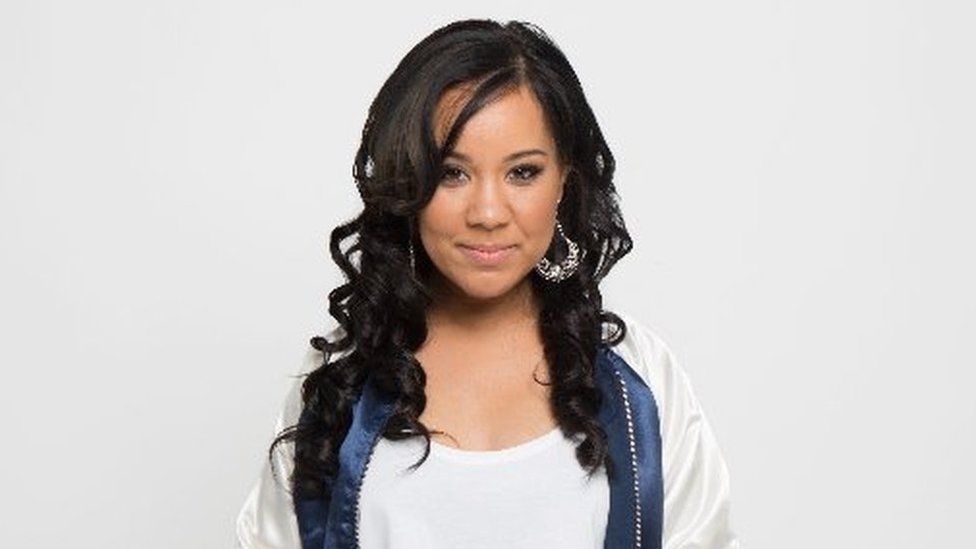 British singer Kyla features on One Dance.
"I don't want to say too much but I don't know when the video's going to be out but fingers crossed there will be a video. I won't say anything else.
"Normally when we get contacted it's a few days before anything's happening so I really don't know if there'll be a video," she tells Newsbeat.
I love Drake, but enough is enough, every single time I'm out in the club it's played several times
"When I originally had the conference meeting before the track came out there was going to be a video."
Whether Drake's delay in releasing the visuals is a conscious one or not, Martin Talbot from the Official Charts says it's played a huge part in keeping the single flying.
"The reality is that a track that might be getting four million streams in a week will be getting three to three and a half million video streams in the same week, " he tells us.
Video streams are not accounted for when determining a song's consumption.
"So the fact that Drake's audio streams are so high does indicate that people who can't video stream it, have listened to it on an audio stream."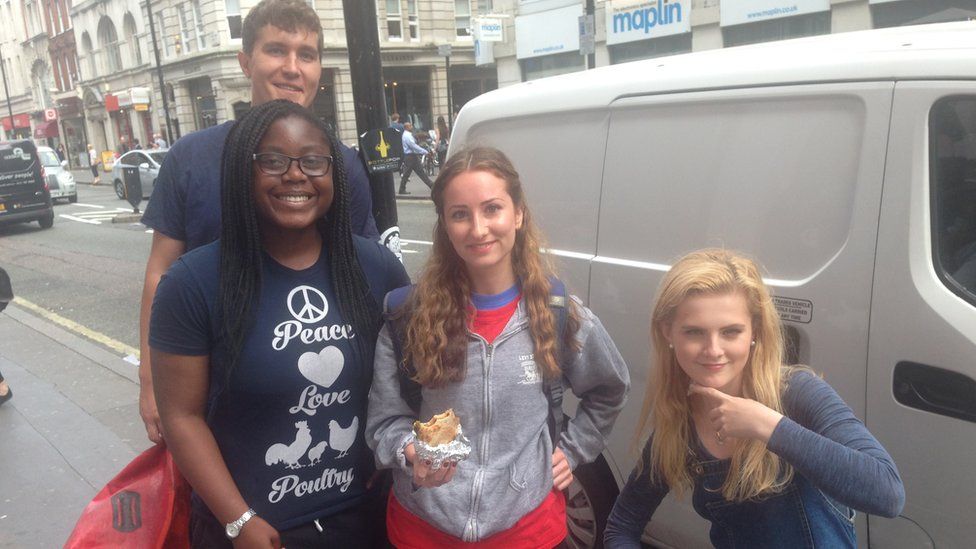 Martin Talbot thinks music videos will still continue to play a key role in an artists arsenal.
One week away from history
Drake will be hoping One Dance can stay on top of the UK Official Chart for one more week.
For work colleagues Tom, Antoinette, Cena and Antonia One Dance has served it's purpose.
"It's on every single time you're anywhere it was on in the store while I was standing outside so I had to move," Tom laughed.
Cena added: "I love Drake, but enough is enough, every single time I'm out in the club it's played several times. I'm done with it."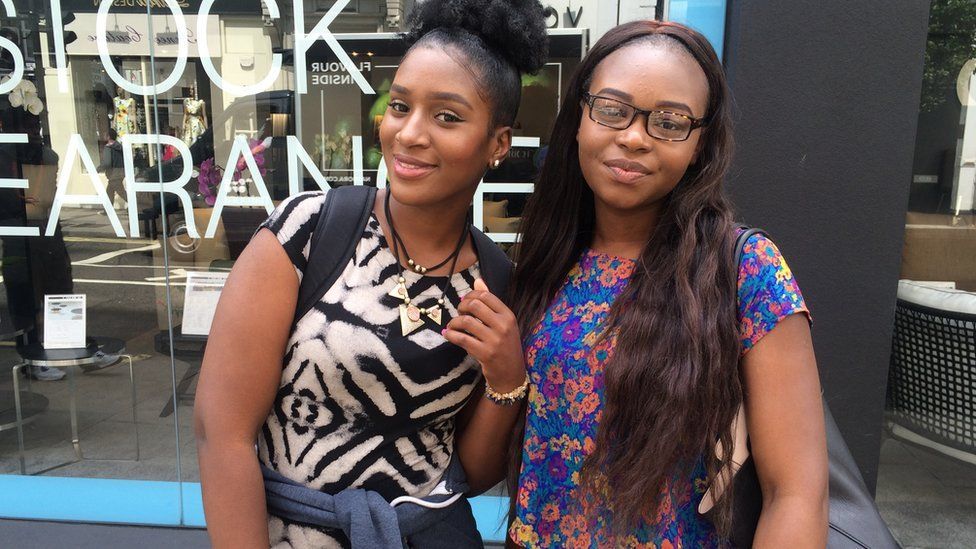 Event organiser Sara isn't ready for it to disappear from the airwaves just yet.
"I am not tired yet for some reason maybe it's because I am a fan of Drake and it's a summer song it's almost the song of summer 2016," Sara tells Newsbeat.
Drake has seen off competition from Prince, Justin Timberlake, Calvin Harris and Rihanna in weeks gone by.
However, released last week, a new song from Major Lazer and Justin Bieber is seen as the biggest threat yet to his historical chart dreams.
Find us on Instagram at BBCNewsbeat and follow us on Snapchat, search for bbc_newsbeat