Indigo Velvet: A band who cried when they found out they were playing T in the Park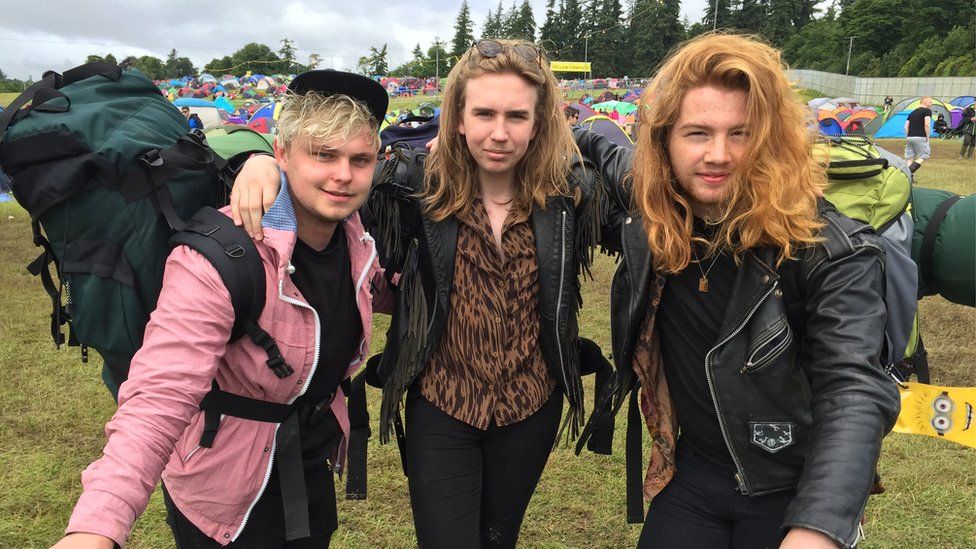 Going to your favourite festival and then getting asked to perform on one of the stages has to be a moment.
And that's exactly what it was like for unsigned band Indigo Velvet.
"I started crying," laughs Laurie from the Edinburgh-based tropical pop quartet.
Laurie, Darren, Billy and Jason are playing the T Break stage on Sunday, where the likes of Wolf Alice, Jess Glynne and Temper Trap all performed before they made it big.
It's the boys' fifth time at the festival but they're going to have a sober Saturday ready for their performance on the last day of T.
"It's just been our two-year anniversary and we're now playing T in the Park," Billy explains to Newsbeat.
They're currently unsigned and have 9 to 5 jobs in a department store but are going to "see how it goes this year and just keep busy".
"We've got a lot planned to get out into different cities," he says.
Because they're unsigned they say they have to really be organised.
"Laurie is Mr admin," Billy jokes. "We've kind of got a little team helping us out and stuff.
"We're getting there slowly but we like how it is just now. We like the kind of involvement we have."
You have to apply to perform on the T Break stage and they didn't think they'd have a chance.
"They narrowed it down from 2,000 applications to 16 bands," Darren says, not quite believing it.
"It's pretty scary knowing that people are listening to your music and judging you."
Aside from their T debut, the band are looking forward to seeing Disclosure, the 1975 and Tinie Tempah over the weekend.
Find us on Instagram at BBCNewsbeat and follow us on Snapchat, search for bbc_newsbeat