Spotify accuses Apple of blocking app and using store as 'weapon to harm competitors'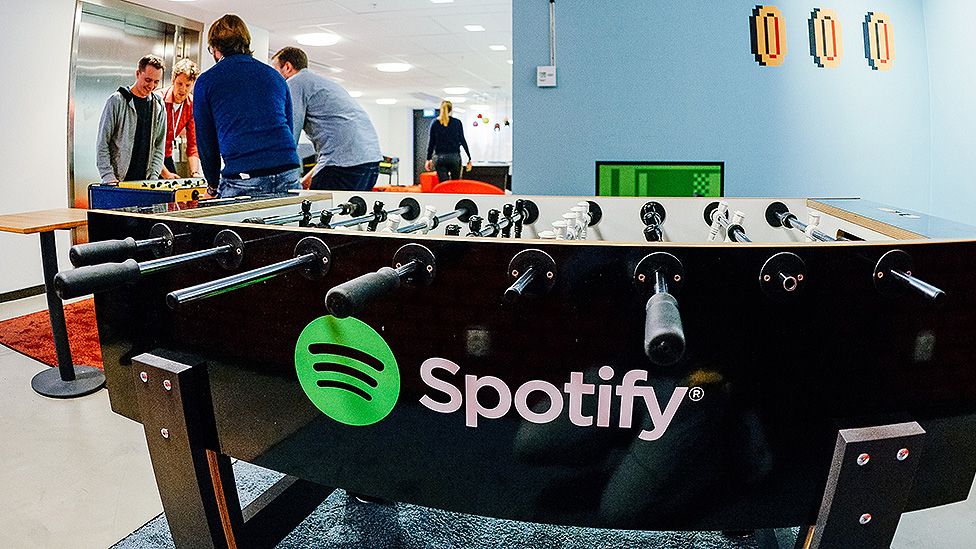 A war is brewing between two of the biggest names in music with Spotify accusing Apple of blocking its latest app update.
Spotify says Apple will only make its update available if it agrees to use Apple's own billing system.
It says Apple rules are designed to damage Spotify, reducing competition to its own music streaming service, Apple Music.
The move is "causing grave harm", Spotify says.
Details of Spotify's initial legal letter to Apple have been shared online.
"We cannot stand by as Apple uses the App Store approval process as a weapon to harm competitors," Spotify general counsel Horacio Gutierrez wrote in a communication with Apple's lawyers.
"This latest episode raises serious concerns under both US and EU competition law.
"It continues a troubling pattern of behaviour by Apple to exclude and diminish the competitiveness of Spotify on iOS and as a rival to Apple Music, particularly when seen against the backdrop of Apple's previous anticompetitive conduct aimed at Spotify."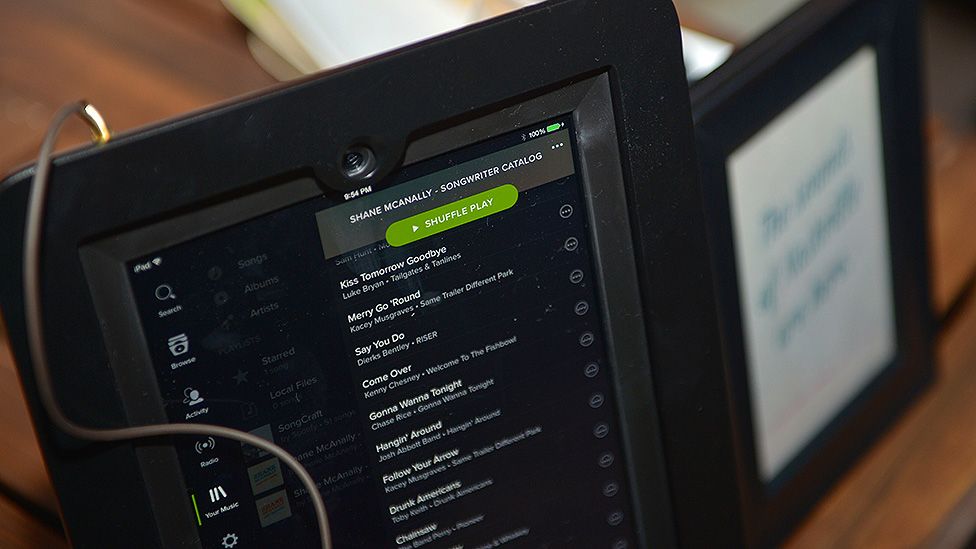 Newsbeat contacted Spotify for a comment but was told no official statement will be issued.
Its press office did confirm that the facts on the issue, originally reported by tech website Recode, are correct.
Apple charges companies up to 30% of income made to use its iTunes billing service and offers no alternative.
If companies refuse to comply with Apple's requirements, their product may be removed from the App store - the only way to distribute apps onto iPhones.
In a recent discussion on Apple, Amazon and Google's internet dominance, Spotify's Global Head of Communications and Public Policy, Jonathan Prince, addressed Apple's stance on rival services.
"Apple has long used its control of iOS to squash competition in music," he said.
He accused Apple of "driving up the prices of its competitors, inappropriately forbidding us from telling our customers about lower prices, and giving itself unfair advantages across its platform through everything from the lock screen to Siri.
"You know there's something wrong when Apple makes more off a Spotify subscription than it does off an Apple Music subscription and doesn't share any of that with the music industry.
"They want to have their cake and eat everyone else's too."
In response Apple, in a letter, said: "Our guidelines apply equally to all app developers, whether they are game developers, e-book sellers, video-streaming services or digital music distributors; and regardless of whether or not they compete against Apple.
"We did not alter our behaviour or our rules when we introduced our own music streaming service or when Spotify became a competitor," Apple lawyer Bruce Sewell explained
"Ironically, it is now Spotify that wants things to be different by asking for preferential treatment from Apple."
Sewell ended by saying: "I would be happy to facilitate an expeditious review and approval of your app as soon as you provide us with something that is compliant with the App Store's rules."
Find us on Instagram at BBCNewsbeat and follow us on Snapchat, search for bbc_newsbeat