This is what Britain looks like after EU vote - happy, sad and divided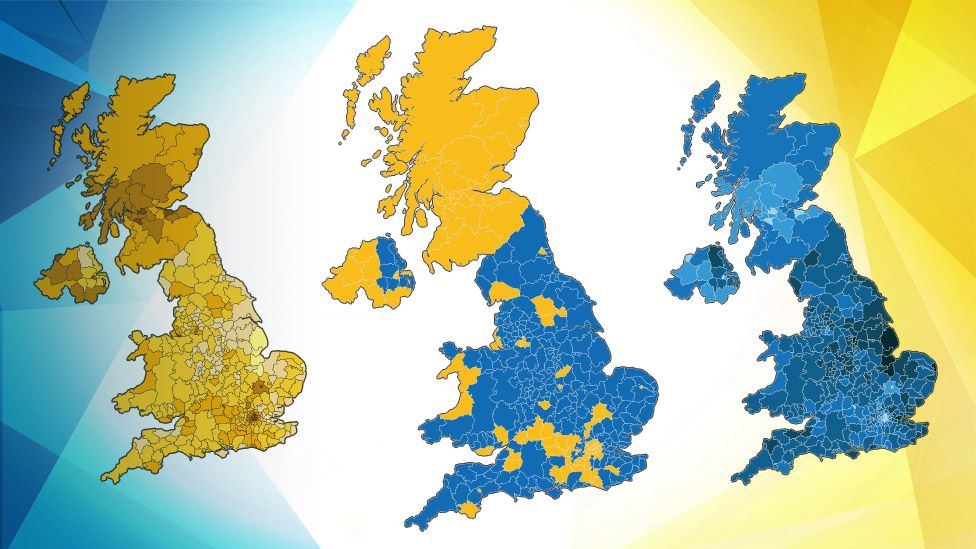 So the UK has voted to leave the EU in a referendum by 52% to 48%. Prime Minister David Cameron says he'll step down later this year.
Turnout was huge - more than 70% of people who were registered to vote did so.
Scotland, Northern Ireland and London wanted to stay in the EU, but Wales and large parts of England voted out.
Social media is a minefield, obviously. Here's what you're saying.
Leave voters are excited and cheerfully drinking tea...
Editor of Loaded Magazine, Martin Daubney, was happy with the result and said more younger people should have voted if they wanted a different result.
Kerry said he was pleased with the referendum result.
Rosey wants people to get on with their lives.
It's too early for a proper celebratory drink for Kevin.
Lina says she feels like it's Christmas. It's not.
Remain voters are gutted and worried about their futures...
#NotInMyName and #WhatHaveWeDone are trending. And it looks like under-24s largely voted to Remain.
Lily Allen retweeted Kimberly's comment, who's really unhappy with the result.
Nick says the result shows how the UK is divided between urban and rural areas.
Em doesn't think the UK will be able to survive this.
Caden thinks 16 and 17-year-olds should have been able to vote.
And Elizabeth thinks Leave campaigners lied about their claims.
They are joined by a fair few #sadface celebrities...
Harry Potter author JK Rowling thinks the vote will lead to Scotland's independence.
Singer Ellie Goulding had a simple message...
Irish citizen and One Direction star, Niall Horan, says the UK will regret its decision.
Star Wars actor John Boyega used an emoji to register his disapproval.
Comedian Jack Whitehall pointed at David Cameron's decision to resign as PM.
And Lindsay Lohan live tweeted all night urging people to vote Remain.
But not Carol Vorderman...
Countdown's Carol Vorderman is happy. And proud of her mum.
Oh and Donald Trump's pleased too...
But maybe a bit confused about how Scotland actually voted.
Find us on Instagram at BBCNewsbeat and follow us on Snapchat, search for bbc_newsbeat