Meet the secret all-female and British stars of Instagram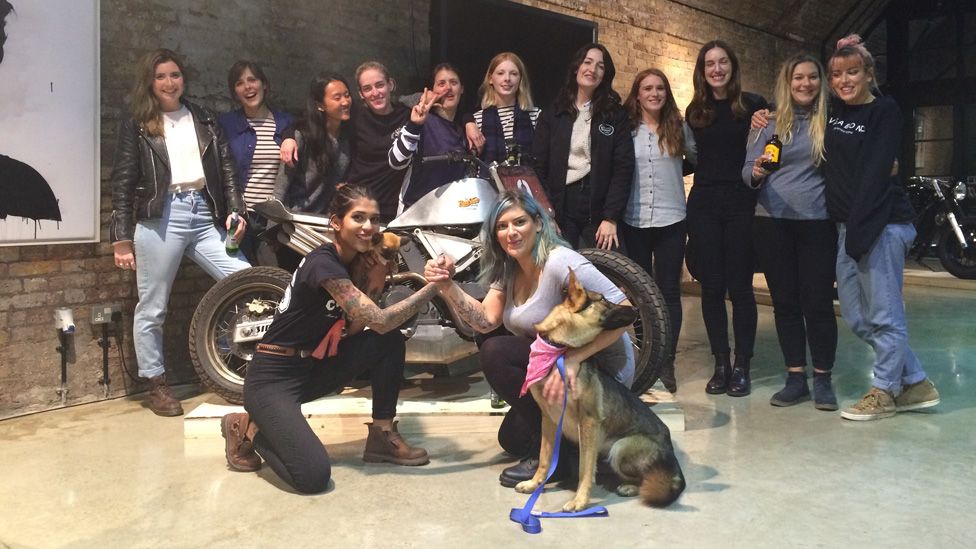 Think Instagram and Kendall Jenner's hair or your mate's new trainers might spring to mind.
But how about an all-female biker gang, a shepherdess and a self-confessed "selfish mum"?
Instagram is showcasing the photos, videos and interesting stories of women who share their everyday lives on the social platform.
Their images have been pulled together for an exhibition in London and the project is called #MyStoryUK.
The all-female biker gang
Gemma is a biker who teaches other women all about fixing and riding motorcycles.
"We show people who want to learn and [we] have taught 40 women", she tells Newsbeat.
She explains how they are not afraid to get their hands dirty, literally, and then share it all with followers.
Through Instagram, VC London connected with Babes Ride Out in the USA, a biker group which started with 50 members and has now risen to 2,000.
And now Babes Ride Out UK are having their own meet-up in August - the first female based motorcycle event in Europe.
"I work as a fashion designer during the day and I wasn't on social media before VC London," Gemma explains.
"Instagram lets you tell a story through visuals and we have grown a business from it now."
The mum who stays sane by being a little bit selfish
"Mums are allowed to be selfish sometimes. A healthy mum is one who looks after herself as well as her kids," says Molly, who has two young sons.
Selfish Mums got a little bit of help from Leah Wood, daughter of Rolling Stones band member Ronnie Wood, who got everyone's attention when she wore a Selfish Mums T-shirt.
Then former Radio 1 presenter Fearne Cotton was spotted in one.
Selfish Mums donates some of its profits to charity - so far £175,000 has been raised.
Molly tells Newsbeat she hopes her account will help other mums feel that it is ok to be "a little bit selfish sometimes".
The woman who Instagrams her vast flock of sheep
Nicky Baker is a shepherdess who looks after 1,400 sheep in the Isle of Purbeck in Dorset.
She joined Instagram after she saw other farmers sharing glimpses of their daily life.
"It's hard work but I wouldn't do any another job, the sheep depend on me," Nicky tells Newsbeat.
"I just thought I would put a few pictures up and was surprised at how quickly people from other countries were interested in what I did and where I worked."
Fans love her flock so much they've travelled from far and wide to actually see the sheep for real.
"To me it's just everyday life. Knowing that you're responsible for looking after and caring for the sheep."
"People that comment on my pics say 'you're doing my dream job'. It's why I continue to share photos - for their enjoyment."
#MyStoryUK
There are many more women being celebrated with the hashtag #MyStoryUK.
Iskra is a model. After she was bullied, Iskra built "Iskra's Army" to persuade teenagers to join her positive-attitude campaign.
Vivi is a skater. She uses Instagram to meet others who love boarding.
Beckie Brown has a condition which makes her want to pull her hair out - it's called trichotillomania. She's been living with it for more than 10 years.
"Mathsbiochem" posts images of maths and science calculations and wants to challenge attitudes to traditionally male-dominated subjects in school.
Adwoa Aboah has spoken about overcoming addiction. She started @gurlstalk to help girls everywhere talk about the issues affecting them.
And Amber loves reading. She thinks the right book can change your life.
Find us on Instagram at BBCNewsbeat and follow us on Snapchat, search for bbc_newsbeat