Meryl Streep's impression of Donald Trump is pretty hilarious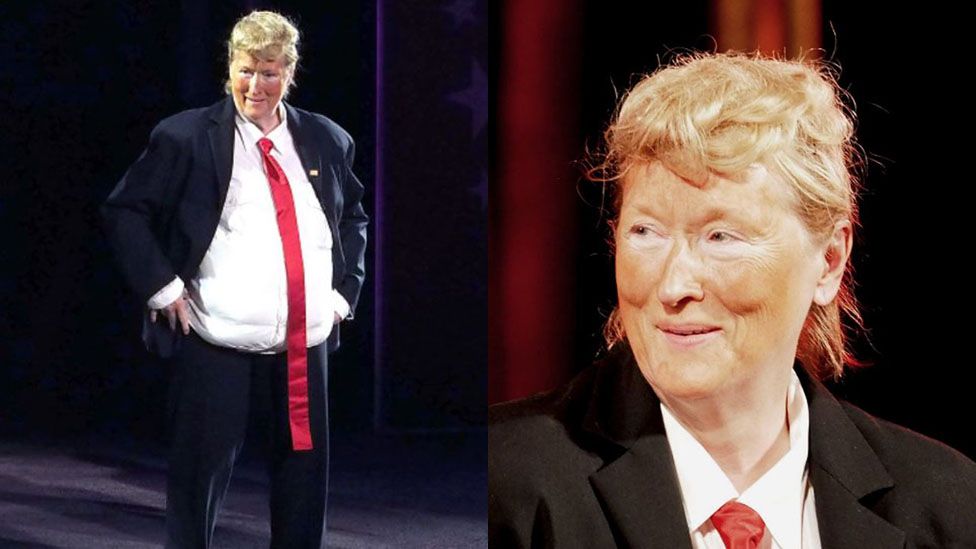 This is Meryl Streep doing her best impression of Donald Trump.
She wore fake tan and a hair piece to impersonate the Republican presidential candidate on Tuesday night.
The actress wore a men's suit with a fake padded belly and red tie to complete the look in a surprise appearance at the Public Theater Gala in New York.
It was her way of showing support for Hillary Clinton, the Democrat nominee in the race for the White House.
Streep's Mamma Mia co-star Christine Baranski dressed up as Clinton and the duo performed two songs.
Streep is known for her portrayals of iconic characters including Margaret Thatcher in the Iron Lady, for which she won a third Oscar.
The Trump interlude happened at the annual Shakespeare in the Park event in Central Park.
The New York Times said Streep's version "did a more than credible version of the presumptive Republican nominee, down to the pursed lips and low-hanging belly. She got the braggadocio-inflected voice, too, even while singing."
"None of us had seen her in costume or makeup till she walked out tonight", the Public Theatre's artistic director, Oskar Eustis, told the Times.
He said it was "utterly her idea, beginning to end".
"There were sceptics, there were doubters, but one of those sceptics was not Meryl Streep. She was absolutely sure she could do it," he added.
Warning: This video may contain third party content
Don't hold out hope for seeing this spectacle again.
"I appreciate the interest, but this was a one-off, a once in a [last in a] lifetime appearance of this character," she said in a statement afterwards.
Overnight Hillary Clinton became the first woman in America's history to be a major party's presidential nominee.
Donald Trump hasn't yet commented on what he thought of Streep's version of him.
Find us on Instagram at BBCNewsbeat and follow us on Snapchat, search for bbc_newsbeat