Kylie Jenner and Jack Black among many celebrities hacked on Twitter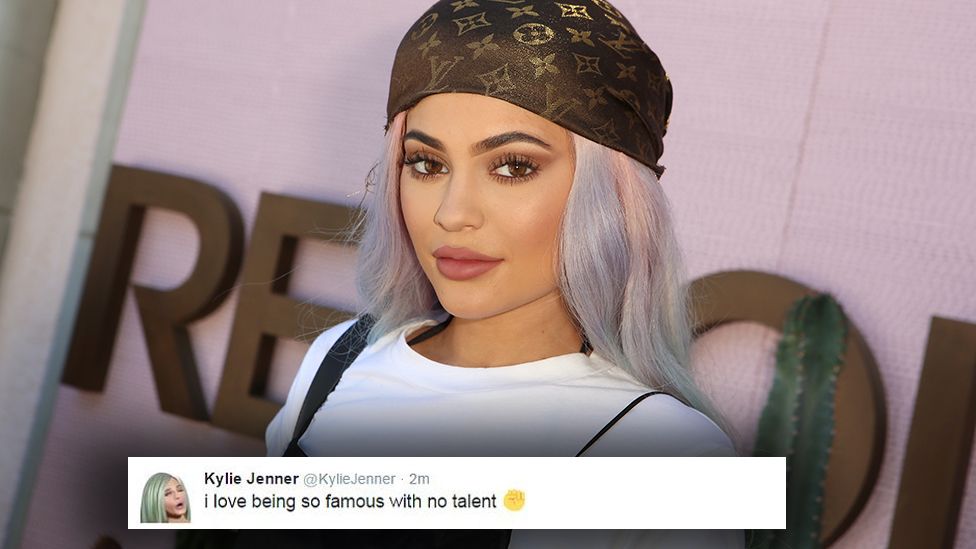 A number of celebrity Twitter accounts have been hacked in the past week and Kylie Jenner is the latest victim to be targeted.
Hackers posted a number of rude and racist tweets from Kylie's Twitter account on Sunday night.
They impersonated the reality TV star by tweeting things like: "I love being so famous with no talent."
Tweets were deleted almost as soon as they would appear but not before fans took screengrabs.
"Erm, so my Twitter was hacked," Kylie told her Snapchat followers. "I don't really care. I'm just letting them have fun."
Another of the tweets referred to a sex tape with her ex-boyfriend Tyga to her 16 million followers and read: "Well my sex tape with tyga was trash."
Kylie also responded in a Snapchat video saying: "Everyone is like leak the sex tape. Guys, you are never going to see a sex tape from me. It's not going to happen."
Other tweets were sent from Jenner's hacked account to Justin Bieber, Katy Perry and Taylor Swift.
One of the tweets retweeted onto Kylie's timeline was from a user that goes by the name of @lolsw4y. This account has since been suspended.
This is the same account that hacked Katy Perry's Twitter last week when hackers tweeted "Miss you baby" to rival Taylor Swift. The two used to be friends but after falling out Taylor released Bad Blood rumoured to be about Katy.
But Kylie isn't the only celebrity to have her account hacked recently.
Tenacious D had their Twitter account hacked over the weekend after a tweet was sent saying Jack Black had died.
It's likely celebrity accounts are being hacked after more than 100 million LinkedIn passwords were advertised for sale last month. These passwords were stolen during a security breach four years ago.
It seems Facebook owner Mark Zuckerberg isn't safe either after he had his Twitter and Pinterest accounts hacked.
Hacking group OurMine have taken responsibility for breaking into Zuckerberg's accounts.
Jackass star Ryan Dunn, who died in 2011 also fell victim to hackers after his account tweeted: "Just met Tupac, real nice guy."
Singer Tyler Joseph of Twenty One Pilots was also compromised and he tweeted: "Whoever hacked my twitter, meet me outside. My friend josh wants to poke you in the eyes with his fists."
Kellie Pickler, fellow country singer in the US, was also hacked on Sunday morning.
Even Ozzy Osbourne's Instagram seemed to post some bizarre images.
Newsbeat contacted Twitter for comment asking to explain why this is happening so much in the past week and who is behind the breach.
Their spokesperson said: "A number of other online services have seen millions of passwords stolen in the past several weeks, and we know far too many people use the same password for multiple things online.
"We recommend people use a unique, strong password for Twitter. We detail other steps people can take to keep their accounts secure on our help centre here."
Find us on Instagram at BBCNewsbeat and follow us on Snapchat, search for bbc_newsbeat