Meet the 25-year-old telling the story of her 14 stone weight loss on Instagram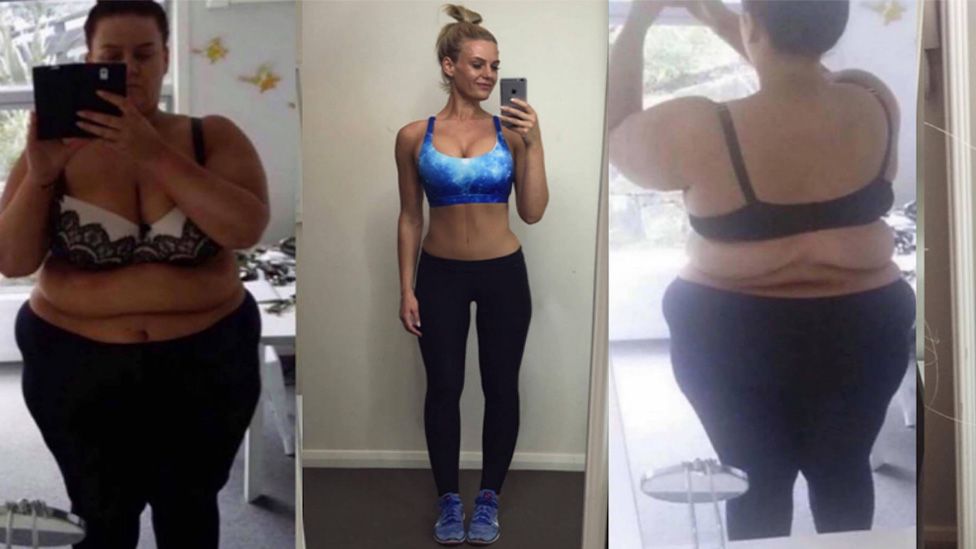 Simone Anderson has gone through a total body transformation, losing more than 14 stone (88 kilos) in just two years.
The 25-year-old, from Auckland in New Zealand, began documenting her weight loss on social media in 2014 "for her own benefit".
"It was time to do it and using Instagram was a way of making myself accountable," she tells Newsbeat.
She said she made the decision that she was going to change her lifestyle.
"I made an account and I pressed publish after four or five days of crying - but the minute I pressed publish it felt like a huge weight had been lifted off my shoulders.
"I knew this time there was no turning back."
She was 23 at the time and was not prepared for the negative comments from strangers that would follow.
"I was definitely not prepared," she explains.
"I only created the page for myself, not for anyone else. Along the way it gained traction but that was never the reason I created it.
The malicious comments coming back really hurt
"I found the negative comments really difficult because I didn't expect them... the malicious comments coming back really hurt."
But Simone said she was amazed by how quickly she amassed an army of followers too - people who shared her journey in a more positive light.
"The fact that it took off blew my mind. It's nuts and I still can't wrap my head around it fully.
"I knew I was an inspiration to other people and that was awesome."
Simone had gastric sleeve surgery where the stomach is reduced to around 15% of its original size.
She then combined this with a healthier diet, lifestyle and an exercise regime to get fit. But the negative comments kept on coming.
"The worst comments I ever received were when people would accuse me of being a fake and a liar.
"It hurt me because I only ever tried to be as honest as possible.
"From day one I showed the good, the bad and the ugly of extreme weight loss.
"I exposed my skin, I showed every stretch mark, every little bit of sagging to the world...
"To have people come back and tell me that I'm faking it was hard because I wasn't pleasing everyone."
She added that "people are used to seeing a before and after picture and making their judgements" but that few were prepared to see the stages in between.
"Even if I have changed one life of a person who is going out for a run now, that's the most amazing feeling ever."
Find us on Instagram at BBCNewsbeat and follow us on Snapchat, search for bbc_newsbeat