'Chewbacca Mom' drives James Corden to work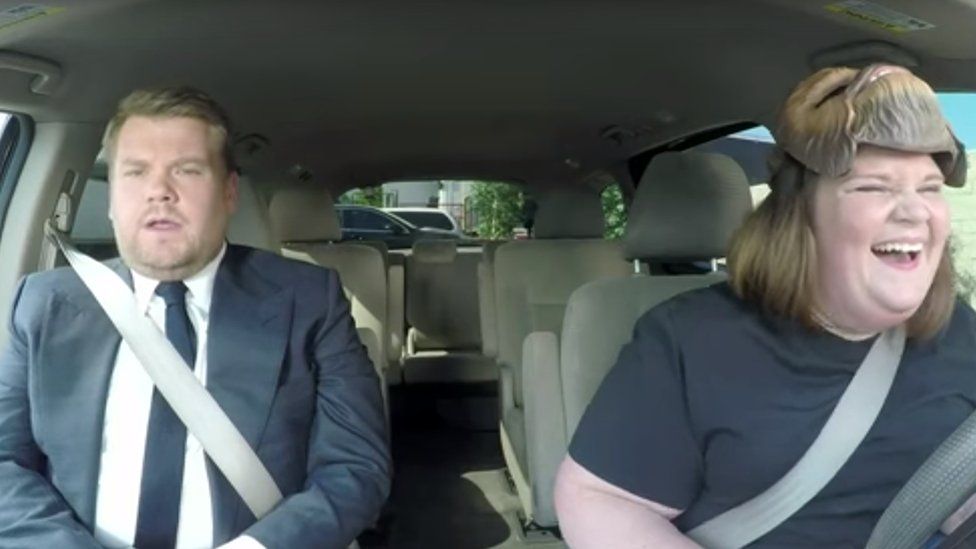 James Corden has seized the perfect carpool karaoke opportunity by inviting the "Chewbacca Mom" to drive him to work.
Candace Payne became the most famous person on the internet last week when she smashed Facebook Live records.
More than 140 million people have now watched the video in which she puts on the Star Wars mask and cracks up laughing.
In the Corden remake it turns out they are not alone in the car.
Star Wars director JJ Abrams is riding in the back.
Warning: Third party content may contain ads
After James complains that she doesn't sound like the actual Chewbacca, Abrams pops up to disagree, saying: "I think it's an excellent Chewbacca."
The director then gives Candace a few tips before Corden gets in on the action and puts on his own mask. Obviously it all ends with everyone laughing.
The original "Chewbacca Mom" hysteria began when the 37-year-old bought the mask in a sale in Texas - and opened it up in a car park outside the shop.
Her contagious laughter and lines like "I'm such a happy Chewbacca" became the most-watched Facebook Live video ever. To date it has been watched 140 million times with 3.2 million shares.
Payne told Corden that she posted the video to prove to her friends and family that the mask was hers, and only hers, and not her children's.
The Late Late Show host also told her that Peter Mayhew, the actor who plays Chewbacca, has invited her to a VIP meet and greet in their hometown of Dallas.
What a week she has had.
Find us on Instagram at BBCNewsbeat and follow us on Snapchat, search for bbc_newsbeat