Jamie Vardy lookalike celebrates with the real Jamie Vardy on Leicester's team bus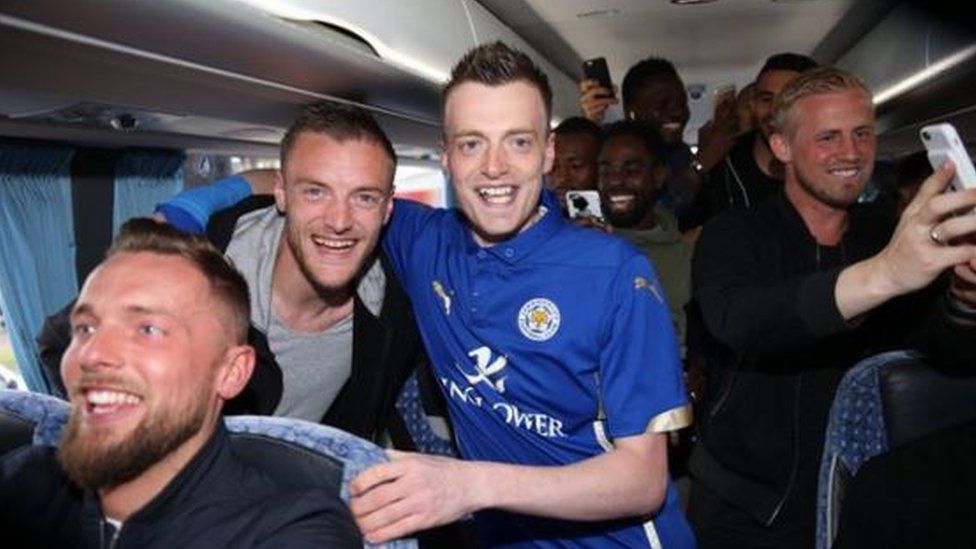 Jamie Vardy lookalike, Lee Chapman, didn't think his season could get any better.
He's seen his side win the Premier League and been in demand for his resemblance to the team's star striker.
But on Tuesday morning, something magical happened. He was dragged onto the team bus and invited to celebrate with his heroes.
"My head's gone," he tells Newsbeat. "I mean it went yesterday with the title but now it's properly gone."
It happened when the postie was rushing to finish his round.
"I was going as fast as I could because I needed to get to the stadium to do a TV interview," says Lee.
"All of a sudden, the coach pulls up behind me and all the players and staff are banging on the windows, the door opens and Ranieri is dragging me on."
Once onboard, Lee got to join the celebrations.
"Ranieri and the other players pushed me to the back where Jamie Vardy was and were all shouting and cheering. They obviously knew who I was. It was crazy," says Lee.
Lee's the same age, height and weight as Vardy - and thinks that could come in handy if the rumoured Hollywood film about Leicester's striker ever comes off.
"If they need any bits and bobs filming, I'm your man."
Eventually, Lee had to leave his heroes as they continued their private celebrations. Not that he minded.
"The last few months have been like the David and Goliath story but with more magic. It'll never happen again."
What might happen is that he finds himself much more in demand.
"I've been on international TV - and I'm just Lee the postman. It's gone mad," he says.
"I'm a season ticket holder, born in Leicester, raised in Leicester. This is just amazing.
"Normally I'm just doing my round as quickly as possible so I can get to the ground and sing with the rest of the fans 'Jamie Vardy's having a party'."
Find us on Instagram at BBCNewsbeat and follow us on Snapchat, search for bbc_newsbeat