VR headsets: Is this what commuting will look like in the future?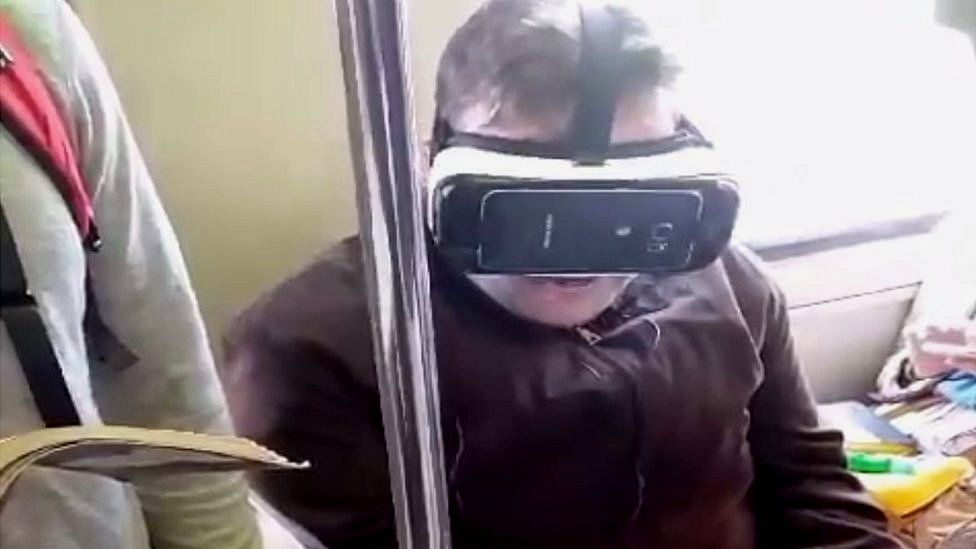 Virtual reality has been promised as gaming's next big thing but it's not the most practical way to pass your commute.
It comes after a man was filmed playing a virtual reality video game while riding the train.
Neil Lindquist took the original video during his regular morning commute to work in Boston on Friday.
"There was a guy sitting there on his VR headset and as the ride went along he was becoming a little bit more animated," he told Newsbeat.
"Initially, he was pretty quiet but about 10 minutes in he was having much more of a reaction to the game."
"At first, I was trying to figure out if it was a joke or not because we were getting pretty close to April Fools. But it wasn't.
"So after a couple of people started Snapchatting, I joined in. Luckily, I caught him at one of his animated moments, which seems to have been pretty popular on the internet so far."
However, the Massachusetts Bay Transportation Authority, which looks after the trains, isn't so keen.
A spokesperson told the Boston Globe newspaper that this sort of activity was "not advisable, as it would make riders less aware of what's going on around them".
Could a VR ban be coming soon?
"Not being able to identify the people around you could potentially be a bit of a problem if something were to happen maybe to him or to someone else," Neil said.
"On the morning commute when it's so busy it's probably not an issue. But I wouldn't want to be doing it at 1am."
So would he be wearing a VR headset on a train anytime soon?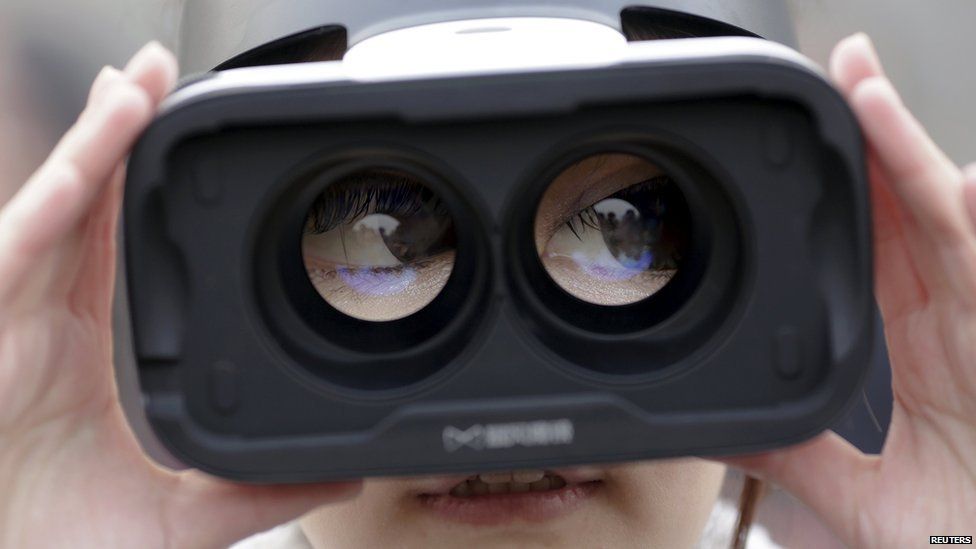 "I'd be more than willing to try a VR headset but I think I'd probably prefer a book or my phone on the train. Give me a podcast any day."
Facebook bought Oculus VR, a Californian company which specialises in virtual reality products, for around $2bn (£1.2bn) in 2014.
In May Facebook bought an eight-month-old British VR company called Surreal vision. The tech world is getting excited about what the future of VR could look like.
But is this what your commute could look like in 2025?
Find us on Instagram at BBCNewsbeat and follow us on Snapchat, search for bbc_newsbeat