'Hot felon' Jeremy Meeks is out of prison now, according to his Instagram posts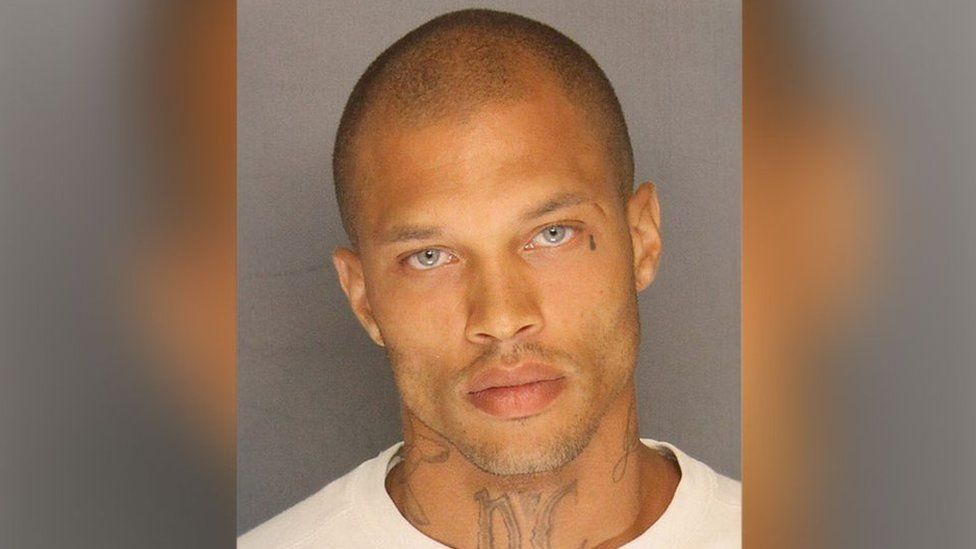 After Jeremy Meeks' mugshot got more than 100,000 likes on Facebook, some admirers suggested the only crime he was guilty of was "stealing your heart".
But the American criminal justice system would suggest otherwise.
Meeks was arrested for possessing a gun and was jailed for 27 months in February 2015 after admitting the charge.
Now, according to his Instagram posts, he's been released from prison.
In the last 10 years Meeks has also been arrested for theft, fraud and forgery.
Stockton Police Department called him "one of the most violent criminals in the area" but that didn't seem to concern the modelling agency which signed him up while he was still behind bars.
Last year, Jim Jordan from White Cross Management told Newsbeat that "everybody deserves a second chance".
"When I first saw Jeremy's picture, the first thing that came to my mind was, 'I needed to help this guy.'
"After speaking with his wife and meeting his family, I got a real sense of who Jeremy was as a husband and father, not to mention how beautiful he is inside and out.
"We are looking forward to Jeremy's future. I do not think it will affect Jeremy's career due to the overwhelming response he has received from clients and fans around the world."
Some of those fans have been quick to respond to Jeremy's first picture as a free man.
One wrote "He is free girl!!! Hmm my Goodness! " while another labelled him as a "free and fine!"
But not everyone's impressed.
Victoria Pannell said: "I hope you do not get any acting jobs over men and women that have trained and studied their craft.
"I wish you success but not over people who truly deserve to be in front of the camera because of their hard work and not because of a decent looking mug shot."
Coco King said: "So many thirsty females willing to take anything that looks good.
"Obviously he's not good. This man is a criminal and nothing more."
Find us on Instagram at BBCNewsbeat and follow us on Snapchat, search for bbc_newsbeat