Lena Dunham: I never want to be retouched again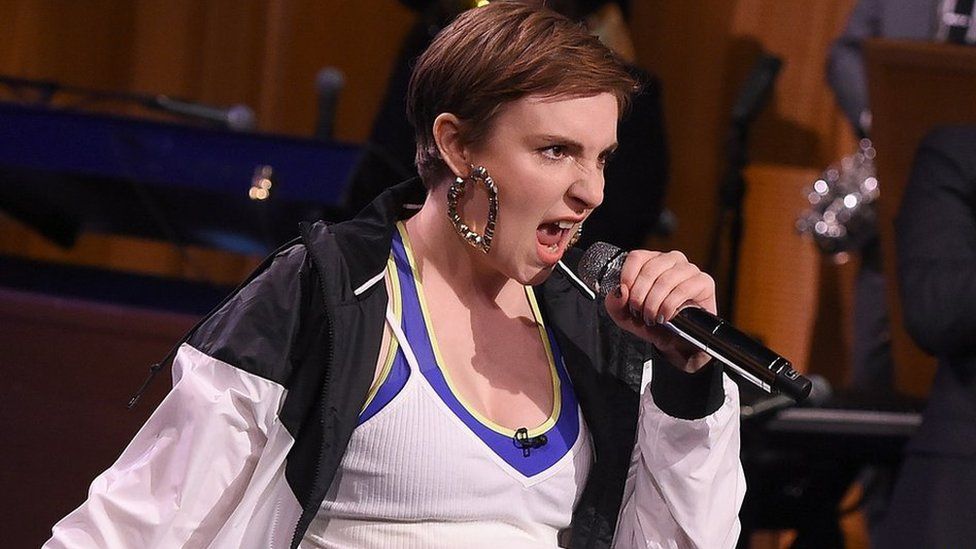 Lena Dunham says she never wants photos of her to be retouched ever again.
The Girls creator says she's "done" with seeing images of her that she doesn't recognise. It follows a row with a Spanish magazine earlier this month.
In the latest edition of her newsletter, Lenny, she admits she's enjoyed having her photos retouched in the past.
But now, Lena says: "I bid farewell to an era when my body was fair game."
This was the Spanish cover that got her thinking - posting on Instagram that "this is NOT what my body has ever looked like or will ever look like".
The magazine hit back, explaining that was how the image looked when they were sent it.
Lena apologised but the whole issue of how her body is portrayed has clearly been bothering her ever since.
In a very honest column, she admits doing "countless shoots" where she's heard the photographers say "we'll fix it in post" and knowing they're not referring to just a few shadows.
"They mean the parts of me that are ungainly and overstuffed," she says.
"They mean the parts that hang over waistbands and bubble out from under Spanx. The parts that are too much and are evidence of wanting too much, of unappealing hungers."
She admits she never questioned this, assuming "this was the game that made the rest of my creative life possible."
The US publication Jezebel once highlighted how different her Vogue cover was to how she actually looked.
But now, enough is clearly enough and she's decided she doesn't want any image of her to have any kind of airbrushing or touching up.
"If that means no more fashion-magazine covers, so be it," she says.
"If any magazines want to guarantee they'll let my stomach roll show and my reddened cheek make an appearance, I am your girl Friday."
Lena also praises other women who've taken a similar stand, including Kate Winslet.
"This body is the only one I have. I love it for what it's given me. I hate it for what it's denied me. And now, without further ado, I want to be able to pick my own thigh out of a line up."
Find us on Instagram at BBCNewsbeat and follow us on Snapchat, search for bbc_newsbeat