The most 2016 things that happened at the Brit Awards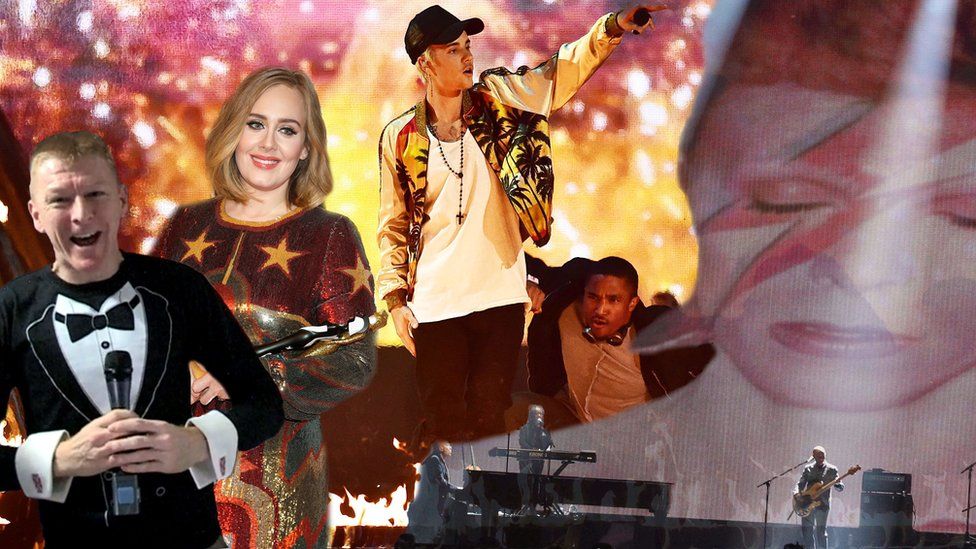 With Craig David on the red carpet, members of Steps piping up about the ceremony and U2 among the nominees, you'd be forgiven for thinking last night's Brit Awards were being beamed from the early 2000s.
But fear not, once things got going it was unmistakably 2016.
An award was presented from space, half of One Direction turned up and everyone seemed to like Justin Bieber again.
Here's how pop fans will look back on this year's Brits in years to come.
For the love of Bowie
2016 will go down as the year we said goodbye to the Starman, with a tribute to David Bowie led by singer Annie Lennox and his friend Gary Oldman.
Oldman then accepted a Brits icon award on behalf of the singer and his family.
"David you were mortal, but your potential was superhuman," he said, "and your music lives on".
Bowie's band then performed a medley of his hits, before Lorde joined them to sing Life On Mars.
Tim peaked Adele's interest (sorry)
When Adele accepted her fourth award of the night, the global success award, she got a message from Major Tim Peake from the International Space Station.
She cried after the video because her child would think she was "so cool" for getting the award from space.
Nasa got involved
The only force big enough to stop Adele's Brits love-in was One Direction playing with rockets at Nasa's Johnson Space Centre.
Drag Me Down beat Adele's Hello to British video of the year.
And in an age when One Direction are on hiatus, only Liam and Louis were on hand to pick up the award in person with Harry and Niall thanking fans on Twitter.
Bieber 2.0
Since picking up international breakthrough act in 2011, Justin Bieber's thrown eggs at his neighbours, done some drag racing and earned himself a bit of anger management.
Thankfully, he's stopped dabbling in petty crime and has unleashed his inner chart-dominating pop star.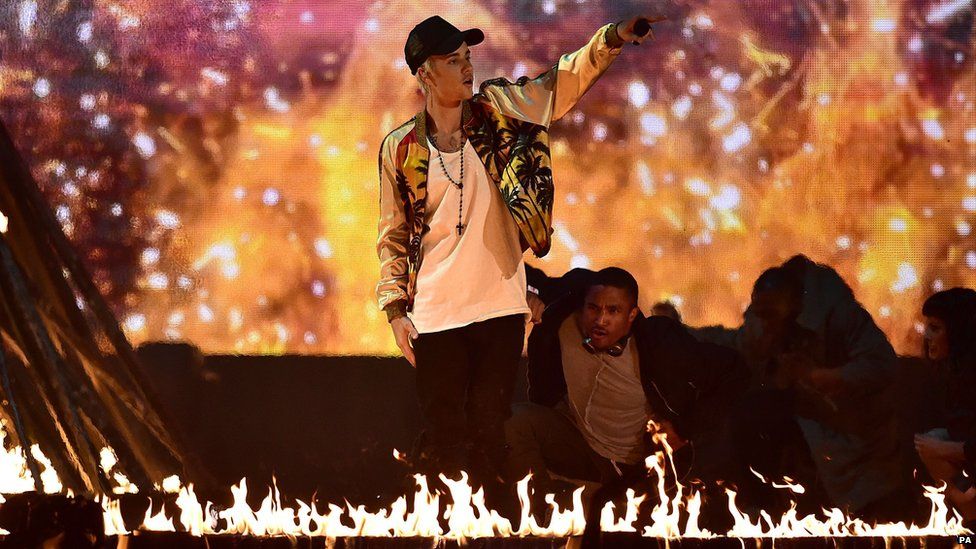 He was surrounded by fire and respected musicians during his performance of number one singles Love Yourself and Sorry.
The Canadian, who picked up the award for best international male, even found time for a dance break and some heavy breathing into a mic.
For more stories like this one you can now download the BBC Newsbeat app straight to your device. For iPhone go here. For Android go here.