Selfie hazards around the world as Mumbai brings in ban in 16 areas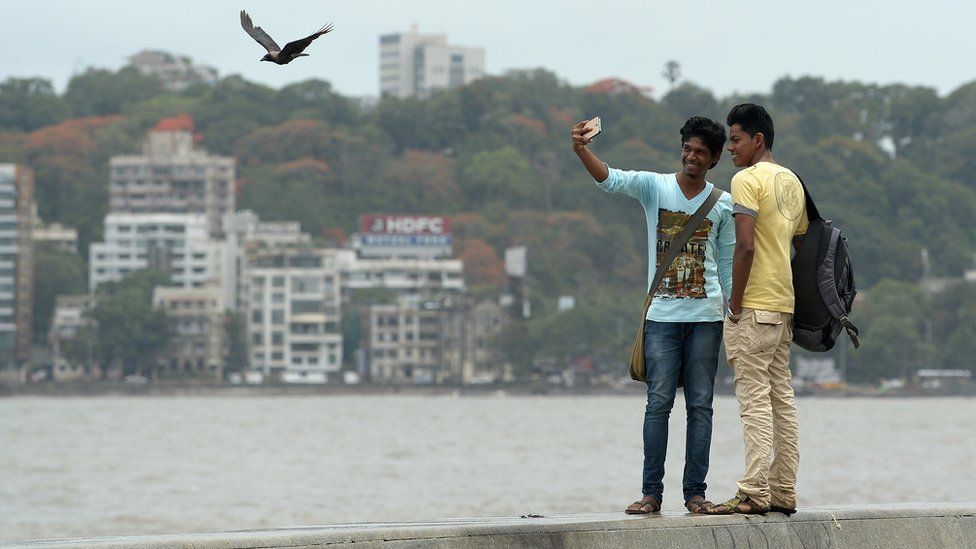 Mumbai has brought in a ban on selfies in 16 zones across the city after a rise in deaths related to people taking photos of themselves.
India now has the highest number of people who've died while taking selfies, according to a US data company.
It's had 19 of the world's 49 recorded selfie-linked deaths since 2014.
Anyone going into the off-limits areas of Mumbai, even if they're not taking photos, risk being given a fine of 1,200 rupees (£12.50).
The latest death in India was an 18-year-old student, killed earlier this month after falling into a reservoir while taking a selfie from the top of a rock.
A classmate drowned trying to save him.
In January an 18-year-old woman fell into the sea and died at Mumbai's Bandstand Fort, a popular tourist spot, while taking a selfie.
The ban in the city mostly applies to areas along the coastline in spots with no railings or barriers.
Here are some other selfie-related accidents which have happened in India and beyond.
India
A Japanese tourist died after reports that he slipped down steps while taking a selfie at the Taj Mahal last September.
An eyewitness told the BBC that the man fell at the Taj Mahal's Royal Gate with a friend of his fracturing his leg.
An Austrian tourist had to be rescued from a well last month, after she fell into it while taking a selfie.
The woman was visiting Junagadh in western India when it happened. People heard her screams and helped get her out.
Russia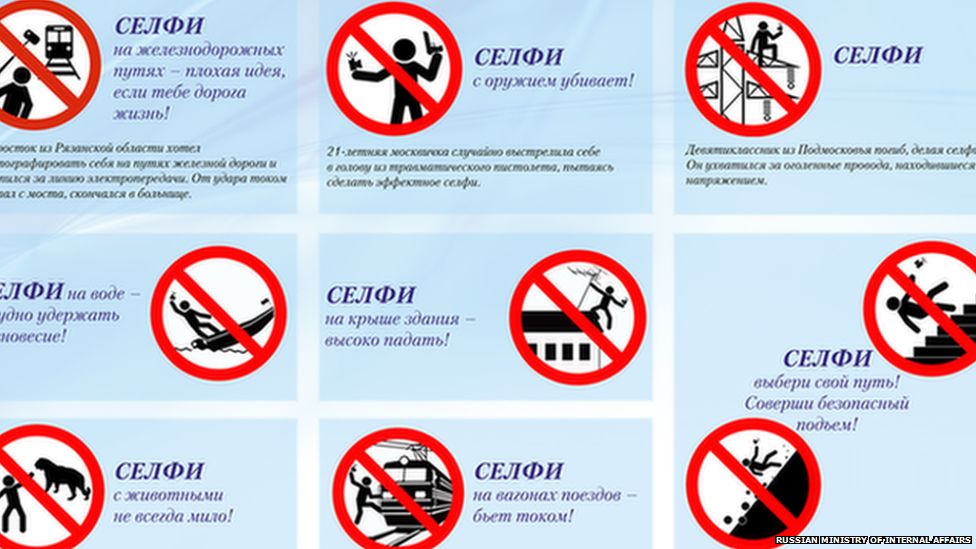 There have been so many selfie-related deaths in Russia that the government decided to launch an advice campaign last year.
Two men died in the Ural Mountains while posing for a photo while pulling the pin from a hand grenade.
Last June, a university graduate died after trying to take a selfie while hanging from a bridge in Moscow and a 17-year-old fell to his death from a rooftop as he tried to take his picture for his Instagram page in the city of Vologda.
In May, a 21-year-old woman survived accidentally shooting herself in the head while posing for a selfie with a gun in Moscow.
Spain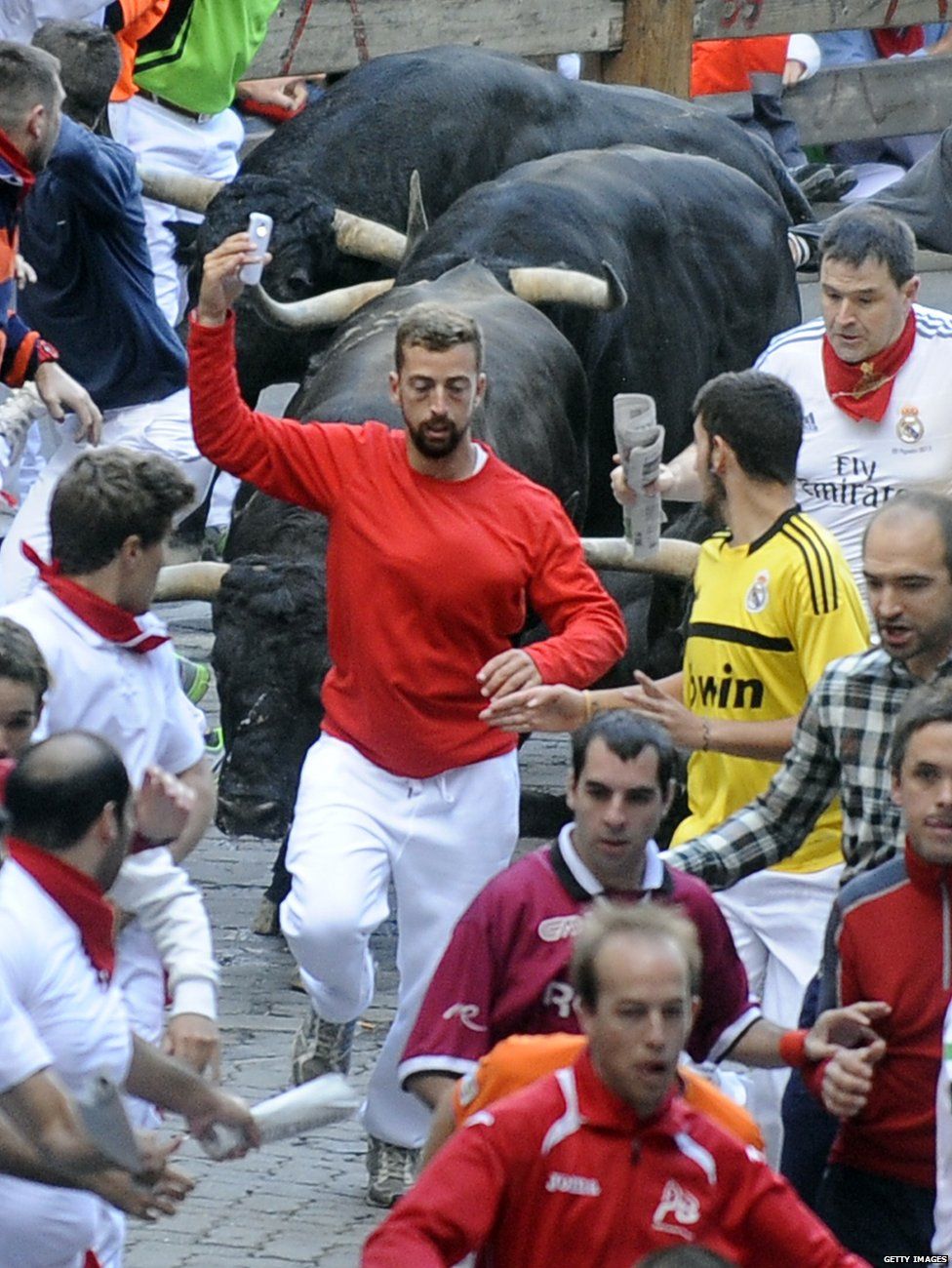 Last August, a man in Spain was gored to death by a bull while taking a selfie at the annual bull running festival in the town of Villaseca de la Sagra.
Police also said they wanted to speak to a man who was caught on camera taking a selfie while running with bulls in Pamplona in 2014.
Brazil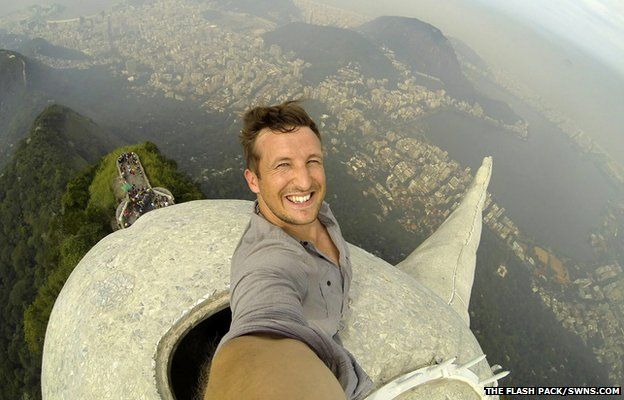 British traveller Lee Thompson famously took a selfie from the top of the Christ the Redeemer statue in Rio de Janeiro in 2014.
He said he knew the statue was being repaired and convinced the Brazil tourist board to let him climb it.
America
Lat September, a man from Houston died after trying to take a selfie for his Instagram feed while holding a loaded gun to his head.
He fired by mistake and shot himself in the throat.
A man from San Diego had to spend five days in hospital last year after taking a selfie with a rattlesnake which then bit him.
Five people have also been gored by bison in Yellowstone National Park in the US while trying to take pictures of themselves with the animals.
Japan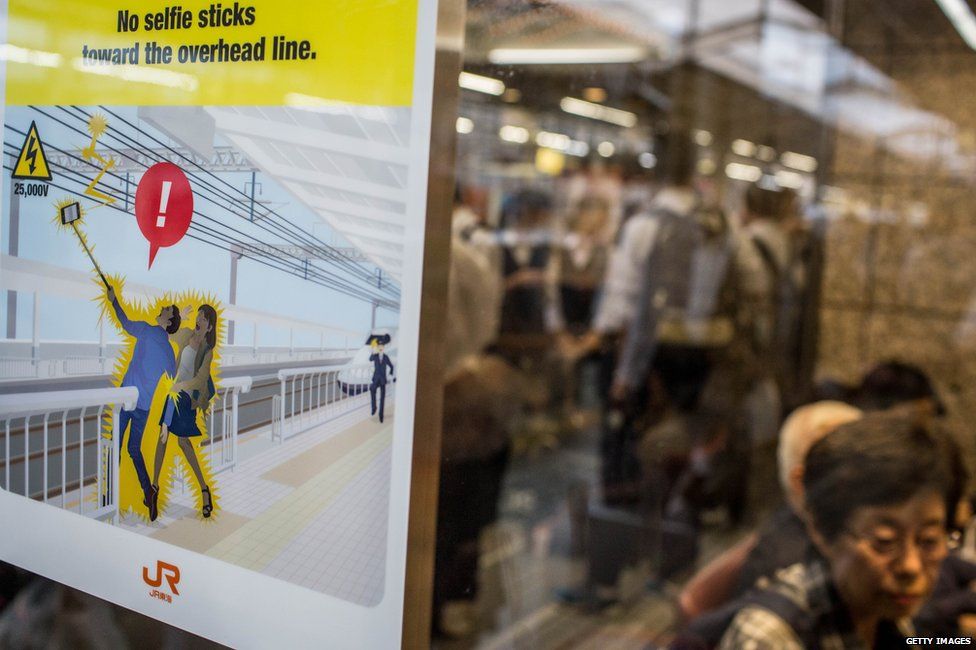 In Japan, there are warnings about taking pictures using selfie sticks.
They've been banned in more than 1,000 train stations in the west of Japan because of the danger of overhead electricity wires and the fear that travellers taking pictures of themselves may fall onto tracks.
For more stories like this one you can now download the BBC Newsbeat app straight to your device. For iPhone go here. For Android go here