'How social media helped me deal with my mental illness'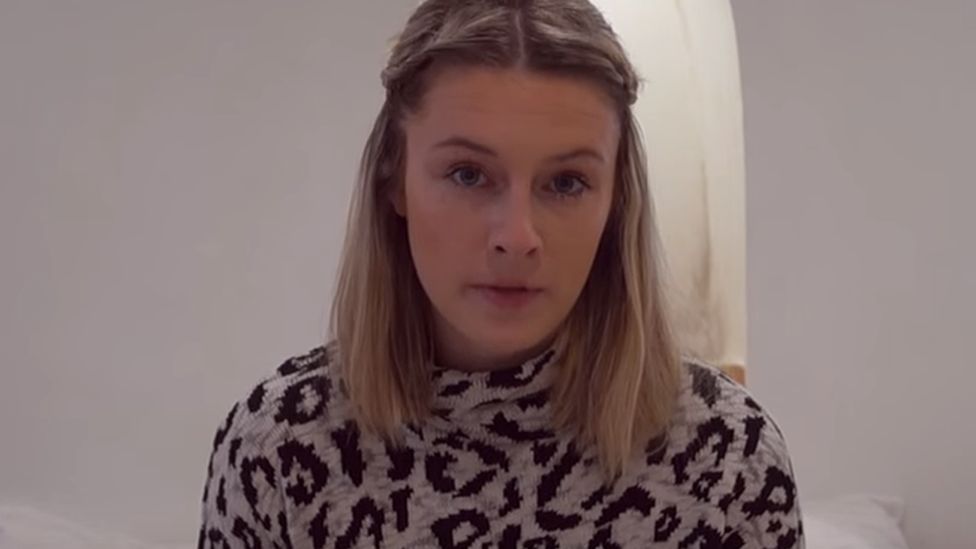 Social media is often given a bad rap for trolling, abuse and encouraging people to be superficial.
But although these sites have a dark side, some people have found it's actually helped their mental illness.
The anonymity of some networks means people can open up without fearing negative perceptions of mental health will follow them around.
Additionally, connecting with people going through the same thing helps them feel less isolated.
'It gave me the confidence to talk about it in real life'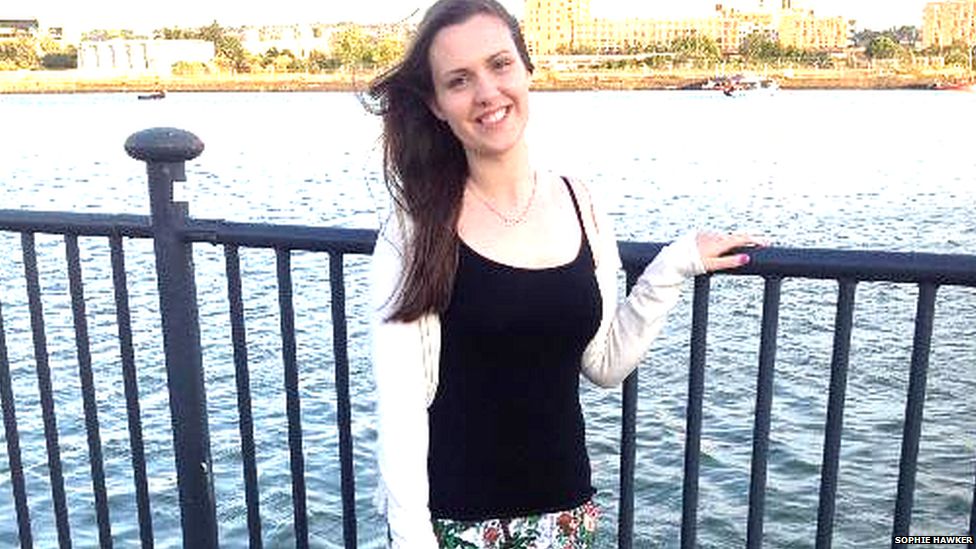 Sophie Hawker is 23.
She suffered with anxiety and seeing something on Twitter was the trigger for her to get the help she needed.
"I was in my final year of uni and I was constantly tight-chested and nauseous.
"I was shaking, I was having panic attacks, I didn't know what they were and I thought there was something really wrong with me.
"Then I saw this tweet about someone going for their first CBT (Cognitive Behavioural Therapy - a type of counselling) session for anxiety and I was like 'Ooh what's this?' I didn't really know anything about anxiety because you don't get taught about mental health or anything like that at school."
After investigating further online she went to her GP and received counselling. Social media also helped her.
"I found people of a similar age with similar interests who had experienced it at a similar time in their lives and that was really beneficial," she tells Newsbeat.
"It gave me the confidence to talk about it in real life because I'd already practised talking about it online. I'd learnt more about it too, so I felt I could explain it to people a bit more."
As part of the BBC's In The Mind season, we asked people on Yik Yak what specific areas of mental health people wanted to talk about. Yik Yak is an anonymous, location-based social media app, popular with students.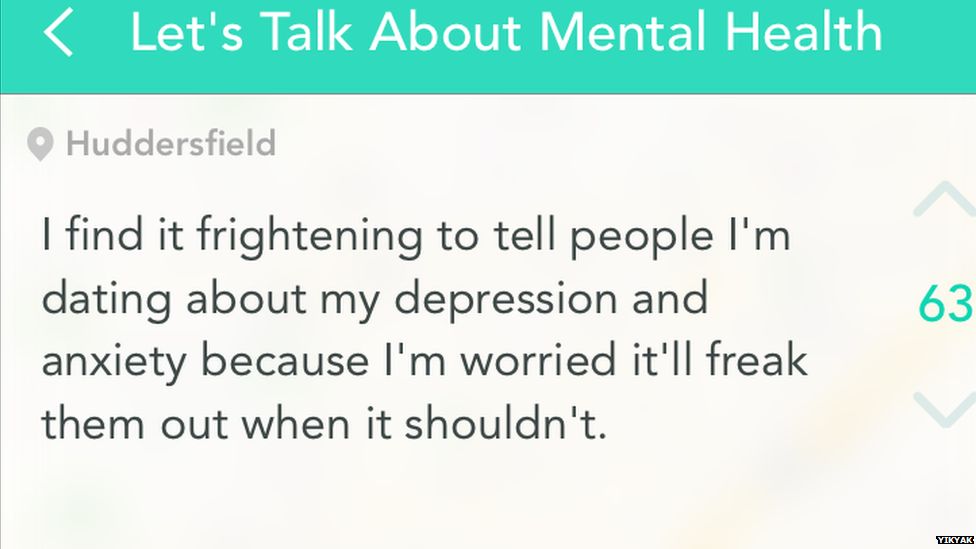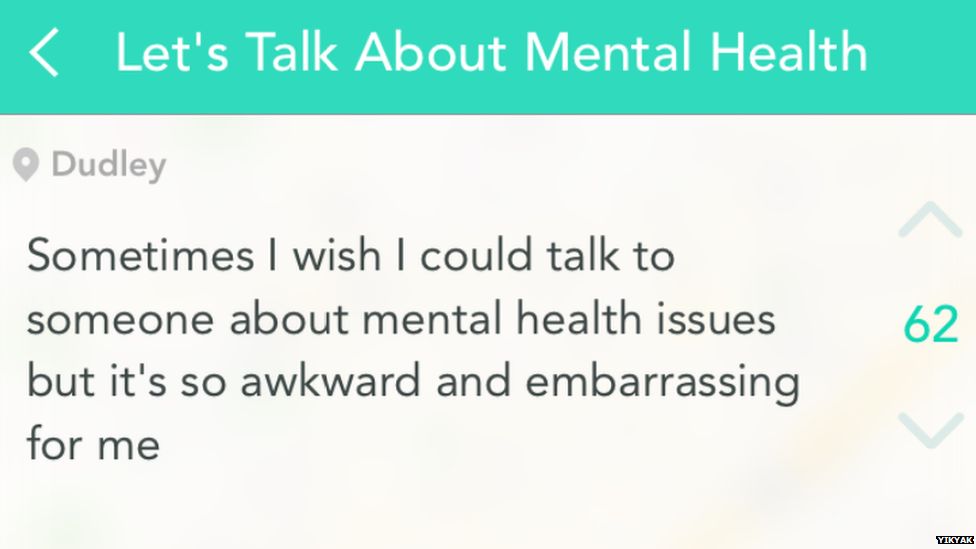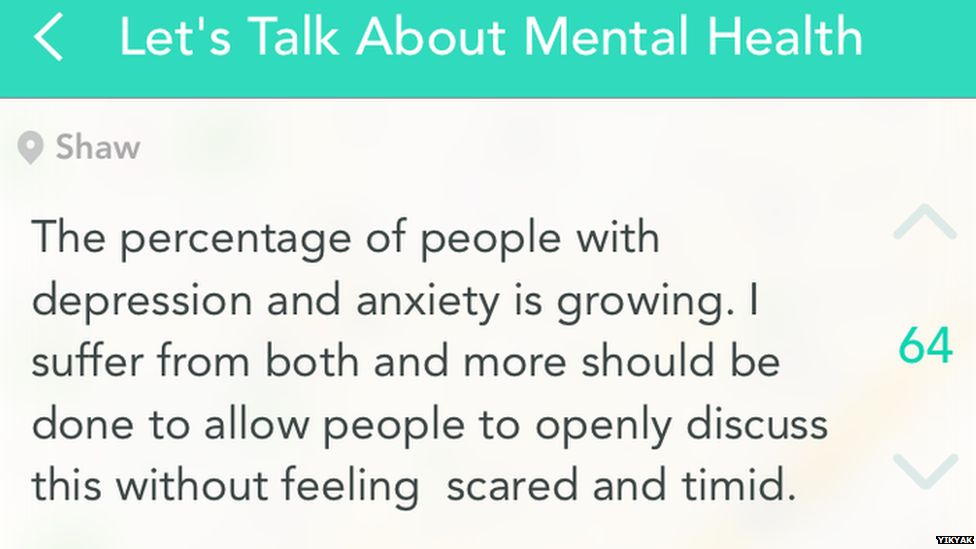 They also echoed what Sophie said about there not being enough mental health education in schools.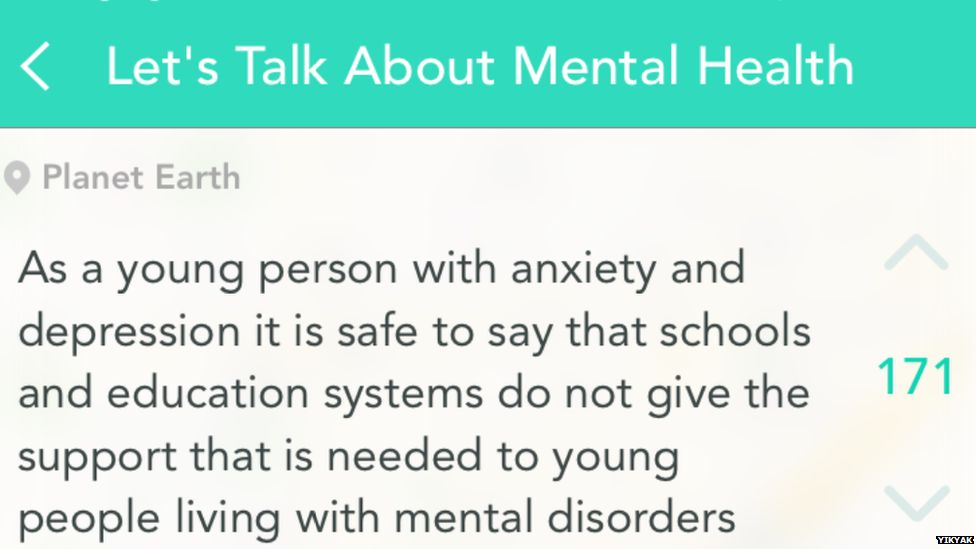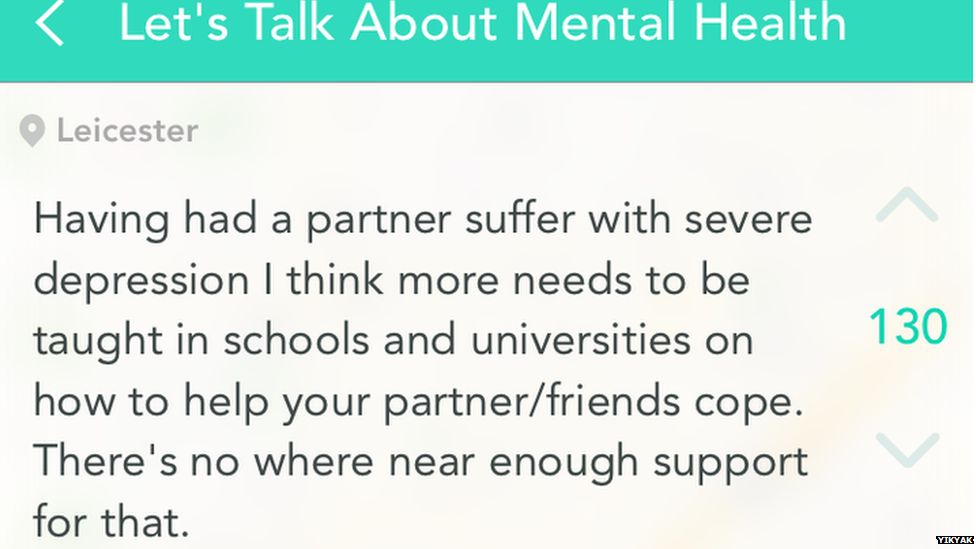 'You think you're alone with these things'
Daniel Holland suffers with depression. When he was 10, his father, who had bipolar disorder, killed himself.
He tells Newsbeat: "Mental illness can be quite hereditary and I've picked up a few of his traits.
"He was never able to speak to anyone about it. I've had therapy, I've had medication, but in his generation, if you had problems like that you kept them to yourselves because it was a sign of weakness."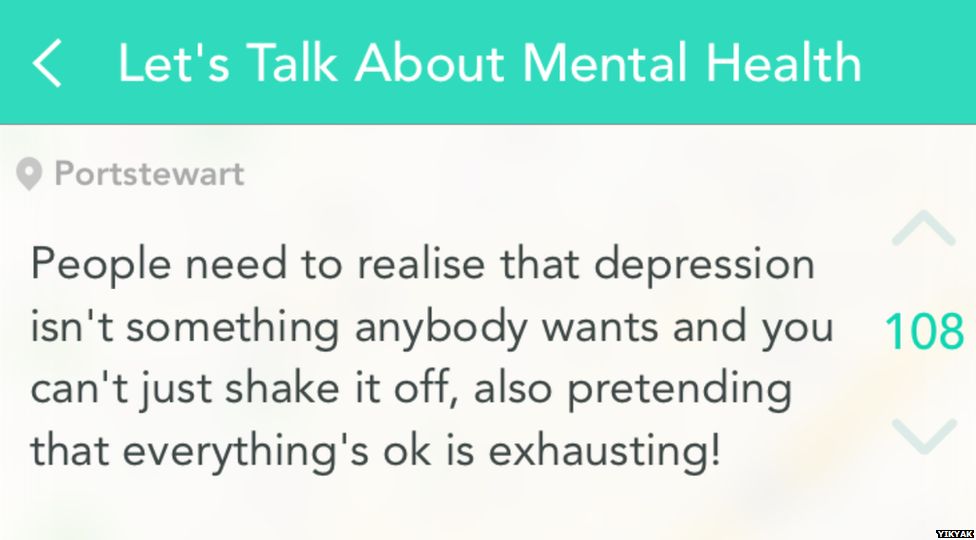 Through Twitter he's built up a support network.
"You think you're alone with these things. The ability to be able to discuss this with other people online is a big deal. It's letting people know they aren't alone.
Social media can definitely be beneficial for younger people's mental health. It does also come with some risks, however, with content that some people will find distressing and which triggers negative feelings or behaviour. Mind recommends that when you use social media you be honest with yourself about how you are feeling and, if you are feeling vulnerable, to take a break from your computer or phone for a bit. If you know particular sites are likely to trigger negative feelings try to avoid them and if you see something that is upsetting, close it straight away
Eve Critchley, Digital Community Manager at Mind
Eve Critchley, Digital Community Manager at Mind
"You can vent and it doesn't need to come back and haunt you, you can do it anonymously.
"They are people you have an affinity with and if you're feeling down they understand how you're feeling and vice versa.
"If you live with someone who has depression you can be as understanding as you want but you won't know the despair and the pointlessness and the worthlessness. If you've got a support network online where people have the same struggle, I think that's really important."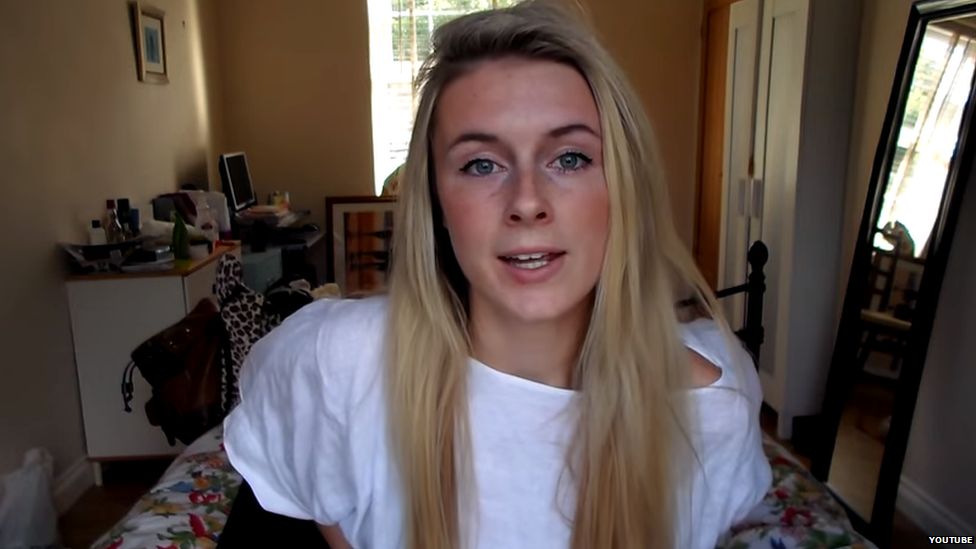 'I wouldn't tell my friends but I would tweet'
Madelaine is 21. She's found Reddit and YouTube helpful.
She told Newsbeat: "The social media channels where you are interacting with people that you don't know are more helpful for mental health issues."
She first looked for help after seeing one of Zoella's YouTube videos.
"Zoella's video about anxiety was a shock for me, because I didn't realise she had it. There was something nice about knowing someone who was doing so well on YouTube was struggling with the exact same feelings as me."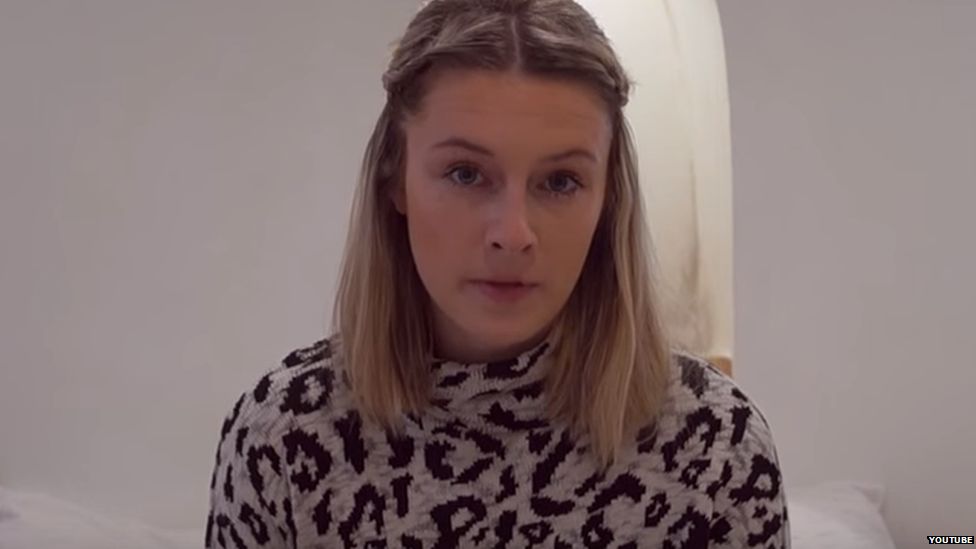 She said the fear that people wouldn't know how to respond to her when she was anxious made her reach out online. She said the perception that "mental illness isn't a real illness" also prompted her to address her condition online.
"It was easier on social media to talk about it. There would be times at university when I would feel anxious and I wouldn't tell my friends but I would tweet. I'd feel more confident saying it there.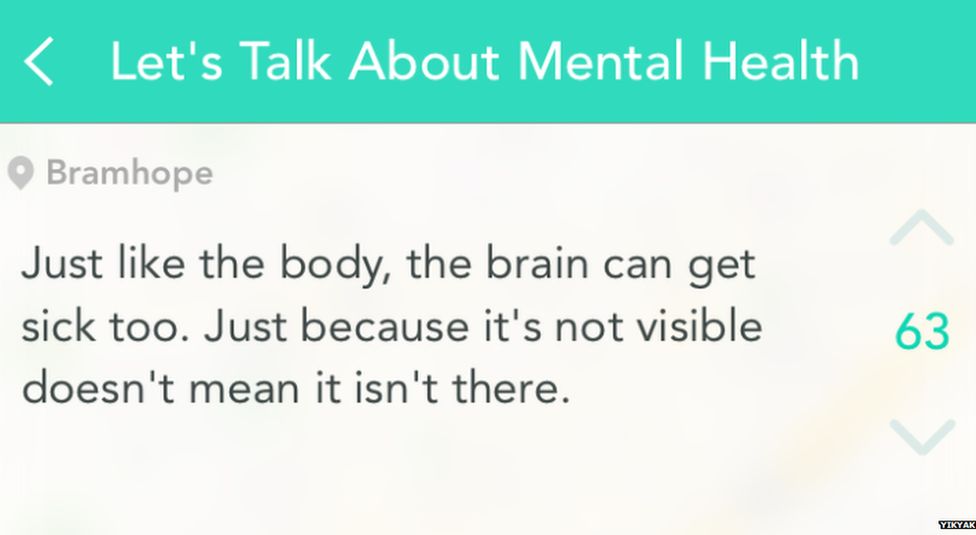 "People don't how to deal with it in real life but I needed to say how I was feeling. Sometimes on Twitter people would favourite stuff and I would feel like 'oh, you also know what I'm going through' and get comfort from that.
"Once I had started getting a hold on my own feelings of anxiety I actually made my own video and I even had people commenting on how I'd helped them which is quite nice.
"My message to people who are still going through it is definitely go and speak to someone at your uni. And don't feel ashamed."
If you feel you may be affected by the issues in this article check out BBC Advice.
For more stories like this one you can now download the BBC Newsbeat app straight to your device. For iPhone go here. For Android go here.