Hugh Jackman has skin cancer removed on nose and posts sun safety warning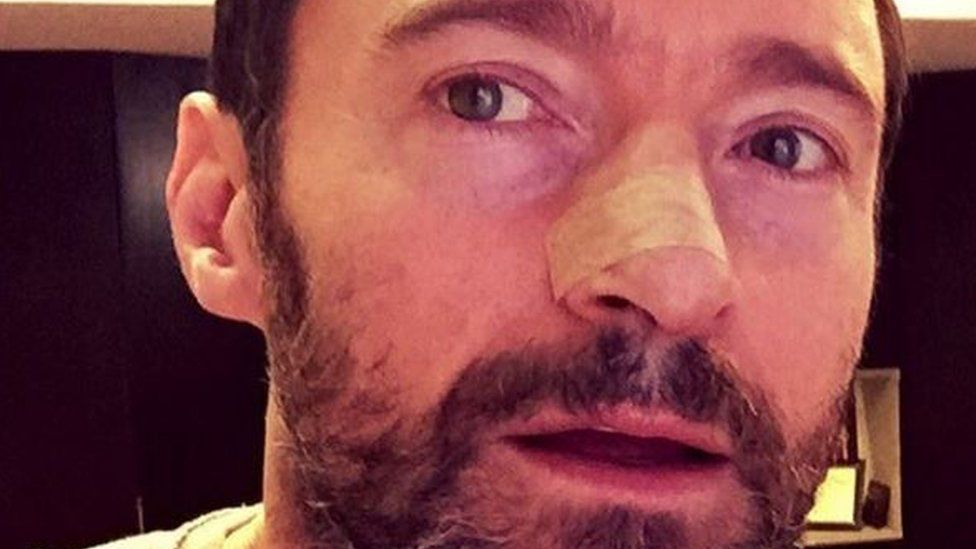 Hugh Jackman's posted a photo on Instagram after having his fifth skin cancer removed.
Along with the photo, he's included a warning about going out in the sun without protection.
"An example of what happens when you don't wear sunscreen," says the Wolverine star.
The dressing covering his nose follows surgery to remove a common skin cancer, called basal cell.
The Australian actor says it's "the mildest form of cancer but serious nonetheless. PLEASE USE SUNSCREEN and get regular check-ups".
Hugh had his first cancer removed back in 2013, after his wife told him to get checked out.
He hadn't paid attention to the mark on his nose, thinking it was just a scrape left over from filming a fight scene.
He posted on Instagram saying: "Deb said to get the mark on my nose checked. Boy, was she right! I had a Basal Cell Carcinoma. Please don't be foolish like me. Get yourself checked. And USE sunscreen!!!"
Last year, he told People magazine: "It's always a bit of a shock just hearing the word 'cancer'.
"Being an Australian it's a very common thing. I never wore sunscreen growing up so I was a prime candidate for it."
According to the NHS, basal cell carcinoma accounts for about 75% of skin cancers.
It's a non-melanoma - which means it's much less likely to spread - and is caused by overexposure to ultraviolet light from the sun or sunbeds.
Treatment for non-melanoma skin cancers are successful in 90% of cases.
For more stories like this one you can now download the BBC Newsbeat app straight to your device. For iOS go here. For Android go here.