Instagram's Tuna the dog reads the news (nearly)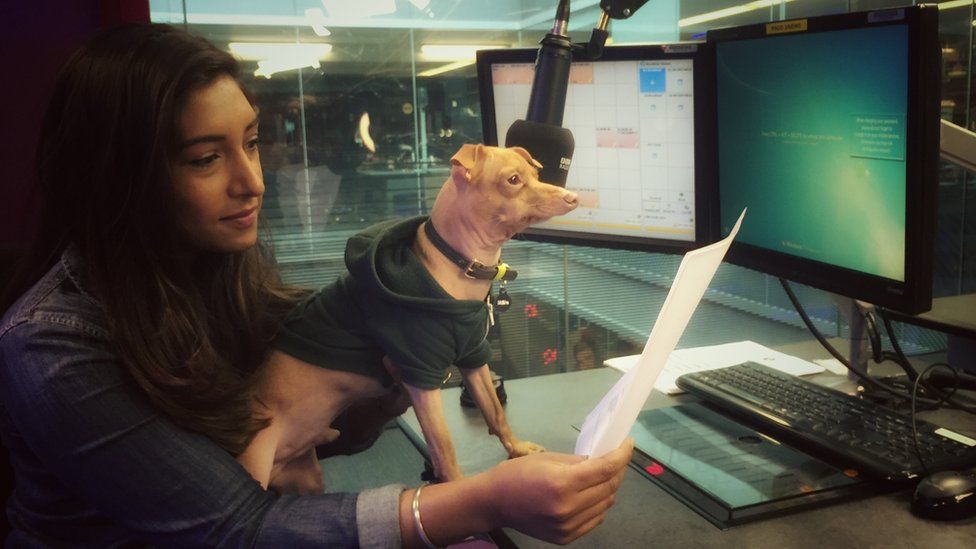 He's got a massive overbite, a recessed jawline and lots of wrinkles, so obviously Tuna the dog is huge news on Instagram.
The adopted Chihuahua-Daschund mix has racked up more than 1.7m Instagram followers thanks to his cute smile.
He's now a newsreader too as Nick Grimshaw and Tina Daheley found out when he visited the Radio 1 Breakfast Show.
If your life has been cruelly Tuna-free up until now, here are five key moments from his journey so far.
He hates mornings as much as we do
One of the main things Tuna is known for is his sleeping face and his endless amount of naps.
He first found fame in 2012 but now Tuna has his own website and merchandise range, his own meme called "Phteven", and an international book which he is currently promoting.
He loves his fashion
Tuna loves to dress up and regularly wears bow ties, glasses, parka coats and hipster jumpers.
He also loves a bit of fancy dress and some of his costumes include Father Christmas, the Easter bunny and a bee. We are holding out for the hipster bee in designer, thick-rimmed specs.
He recently met Olivia Palermo, Made In Chelsea's Rosie Fortescue, and their dogs at Jimmy Choo's Choo Hound tea party, held at the Ivy in London.
He likes going glamping
Here he is enjoying some fresh air while camping in Yosemite, California.
While Tuna likes the great outdoors, he's not such a massive fan of travelling in planes.
He's the king of look-a-likes
Over the years, Tuna has been compared to everything from Harry Potter's Dobby to Sid the sloth from Ice Age and Bartok the bat from Anastasia.
Tuna also has several names. He was originally called "Wormy" because he crawled on his belly, and after Courtney adopted Tuna she called him Mr Burns because of his resemblance to the Simpsons character.
But she then gave him the nickname Tooney - which eventually became Tuna.
Tuna's best friend is called Colin
Or "new Colin" to be precise because old Colin was damaged after he got lost in the park.
One of Tuna and new Colin's favourite things to do is take naps together and think about the meaning of life.
He melted Nick and Tina's heart
Let's crack that Tuna Daheley joke one more time - Tuna Daheley!
For more stories like this one you can now download the BBC Newsbeat app straight to your device. For iPhone go here. For Android go here.