Storm Frank in pictures: 10 ways communities have rallied round
Bad weather from Storm Frank and Storm Desmond has severely impacted the north of the UK and Wales, flooding hundreds of homes with dirty water and leaving many without power.
Many have had their businesses and homes destroyed at a time of year when families are usually relaxing together.
However communities are rallying round to help each other in spite of this.
Here's a few examples of that community spirit.
Messages of resilience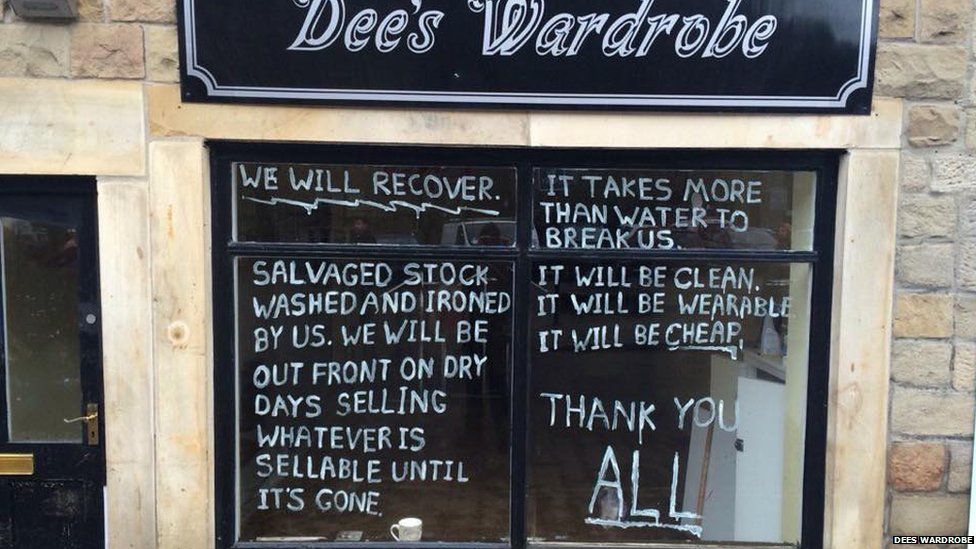 "We can't believe the response our message in the window has received. We would like to thank everyone for their support during the terrible floods," they tweeted.
A dental surgery posted this in their window.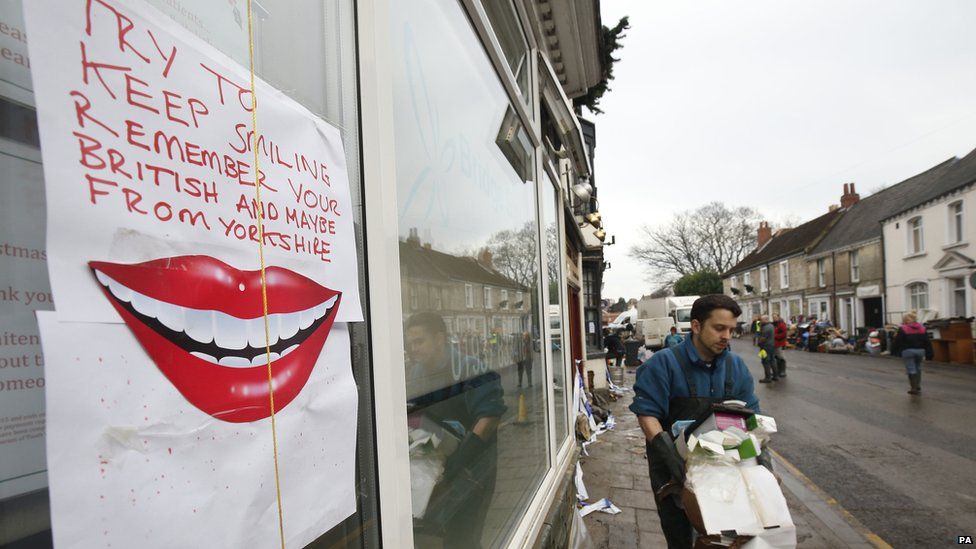 People are donating food, clean up products, their time and money
The Community Foundation for Calderdale flood appeal tells Newsbeat the fund they set up on Boxing day evening to help those affected "will reach a quarter of a million by the end of the day."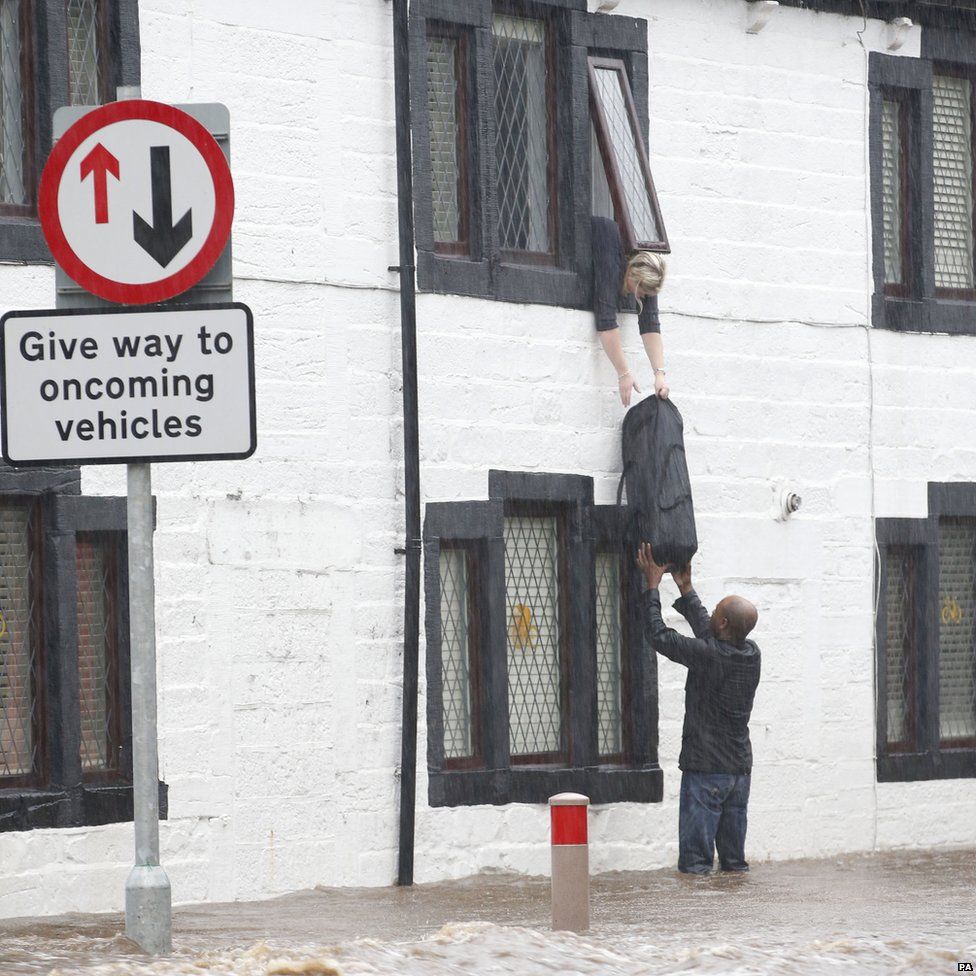 Steve Duncan, the CEO tells Newsbeat: "I've been in tears sat here, just total strangers coming along and volunteering, making food and hot drinks, digging horrible muck, business lending us space.
"I mean we've been through this before but this is on a different level. It's been amazing. There are a lot of brilliant people out there, too many to mention."
All in all he says more than 3000 people have donated, with the average seeming to be about £20. Local businesses and charities are donating too.
Churches are full of donations…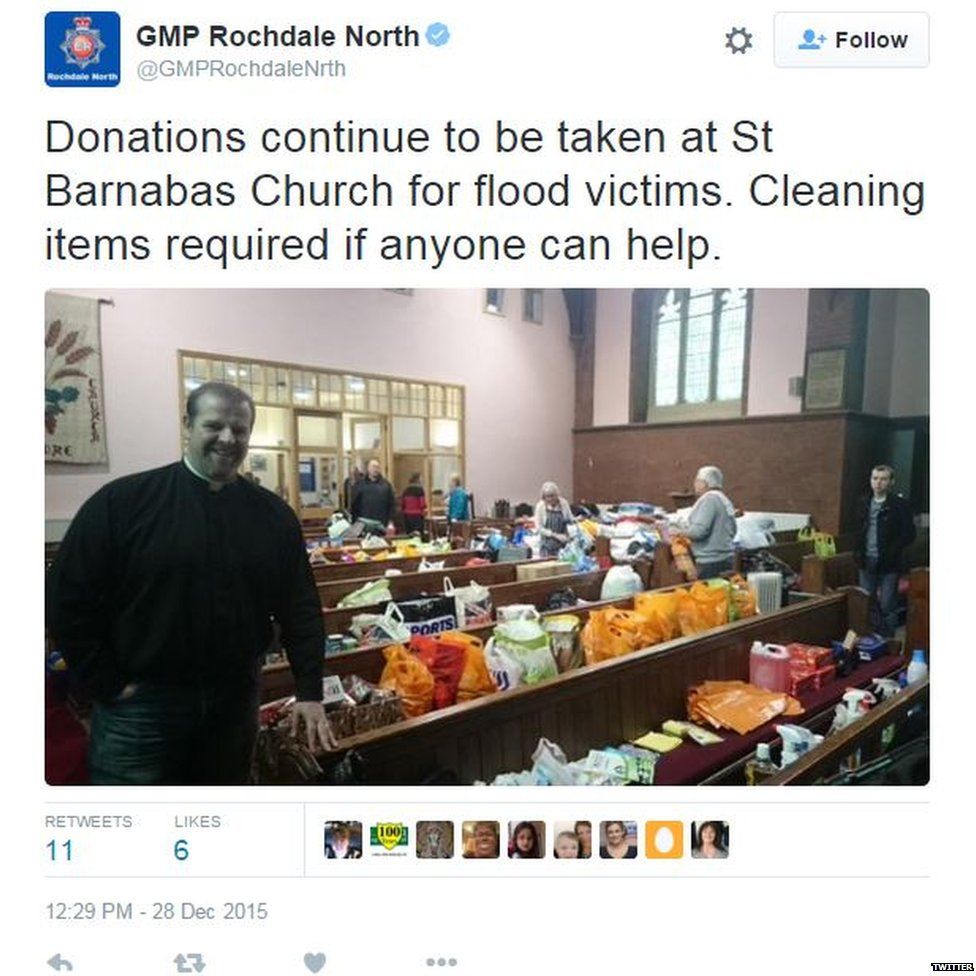 And York Mosque, together with Islamic Relief, helped bag sand to stem the flow of water.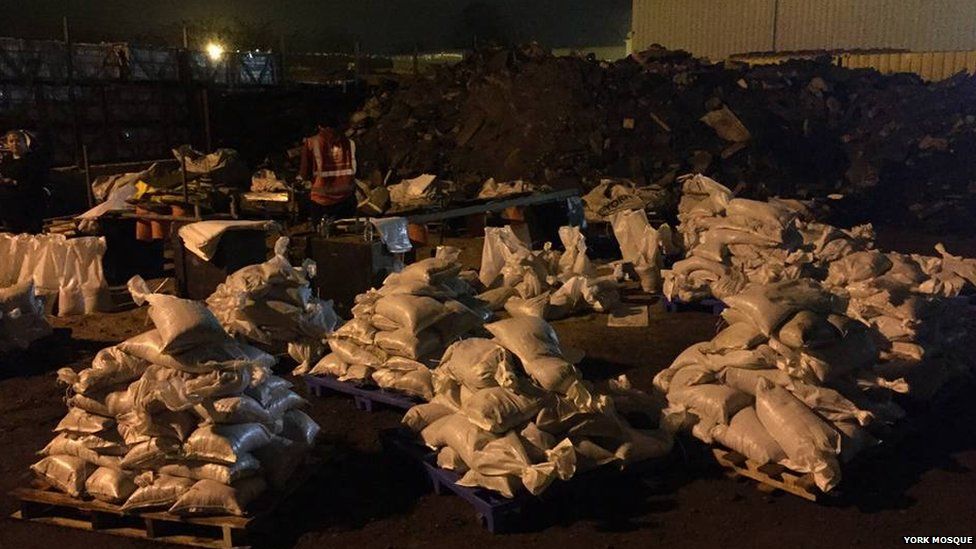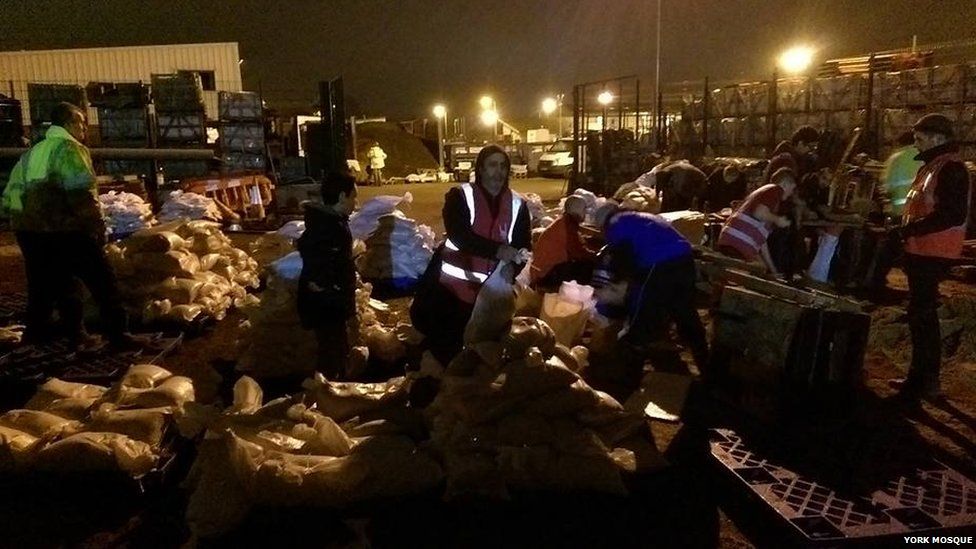 York Mosque posted on Facebook: "Over 100 tonnes of sand bagged and ready for distribution, around nine hours of hard work put in by the dedicated volunteers... We can't thank you all enough."
Over 300 volunteers from Ahmadiyya Muslim Youth Association have gone to help out with flood relief since 8 December. A spokesman tells Newsbeat that they've helped 38 towns and villages affected by the storms.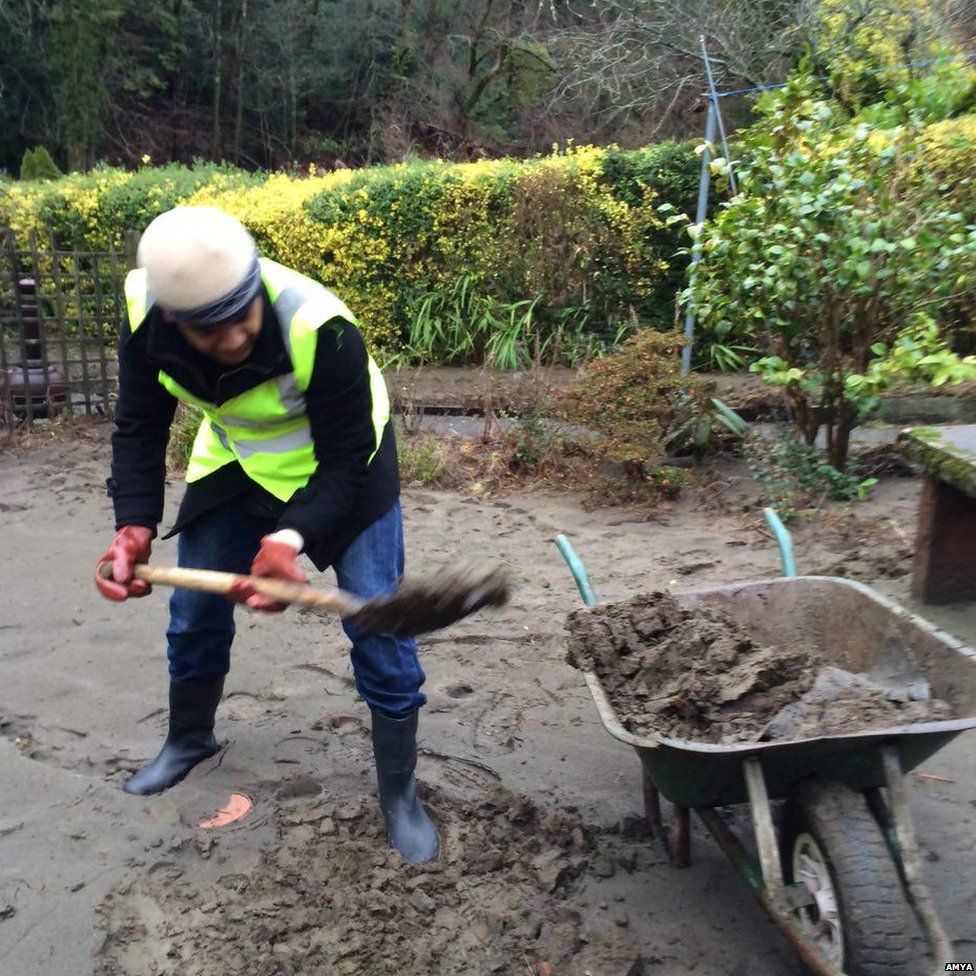 Volunteers from Sikh Charity Khalsa Aid have also helped out.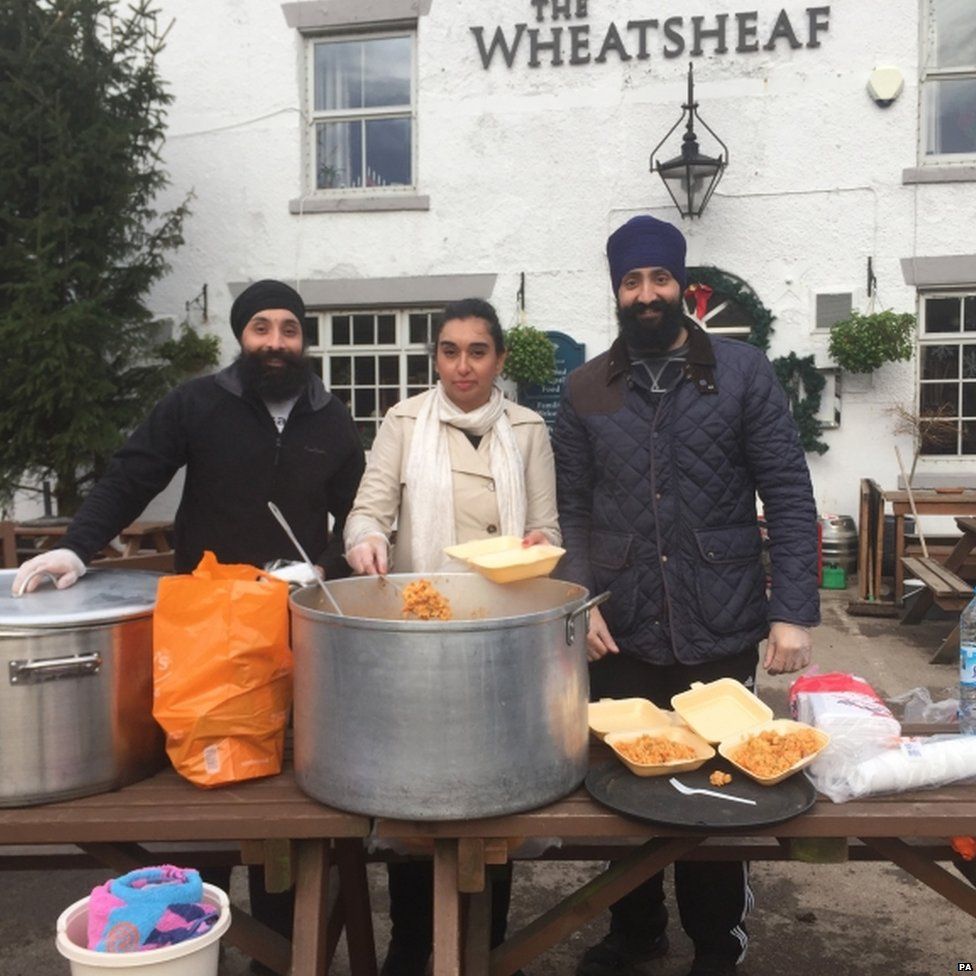 Meanwhile, Francesca Barker, an ex-offender who set up a bakery in Littleborough, says she's no stranger to the community spirit in her area, but recently wrote on her blog that those "in Greater Manchester and the Calder Valley, have pulled together like something you see on a postcard or read in a history book - where community spirit drives people forward and brings everyone together."
She's been providing food for free for volunteers helping in the floods.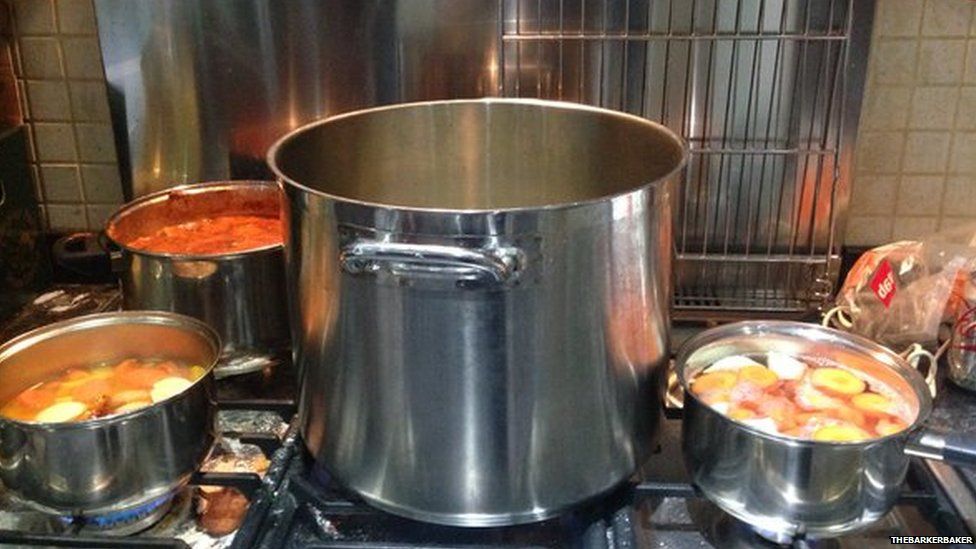 She tells Newsbeat a supermarket donated some wastage "which over the past few days I have cooked up and delivered soups to the hubs of support; the Conservative club and St Barnabus Church."
She's not the only one.
This curry is on its way to a good home!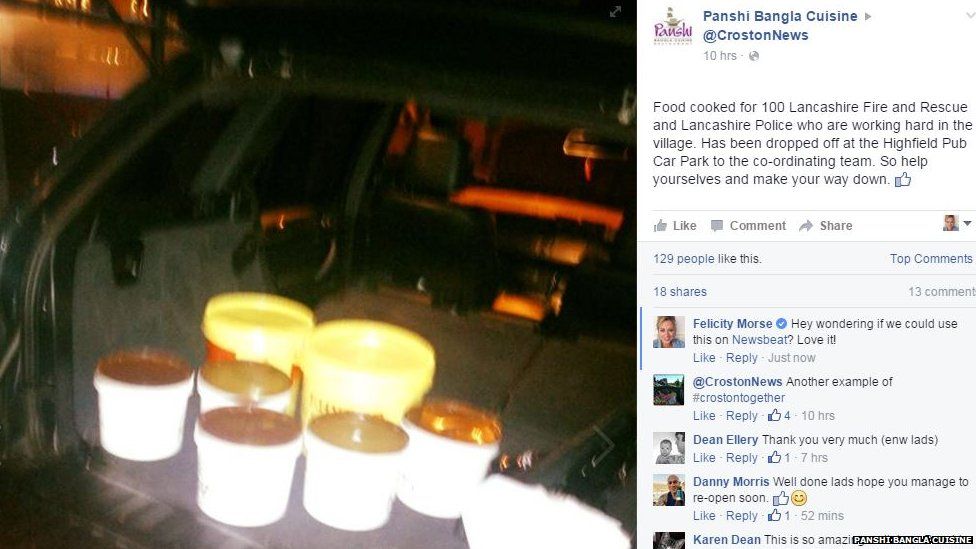 Panshi Bangla Cuisine are still helping despite the restaurant being closed for two weeks "due to major works which need to be done, caused by the flood".
This was the inside of their restaurant a couple of days ago.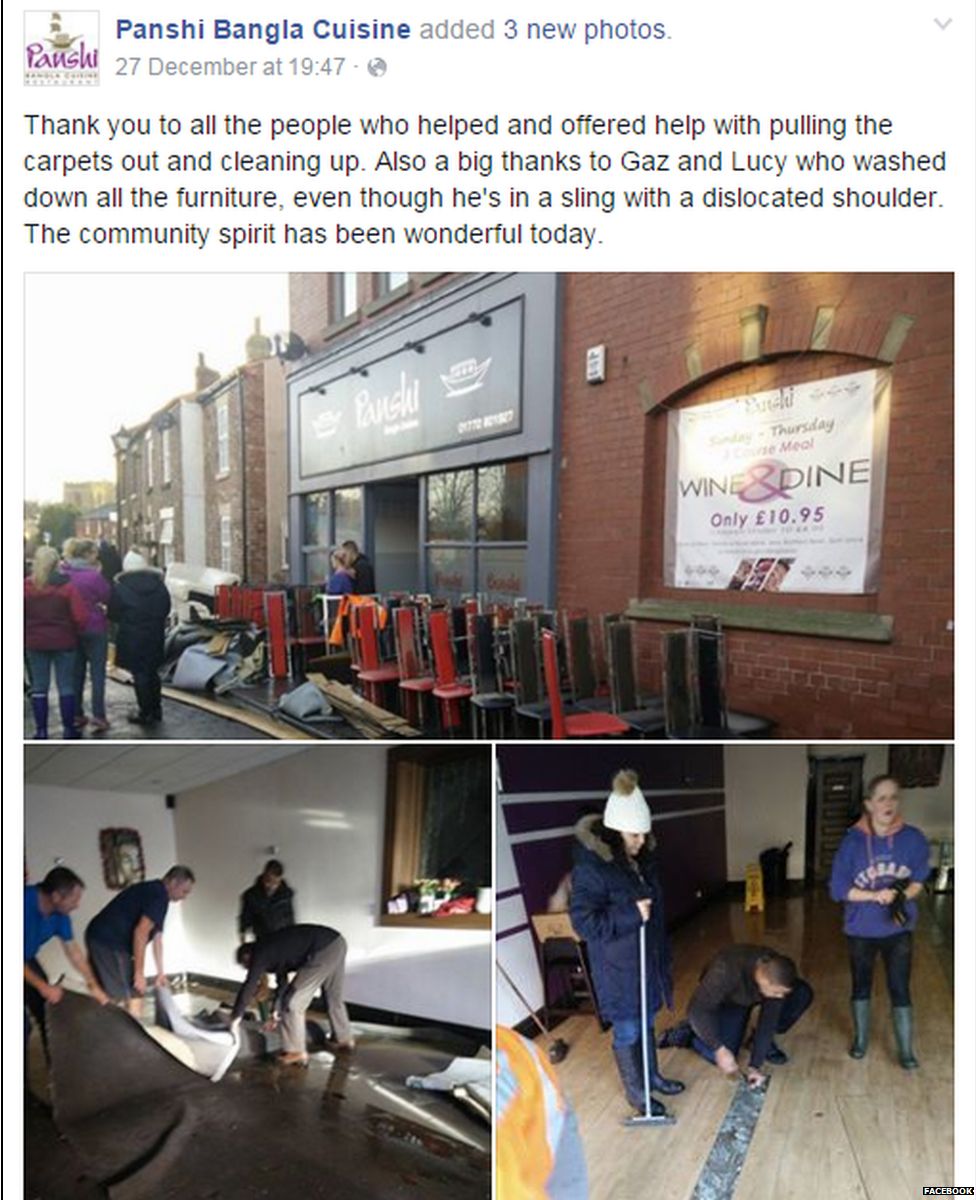 These men went round knocking on doors in Blackburn and helped a 97-year-old army veteran boiling two eggs for lunch because he couldn't get out to get supplies.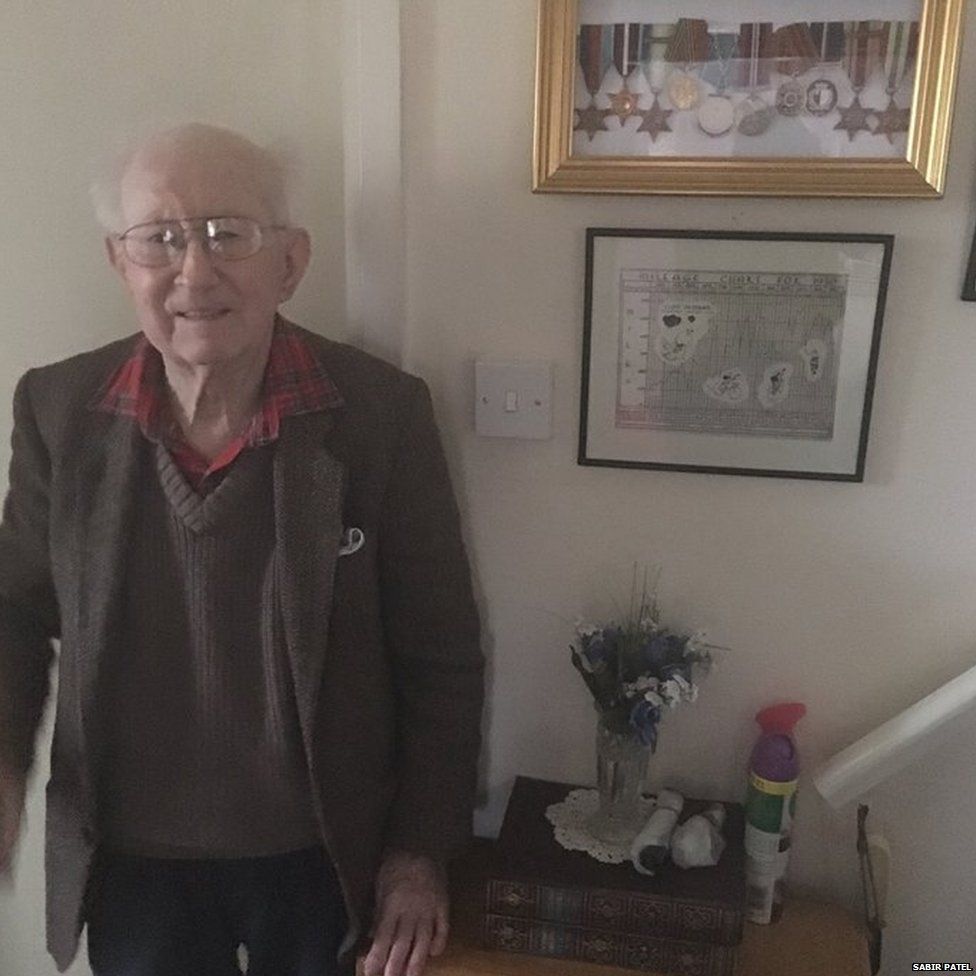 "After a few selfies, the lads left leaving the old man with a big smile on his face," Sabir Patel posted on Facebook.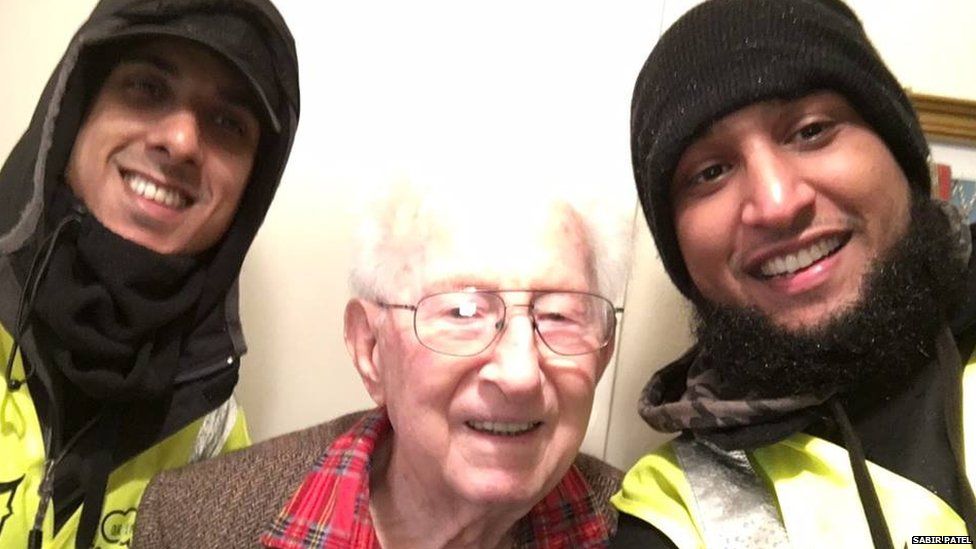 People are helping any way that they can.
A Facebook group set up by Catherine Briest and Frances Spencer in the Upper Calder Valley is helping people salvage old photos and keepsakes damaged by the floods.
Lots of people with expertise in the area are volunteering their skills for free.
Catherine tells Newsbeat: "Saving these personal effects might not feel like a priority right now, when there are immediate needs for safe living environments and so on, however the first few days can be crucial if people are thinking of saving a few personal items."
"We can photograph your damaged photographs and documents, then digitally restore them. We are at Todmorden Town Hall today from 1pm until 5pm. Further days and venues will be announced. Please join the group to be kept informed. (This is a volunteer run project)"
After an independent bookshop was destroyed in Hebden Bridge, famous authors have donated signed copies of their books to help raise money.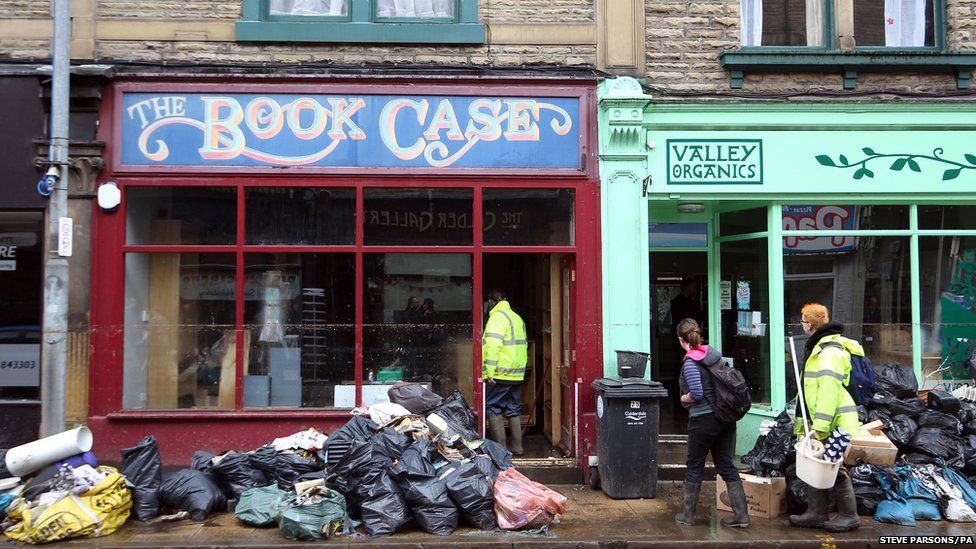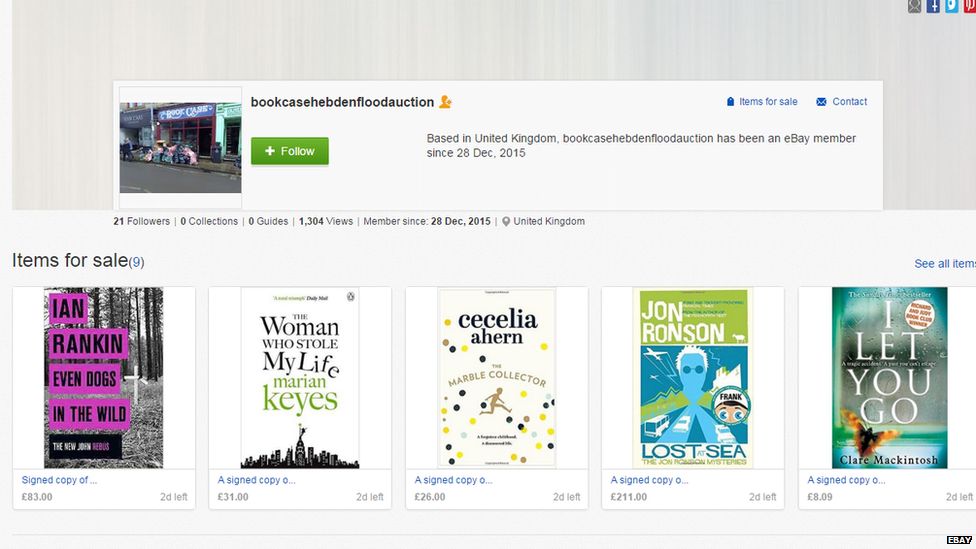 A gym in Carlisle is offering free showers to people who have been affected.
"We were just asked by one of our members, if they could bring their elderly nan who was flooded over the weekend for a shower to Vibralife? We do take simple things like this for granted. Please do, and pass this message on. If you or any of your family affected by floods need a hot shower, you can have one at Vibralife. We provide toiletries and towels. We also have a disabled access and shower facilities for less able people."
Lots of people have been saying thank you to the army and the fire and rescue teams.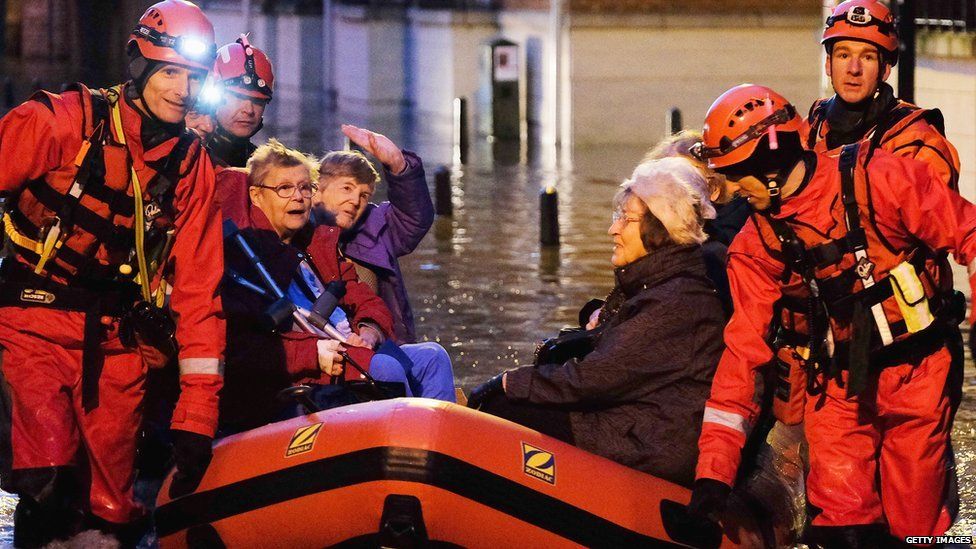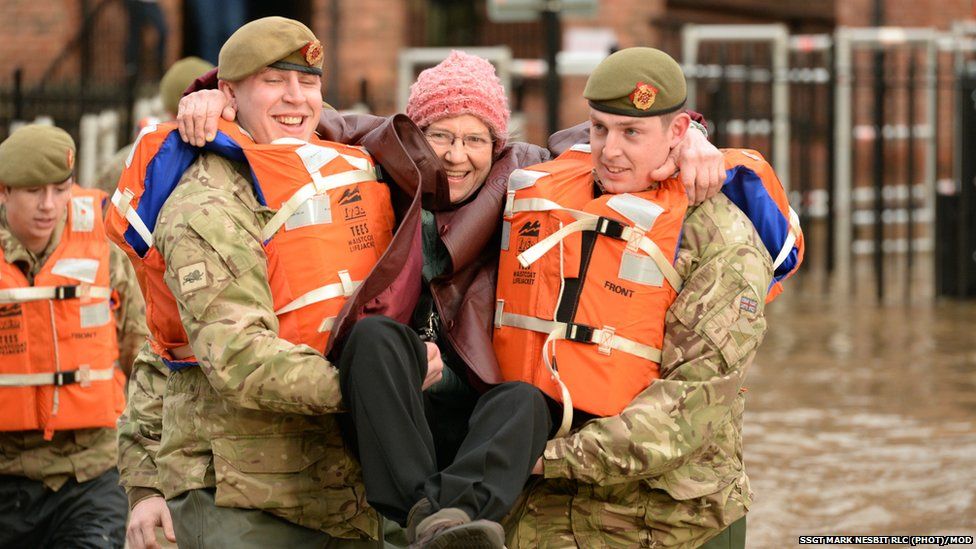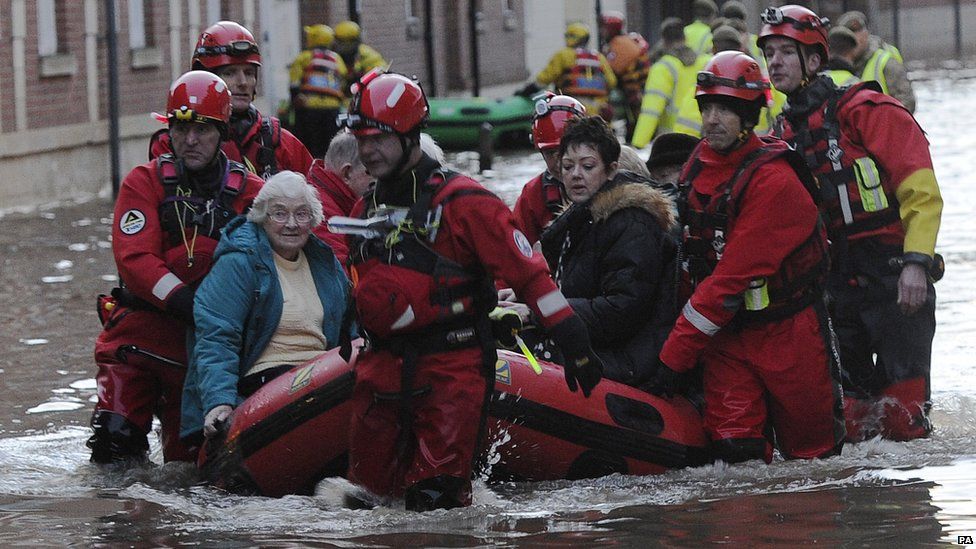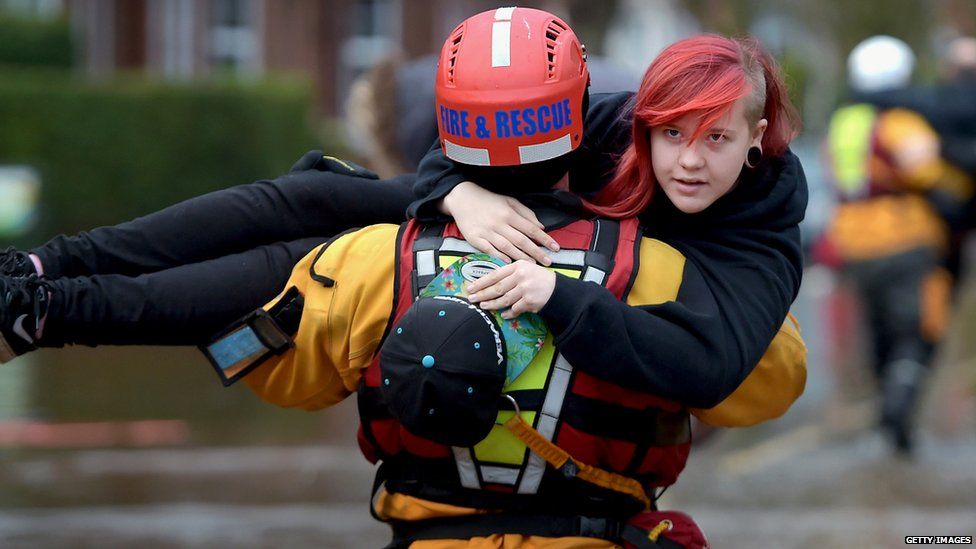 "Once again total respect and thanks again to all helping with York floods esp. police, fire, ambulance, army, mountain rescue and CYC staff," one local councillor tweeted.
Going viral...
This post on Facebook by Brian James White in Cumbria has been shared thousands of times.
"Bloody foreigners" coming up to Cumbria with all their donations and supplies..
"Bloody foreigners" driving half the length of the country, at their own expense I hasten to add, helping all the flood victims clear their homes.
"Bloody foreigners" bringing their mobile food vans from miles away and then having the affront to actually give really tasty and enjoyable food to those who don't even have a house let alone a kitchen to cook in.
"Bloody foreigners" of all colours, creeds and religions helping all those people in Cumbria (and Lancashire and south Scotland) of all colours, creeds and religions in the aid centres by helping then get themselves back together.
I say one thing to you all. THANK YOU for being superb members of our one BRITISH community.
Being British is not about colour or creed or religion it's about the attitude of all pulling together through adversity whoever we are."
In the face of adversity...
People have still found time for a bit of light relief.
For more stories like this one you can now download the BBC Newsbeat app straight to your device. For iPhone go here. For Android go here.