Barack Obama reveals his favourite Christmas songs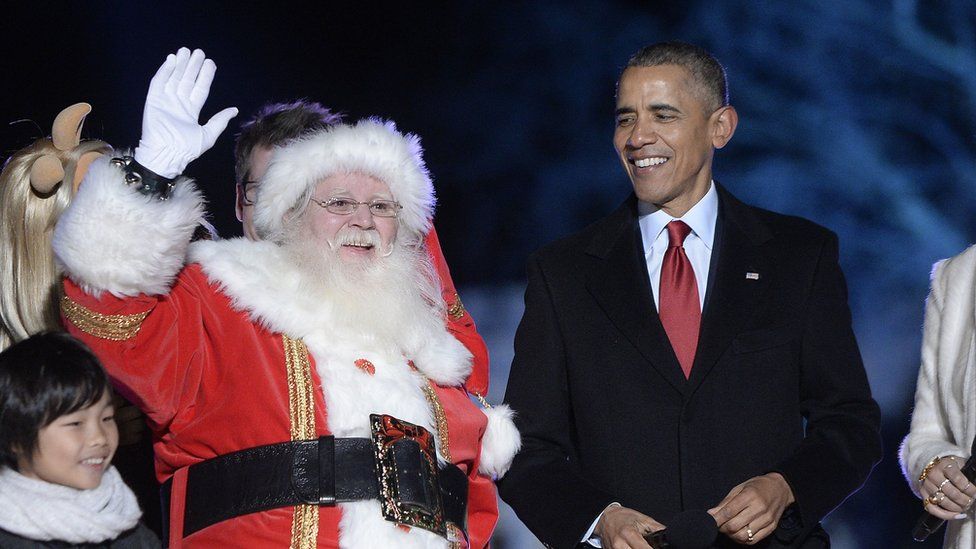 Barack Obama has revealed the songs which put him in a festive mood after publishing his Christmas playlist.
His top choice is O Tannenbaum, a German song based on traditional folk music which translates as O Christmas Tree.
The First Lady, Michelle Obama, also helped to curate the playlist, which features favourites like All I Want for Christmas is You, by Mariah Carey.
Destiny's Child, The Jackson 5 and Stevie Wonder all make an appearance.
The Obama family are spending Christmas in Hawaii.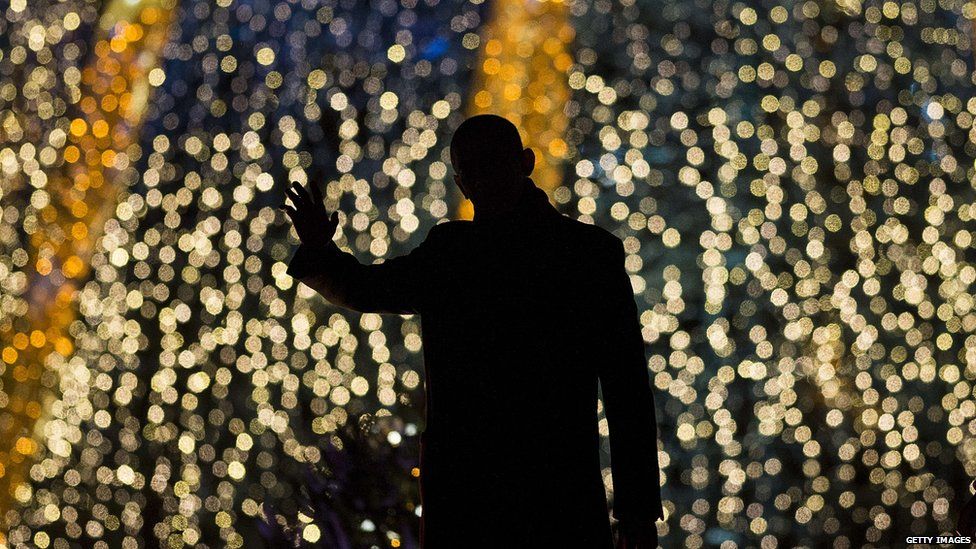 Frank Sinatra's version of The First Noel is on the list, as is Little Drummer Boy sung by Whitney Houston and Have Yourself a Merry Little Christmas, by Luther Vandross.
This is not the first time President Obama has publicised his favourite songs on the streaming service Spotify.
Earlier this year he shared his summer daytime and evening playlists. Mrs Obama also produced a list to mark International Day of the Girl.
Vice President Joe Biden and his wife Jill also shared their favourite Christmas tracks, with Bruce Springsteen's Santa Claus is Comin' to Town coming top.
They are spending the time in the run-up to Christmas at home in Delaware.
The Obama playlist
O Tannenbaum - Vince Guaraldi Trio (from A Charlie Brown Christmas)
Let it Snow - Boyz II Men
All I Want for Christmas is You - Mariah Carey
Santa Claus is Coming To Town - The Jackson 5
8 Days of Christmas - Destiny's Child
Someday at Christmas - Stevie Wonder
The Christmas Song - Nat King Cole
Silent Night - Ledisi
Do You Hear What I Hear - Yolanda Adams
Away in a Manger - Kenny Burrell
Santa Baby - Eartha Kitt
The First Noel - Frank Sinatra
Have Yourself a Merry Little Christmas - Luther Vandross
Little Drummer Boy - Whitney Houston
For more stories like this one you can now download the BBC Newsbeat app straight to your device. For iPhone go here. For Android go here.