Student George Lawlor doesn't regret anti-consent workshop article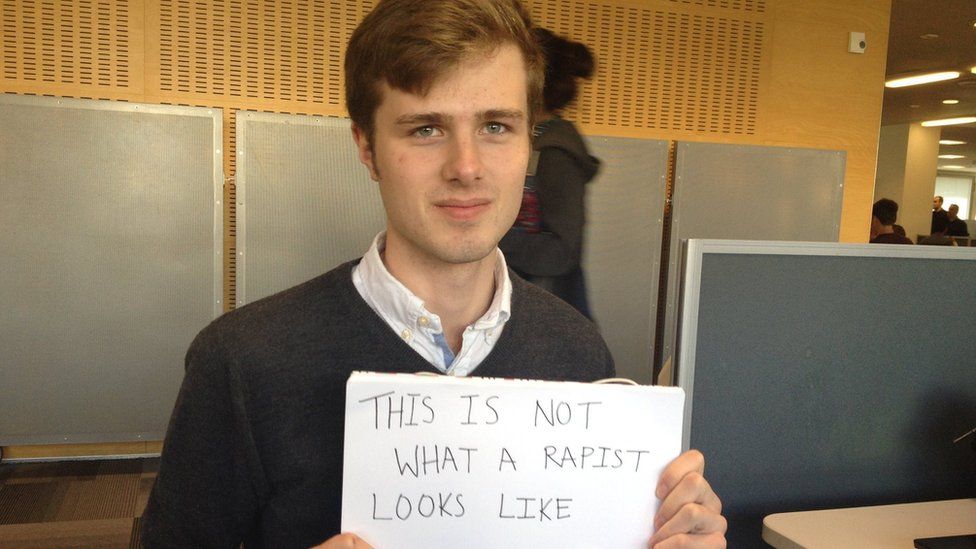 Student George Lawlor says he doesn't regret writing his article against sexual consent workshops because it's started a discussion.
His piece about why he doesn't need consent lessons went viral last week, dividing opinion.
"I didn't write the article well enough, I may have said the wrong things," the Warwick student admitted.
"[But] I wouldn't regret writing the article... because it's got this discussion going."
Josie Throup, the women's officer at Warwick Students' Union, wrote a response piece on why consent workshops are necessary.
So Newsbeat got them together to talk about the issue.
"I felt angry that somebody would make such an assumption that I would need teaching how not to abuse somebody," George told Josie.
I felt angry that somebody would make such an assumption
George Lawlor
On his consent workshop invitation
He received a Facebook invitation to an I Heart Consent workshop being run by his students' union.
"It was also a bit embarrassing," he added.
But Josie insisted that an invitation doesn't equal an accusation.
"It's not directed at anyone," she said.
"It's about changing the culture at this university, it's about creating those conversations, giving people the chance to talk about the nuances of consent, the stuff in between that's not often talked about, people being drunk, whether maybe means yes."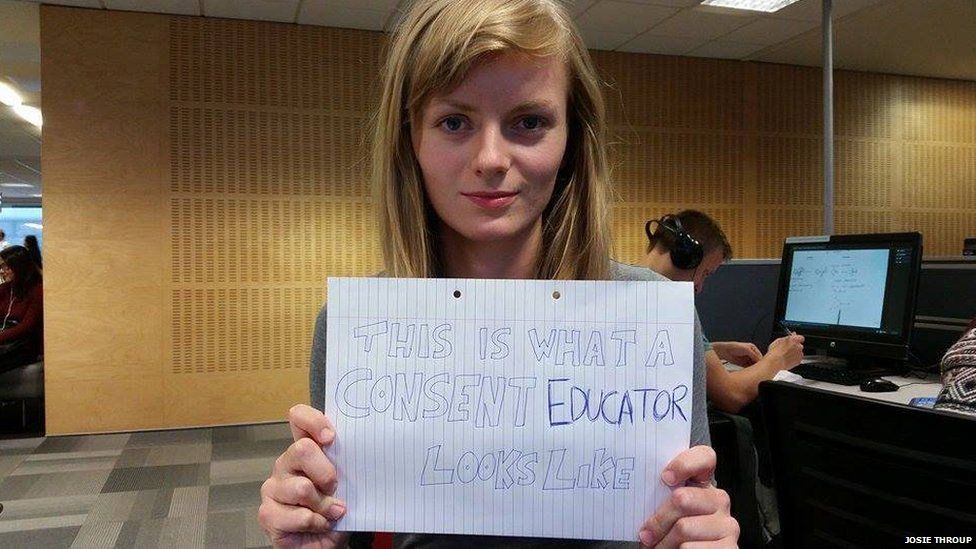 A person consents "if they agree by choice, and have the freedom and capacity to make that choice" according to the Sexual Offences Act 2003.
"I still feel as if anybody who has a shred of empathy and decency and respect for other people will in those unique circumstances not choose to abuse somebody," George argued.
A rapist can be anyone
Josie Throup
On why consent workshops are important
"That's why I felt I didn't need to go."
Josie responded: "If you are decent and empathetic, those are the people we want in the campaign, spreading the message."
One in seven women students experience sexual assault or violence, according to NUS research.
"A rapist can be anyone," Josie said. "Dispelling the idea that it's a monster in a dark alley is a really important thing."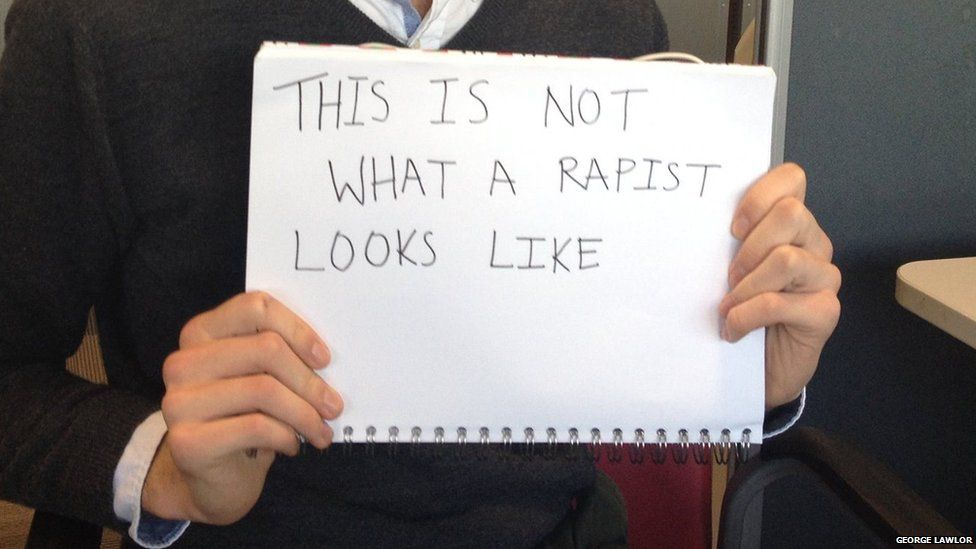 George received some criticism for the photo in his article, which was published in student paper The Tab.
"That's something I was misunderstood on. It was a bit of a faux pas," George said.
"I didn't mean a university-educated, young white person couldn't be a rapist. Of course anybody has the capability to be a rapist.
"What I meant was, as an individual, George Lawlor does not look like a rapist."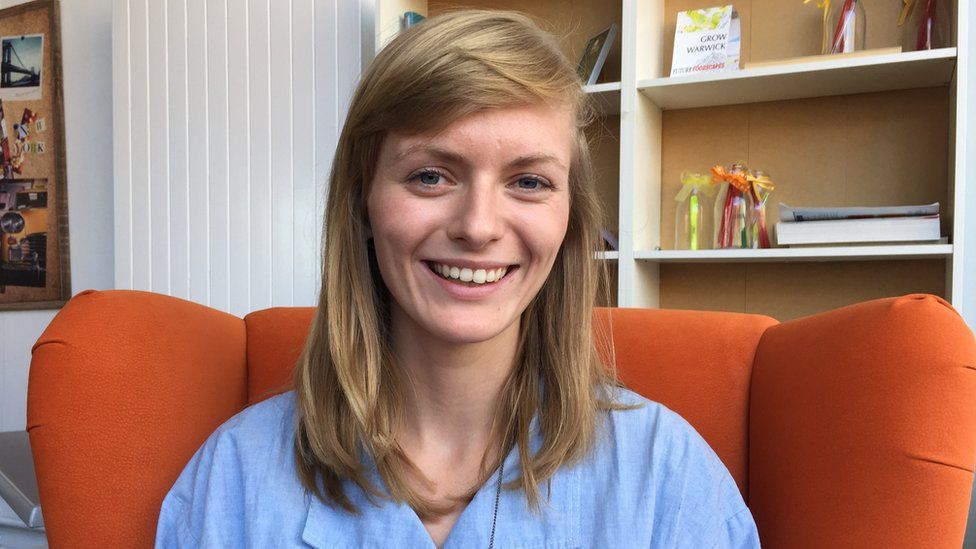 The I Heart Consent workshop campaign was started last year by the NUS and student organisation Sexpression UK as a pilot with 20 student unions.
NUS doesn't have a specific number of how many unions are running them now, but any union is free to do them.
The workshop includes discussing what consent means and dispelling myths around rape and sexual assault.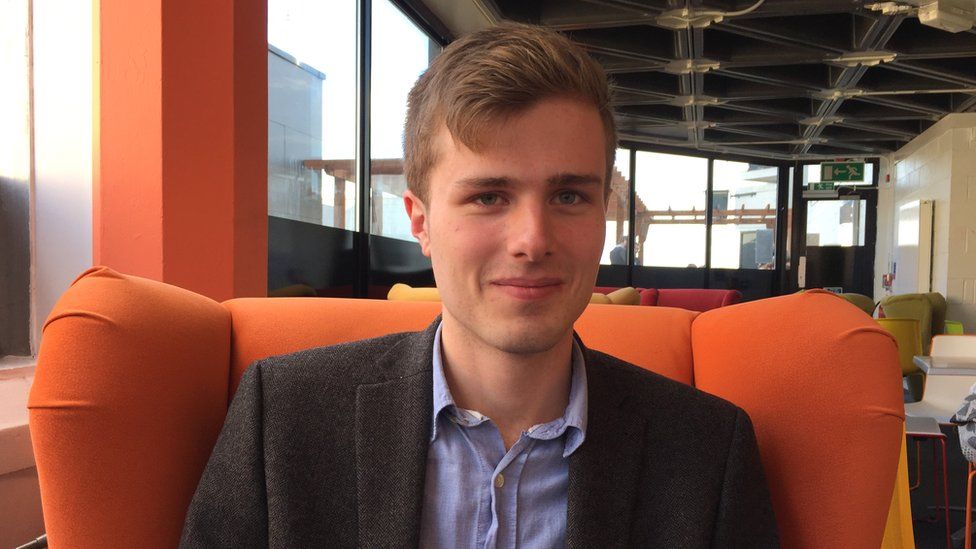 George and Josie both seemed to agree it was a positive thing that George's article had triggered a debate.
"That's all I ever wanted. I'm sure that's all you really wanted as well," George told Josie.
He even agreed to attend a workshop after being invited by Josie.
"Not because I feel as if I need it," he explained. "But because as a writer and somebody who's criticised it, it's only right that I should have a look."
Follow @BBCNewsbeat on Twitter, BBCNewsbeat on Instagram, Radio1Newsbeat on YouTube and you can now follow BBC_Newsbeat on Snapchat