Protesters target Suffragette film premiere red carpet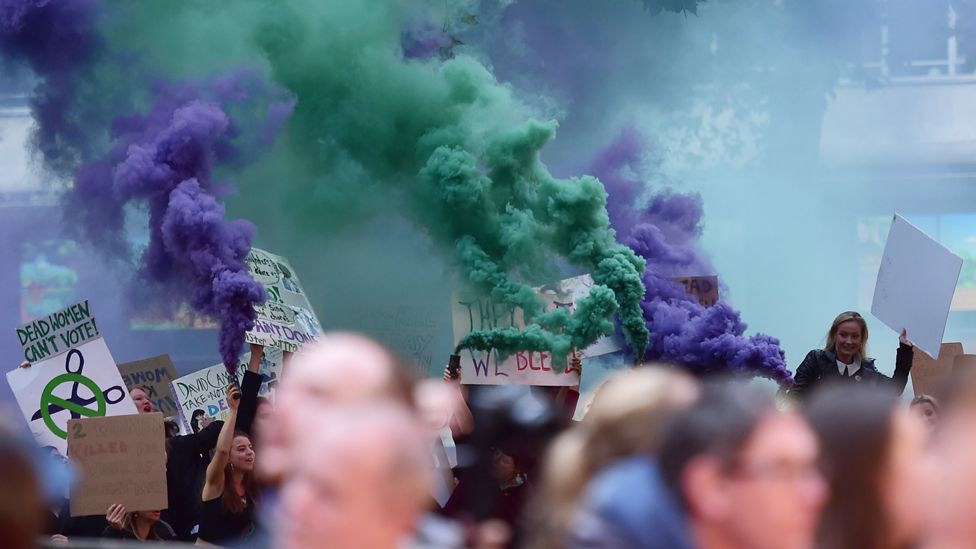 Protesters angry at what they describe as "cuts to domestic violence services" have targeted the Suffragette film premiere in London.
Some lay down on the red carpet to make their point.
The action was led by a feminist group called Sisters Uncut.
Members say they are using "suffragette methods to declare that, as long as violence against women continues, the battle for women's liberation has not yet been won".
They say "dead women can't vote".
It argues government "austerity has reduced the availability of refuges, benefits, social housing and legal aid".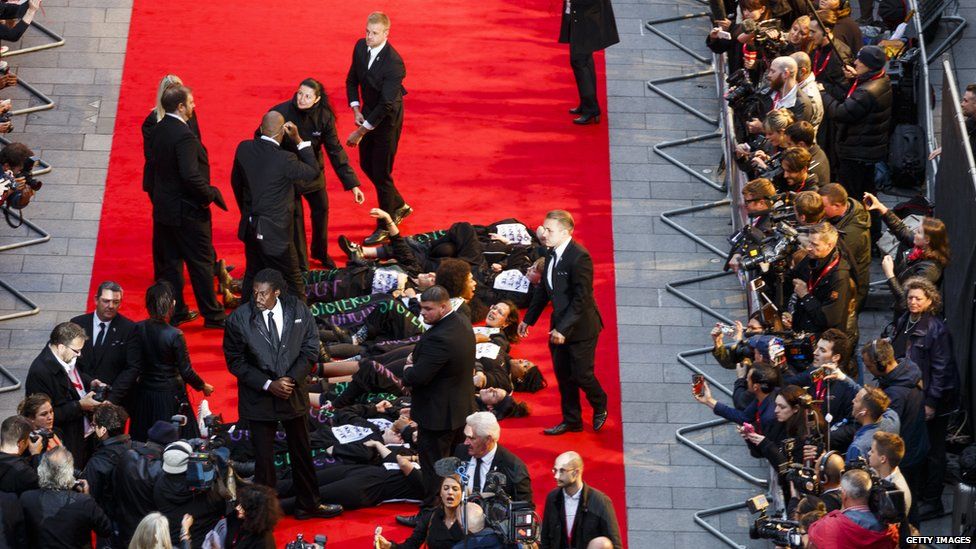 Janelle Brown from Sisters Uncut said: "We believe that all women facing domestic violence should be able to access support and safety."
Shantha Masters, a support worker from a specialist South Asian refuge, said: "I am here because I am angry about cuts to specialist services.
"But I am also here to represent - to show that all women of all backgrounds have rights and if they are not met we will take action until they are."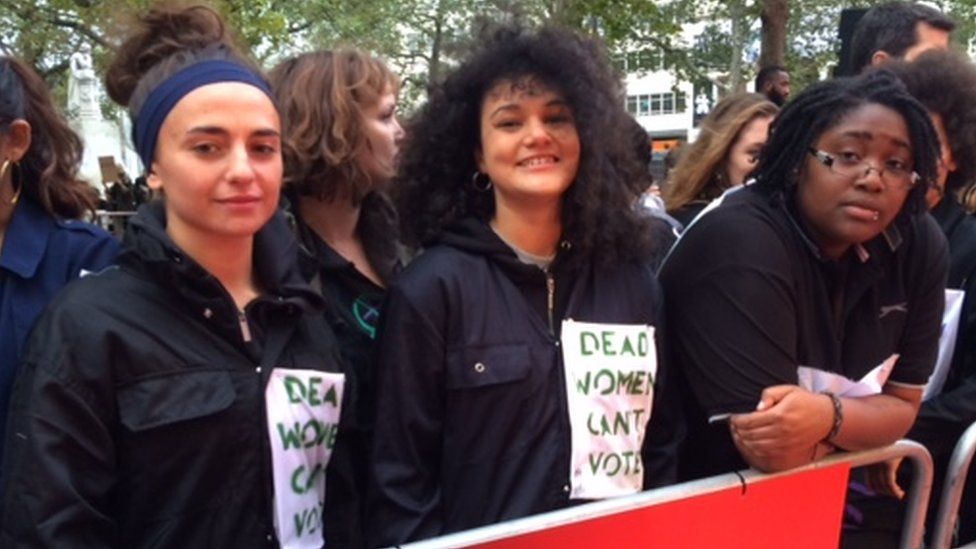 The film they have targeted stars Carey Mulligan and Meryl Streep, who hadn't arrived when the protest started.
It is about members of the British women's suffragette movement which campaigned for British women to get the right to vote in the late 19th and early 20th Century.
Did the suffragettes win women the vote?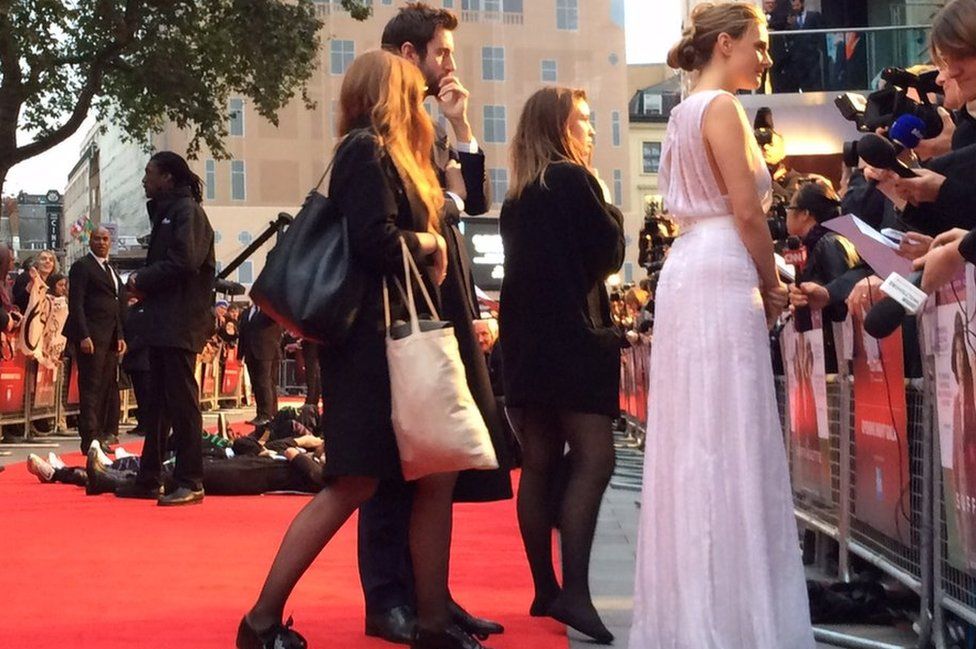 Romola Garai is also in the movie. She said: "I haven't spoken to them or seen their demands but I'm happy to see the suffrage movement is alive and happening."
Helena Bonham Carter told Newsbeat she'd never had a protest happen at one of her film premieres before but thought it was "fantastic".
"I think this is exactly what our film is about," Helena said.
"It's about if you've got something that you feel passionately about and feel that there's an injustice being done, to protest and to be heard."
Helena says she didn't see how security dealt with the protestors but added: "Hopefully a lot better than the way police dealt with the suffragettes."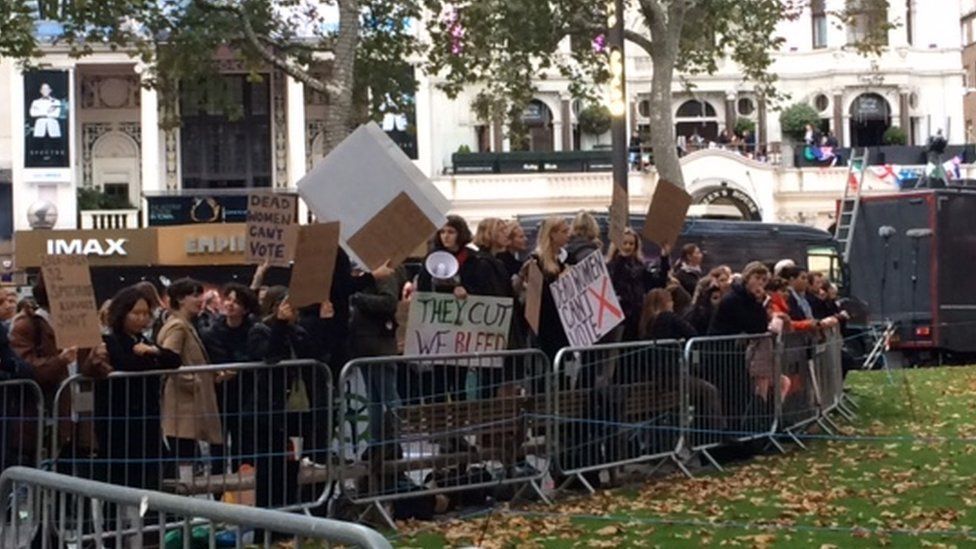 The protesters left saying they had made their point.
Lauren, who is 20 and from Denver, Colorado, was watching the stars turn up and told Newsbeat what happened.
"All of a sudden people jumped these fences and started lying down and chanting. I thought I was going to get trampled but it was actually really exciting to watch."
Previously Women's Aid, which is not part of the protest, told Newsbeat that one in six dedicated domestic violence refuges in the UK have been closed in the last 10 years due to funding cuts.
However, the government has responded by saying it's committed to protecting women, with a new "controlling behaviour" offence which carries a five year prison sentence.
There is also a scheme, introduced last year, allowing women to check their partner's criminal history and a £40m budget to tackle violence against women and girls.
A government spokesman said: "Violence against women and girls in any form is unacceptable and the government has shown its commitment to ending it."
Follow @BBCNewsbeat on Twitter, BBCNewsbeat on Instagram, Radio1Newsbeat on YouTube and you can now follow BBC_Newsbeat on Snapchat