10 questions on Syria - and why Russia is dropping bombs there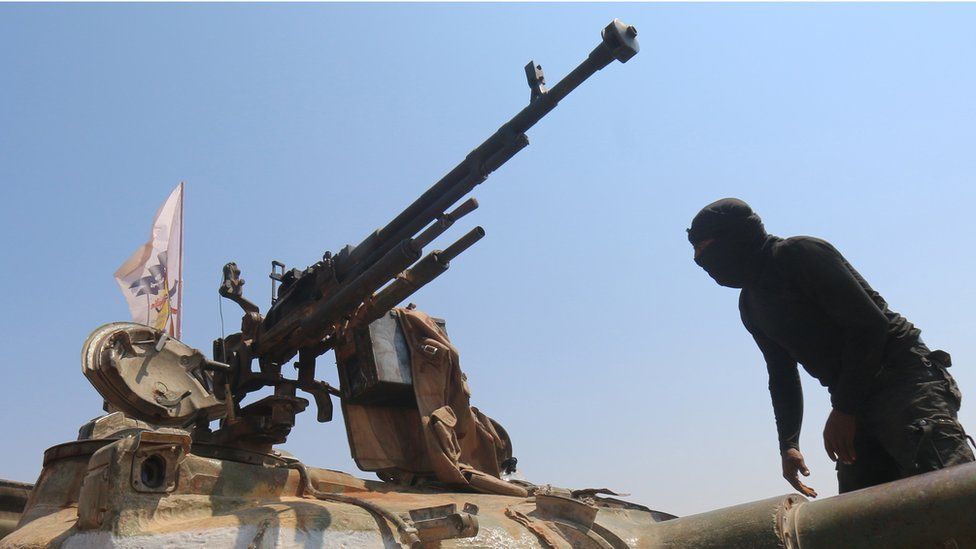 The war in Syria is one of the most complicated conflicts of the 21st century. We explain who is fighting who - and why Russia is now calling the shots.
Syria is a country of lush countryside, high mountains and desert and sits between Turkey, Iraq, Jordan and Lebanon.
Its capital Damascus was once described as "one of the most enticing destinations for travellers in the Middle East" by the Rough Guide.
But Syria is now at war, with hundreds of thousands of ordinary people caught in the crossfire.
Who is fighting who?
Pro-democracy protests kicked off in Syria just as they had done across other countries like Tunisia and Egypt during the Arab Spring. The government responded angrily to the demonstrations, in some cases firing on protesters and killing them.
This led to wider clashes between people who thought the crackdown was wrong and those who were loyal to their leaders.
Some soldiers left their jobs to join a rebel group called the Free Syria Army (FSA). This group was not extremist. It became the main opposition to the government - and received some support from the US and UK.
But today there are more than 1,000 different armed groups fighting in Syria, including so-called Islamic State (IS) who are well known for their black flag. IS is a radical militant group which has carried out torture and beheadings against anyone who opposes the group.
Some militia fighters from Iran are also in Syria, on the side of pro-government forces.
Who is bombing who?
For the last year the US has been bombing IS and other jihadist groups in Syria as part of an international joint force, including support from the UK. These air strikes have specifically avoided hitting targets that might help Syrian government forces, following the violence against civilians.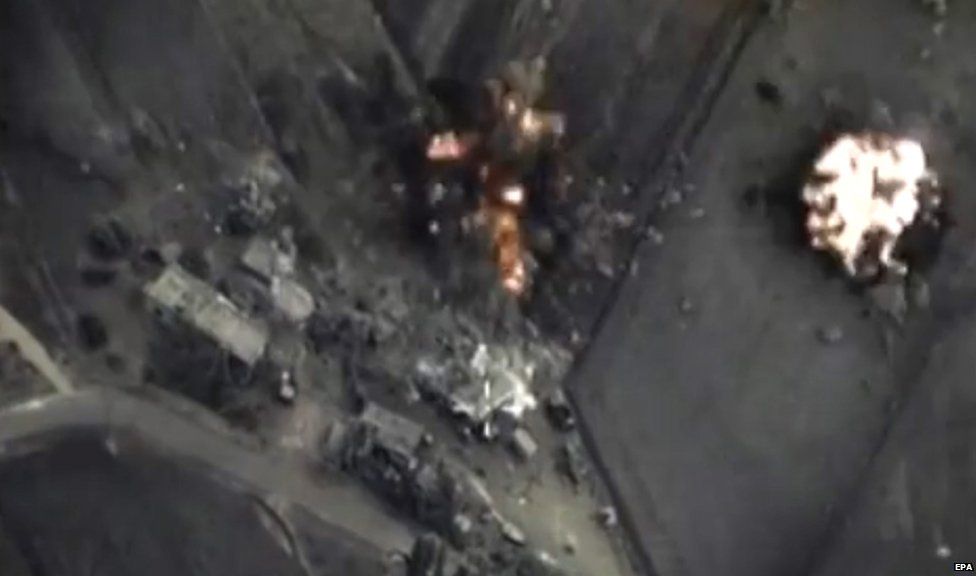 Russia supports the government in Syria and has supplied the Syrian military with weapons. In September Russia began air strikes against rebels, saying IS and "all terrorists" were their targets.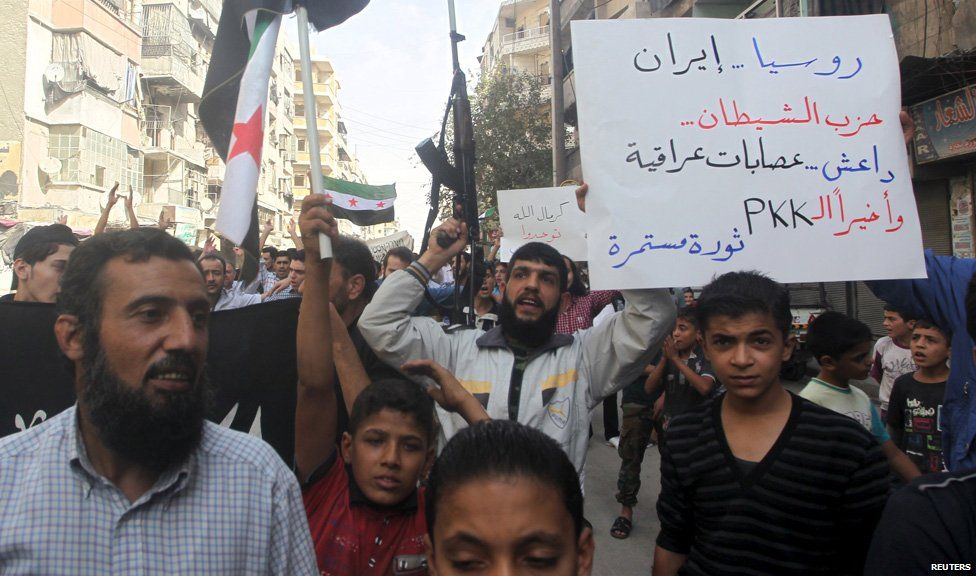 Why is everyone talking about Russia at the moment?
Because Russia's new bombing campaign in Syria is a "recipe for disaster" - if you share US President Barack Obama's view.
As well as killing Islamic State militants, Russia's bombs have also reportedly hit "moderate" fighters like those in the FSA.
Moscow has a naval base at the Syrian port of Tartous on the Mediterranean coast and President Putin is keen to protect this.
But mostly he's keen to show he supports the Syrian government's desire to push back all rebel fighters - treating IS and the FSA pretty much the same.
Tell me again, who is Bashar-al Assad?
President Assad took over from his dad as the leader of Syria, aged just 35, in June 2000. Before that he was an army doctor and in the early 1990s he trained in London as an eye specialist.
British tourists flicking through the Rough Guide in the mid-2000s would have read that his move into Syria's top job happened "without any obvious show of discontent".
Eleven years later his violent response to protests changed all that - and his alleged use of chemical weapons against his own people caused international outcry.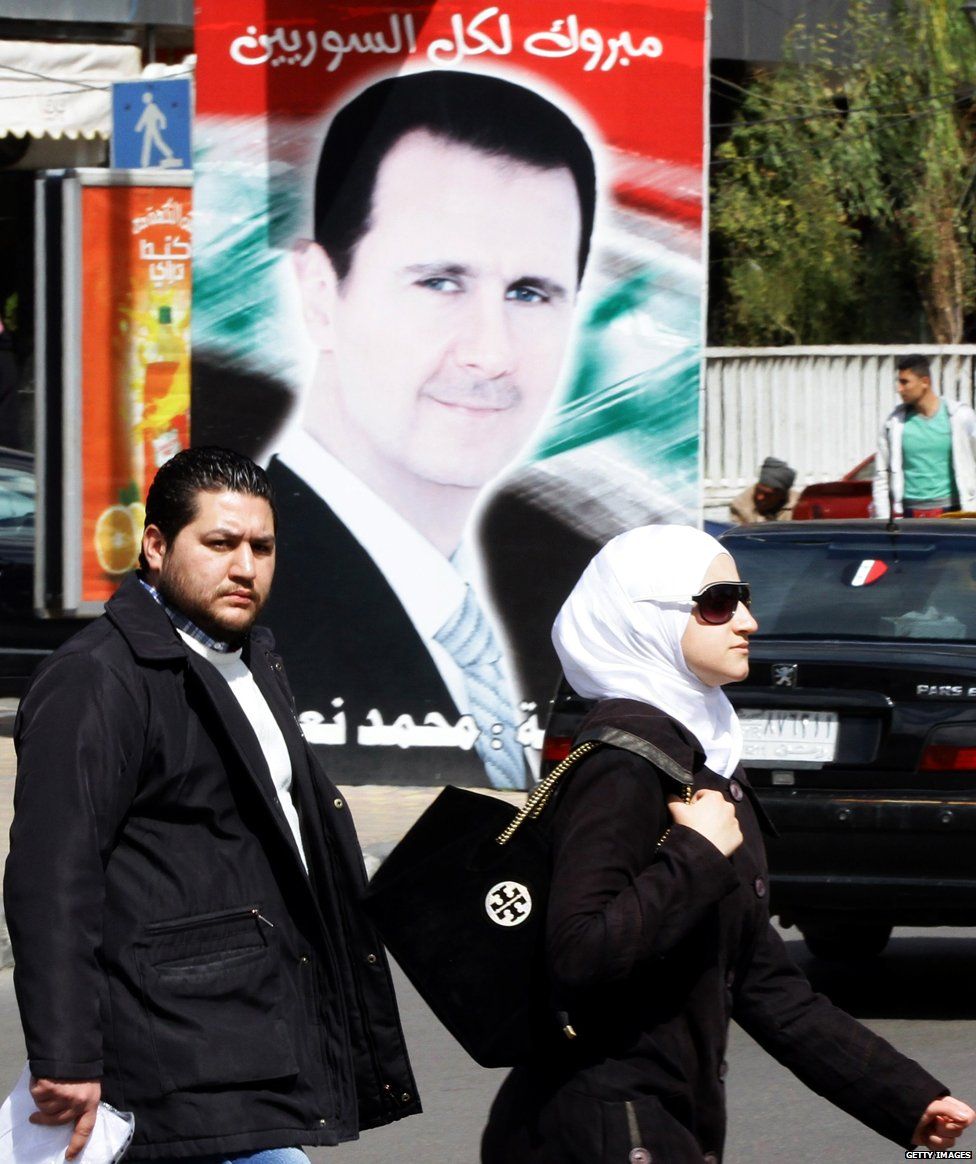 Who are his mates?
Vladimir Putin is his number one friend. Russia has previously blocked formal international criticism of Assad by the UN Security Council, which aims to uphold peace and security around the world.
Iran and Syria are strategic allies and in the past shared an enemy in Iraqi dictator Saddam Hussein.
It won't work
Barack Obama on Russia's intervention in Syria
Iranian security and intelligence services have advised and helped the Syrian military.
And Hezbollah, a guerrilla group supported by Iran, has helped push back rebel fighters.
What else has Obama said?
Barack Obama reckons his Russian opposite number Vladimir Putin is making a big mistake by treating all armed opponents of President Assad as "terrorists".
"We're not going to co-operate with a Russian campaign to destroy anyone who is disgusted and fed up with Assad."
Of Russia and Iran's support for Assad, Obama says: "It won't work. They will be there for a while if they don't take a different course."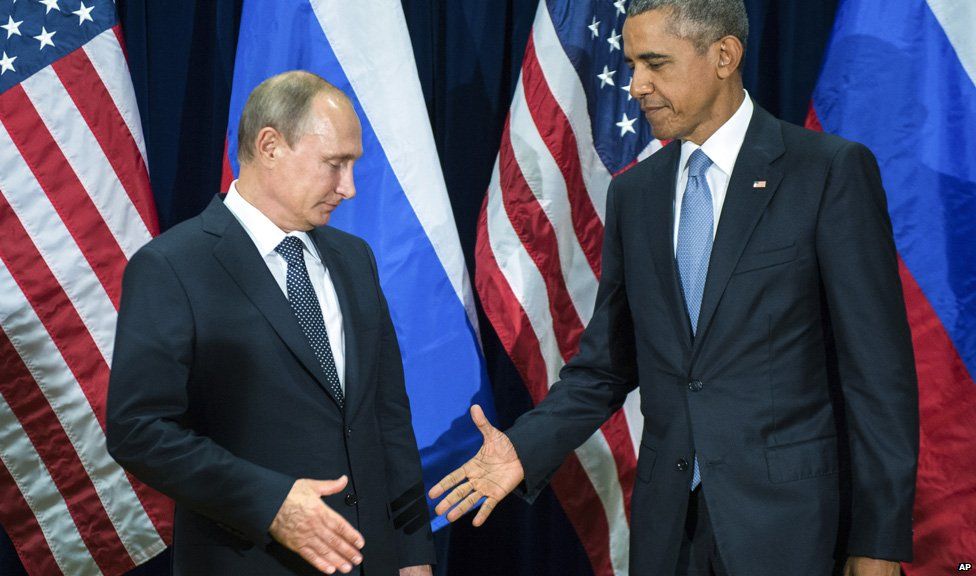 And what does David Cameron say?
The prime minister admits world leaders are "miles apart" in the search for a solution to the Syria crisis.
He agrees with President Obama that Assad must make way for a "new Syria with a different leader".
The PM also said Western governments had not done enough to train moderate opposition forces in Syria.
How long has the crisis been going on?
The whole civil war is heading for its fifth year, with the first unrest taking place in spring 2011.
Islamic State militants made their land grab in Syria and Iraq in summer 2014 and by March 2015 had gained control of territory occupied by 10 million people.
Russia's air strikes in Syria began at the end of September 2015.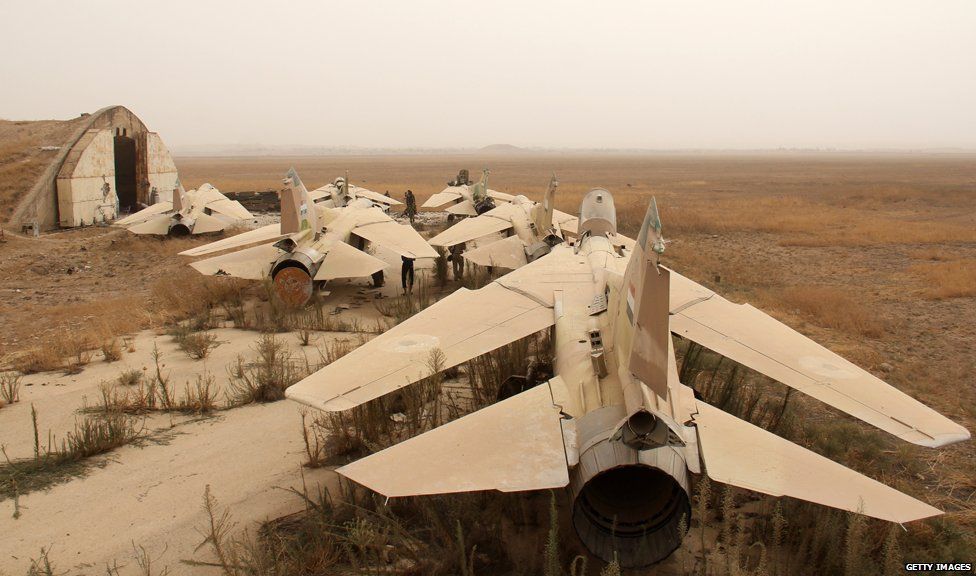 How many civilians have been affected?
The United Nations estimates that more than 200,000 people have died so far. As many as nine million Syrians have fled their homes. Three million are in neighbouring countries, some in vast refugee camps.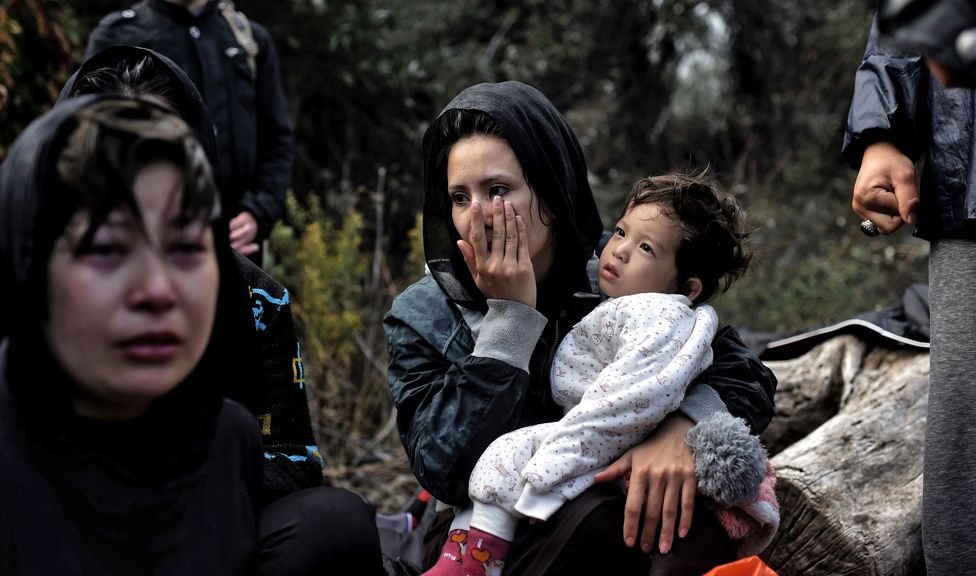 Is this the cause of the migrant crisis?
Yes and no. Around 150,000 Syrian refugees have come to Europe, with 33,000 so far granted the right to resettle. The majority are setting up new lives in Germany.
Some of those trying to come into Europe are migrants from elsewhere like Libya and other parts of north Africa.
Many are fleeing persecution, others have left their families to find better work.
David Cameron has promised to allow up to 20,000 Syrians to come to Britain over the next five years. That's the same as the population of UK towns like Dorchester, Aberystwyth or Stowmarket.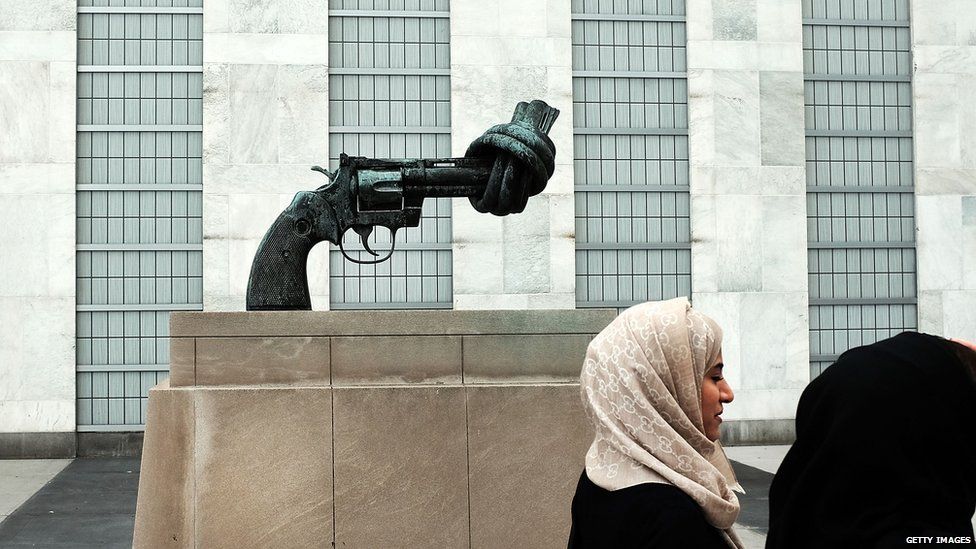 Follow @BBCNewsbeat on Twitter, BBCNewsbeat on Instagram, Radio1Newsbeat on YouTube and you can now follow BBC_Newsbeat on Snapchat