Cereal cafe attacked by 'affordable housing' protesters in east London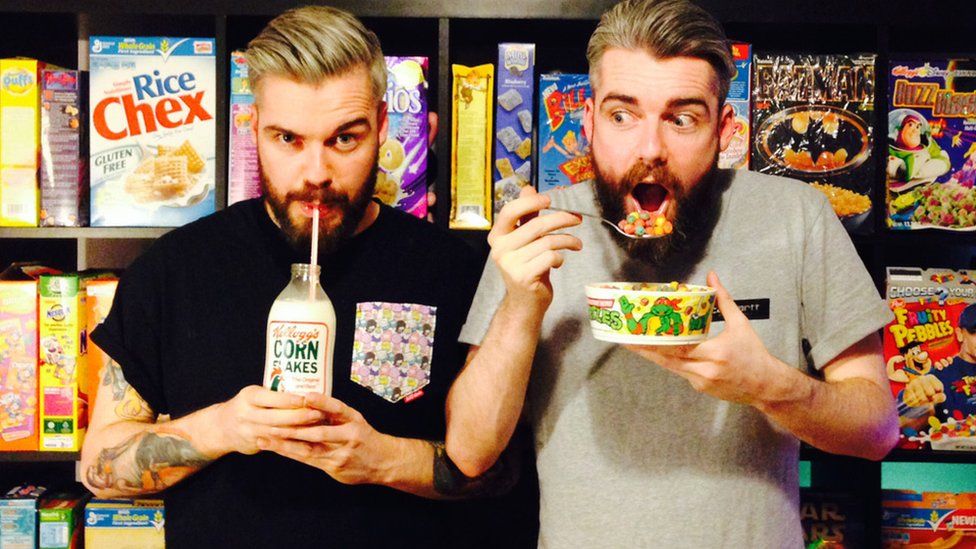 A cafe in London that only serves cereals has been attacked during a protest about affordable housing.
Paint was thrown at the Cereal Killer Cafe and the word "scum" was sprayed on one of its front windows.
The Metropolitan Police says one of its officers was injured by a bottle and one person was arrested on suspicion of causing criminal damage.
"The mob won't win, wearing masks with pitch forks and torches, it's 2015 #hatecrime," tweeted the cafe's owner.
The owners later tweeted: "We started a business to deliver an experience to cereal lovers, and have been thanked by local businesses for bringing tourists to the area."
As well as the Cereal Cafe, the window of a branch of Marsh & Parsons estate agents was also cracked during the "anti-gentrification" protests.
A Met Police statement said: "On Saturday, 26 September, police officers dealt with disorder arising from a pre-planned even in the Shoreditch area.
From around 20:00hrs, a criminal element within a group of several hundred people threw missiles and caused criminal damage to shops and other businesses in and around Brick Lane, E2.
"One officer suffered a minor injury to his face as a result of a bottle thrown.
"One person has been arrested on suspicion of criminal damage."
The demonstration was organised by a group called Class War, which was protesting against unaffordable London housing.
A statement on their website reads: "We don't want luxury flats that no one can afford, we want genuinely affordable housing... we want community.
"Working class people are being forced out of our homes but we won't go out without a fight."
The Cereal Killer Cafe was opened by brothers Alan and Gary Keery in Brick Lane last November.
One of the owners were questioned by Channel 4 News shortly after opening but cut the interview short after being pushed on whether local people could afford its prices.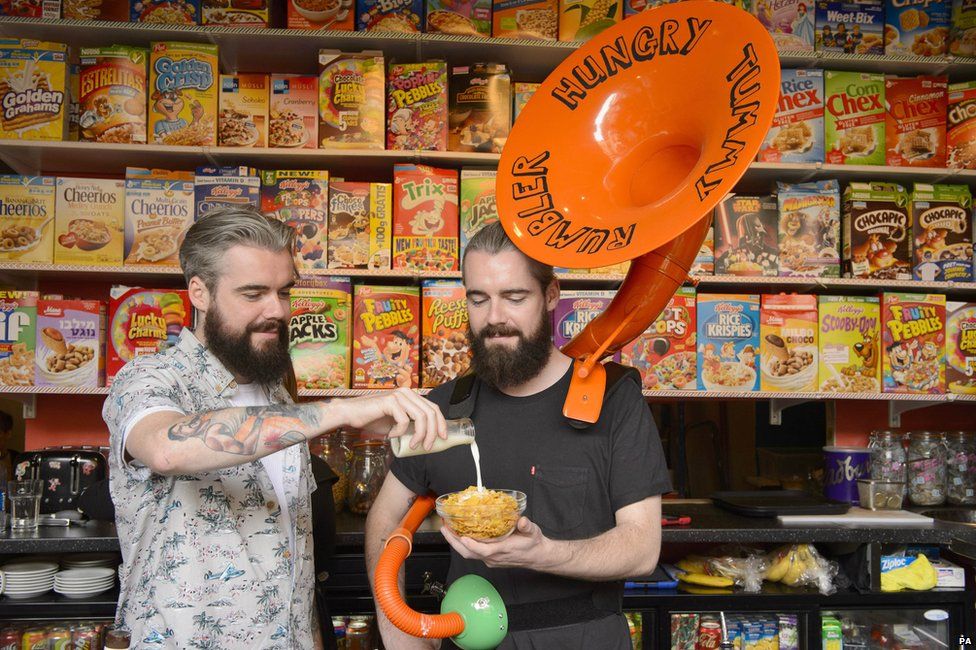 Imported American cereals range from £3 per bowl to £4.40 with premium milk and toppings extra. It also serves toast and drinks as well as cereal cocktails.
Also open in London are a board game cafe, a cat cafe, a dog cafe, a milkshake bar and a cafe that charges customers based on how long they stay rather than what they eat or drink.
Follow @BBCNewsbeat on Twitter, BBCNewsbeat on Instagram, Radio1Newsbeat on YouTube and you can now follow BBC_Newsbeat on Snapchat