Migrant crisis: All I have is my football shirt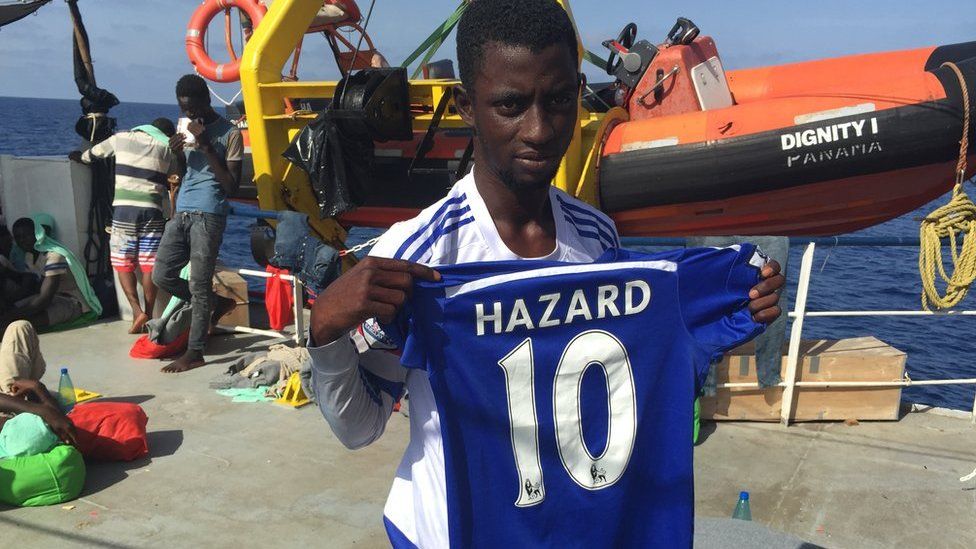 "What about Liverpool v Man U, what was the score?"
Not one of the questions we were expecting as people were plucked from a grey rubber dinghy floating helplessly in strong Mediterranean waves.
Yet there we were, talking football to several of the 239 people saved by refugee rescue ship Dignity I.
Their tired, terrified faces from just a few hours before, now beaming at the very mention of a name like Steven Gerrard or Cristiano Ronaldo.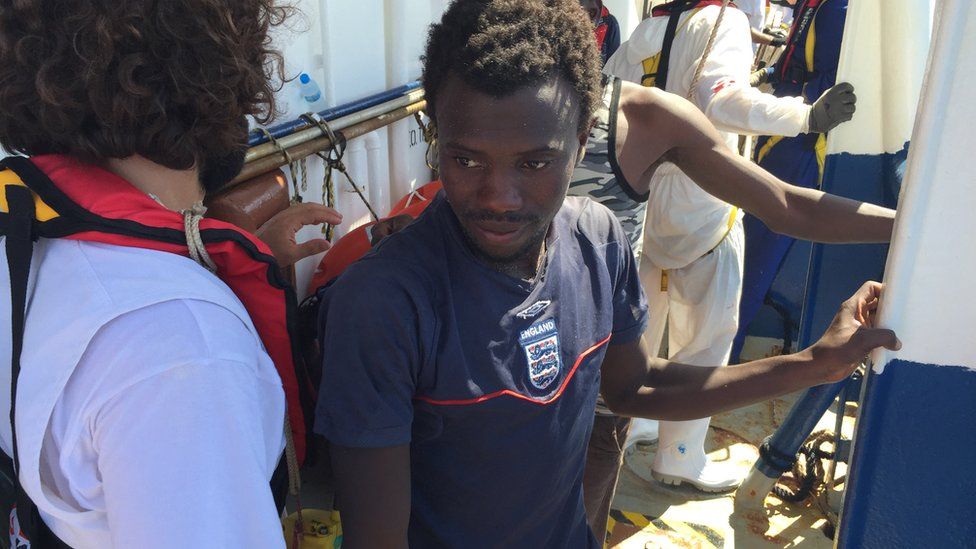 One 18-year-old from Mali told us he dreams of playing for Chelsea and wants to get a trial in Italy when the boat arrives there.
While some dream of playing, others on board Dignity I are just happy to have their favourite team's shirt with them.
Ibrahim, Real Madrid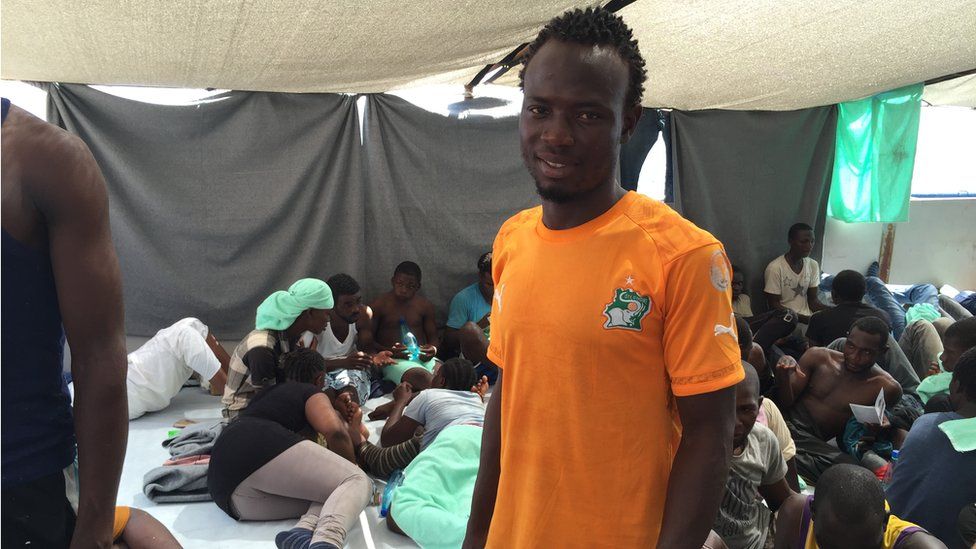 The 18-year-old from Mali, who was wearing an Ivory Coast shirt, names Cristiano Ronaldo as his favourite player.
Although he admits keeping an eye on Chelsea's results, he says he supports Real Madrid.
"My journey was not easy and we were very lucky to have been saved by the ship - literally all I have is this shirt," he says.
"I was held captive in Libya and my friend back in Mali had to send me money so I could pay to get out and make this boat journey."
Salile, Chelsea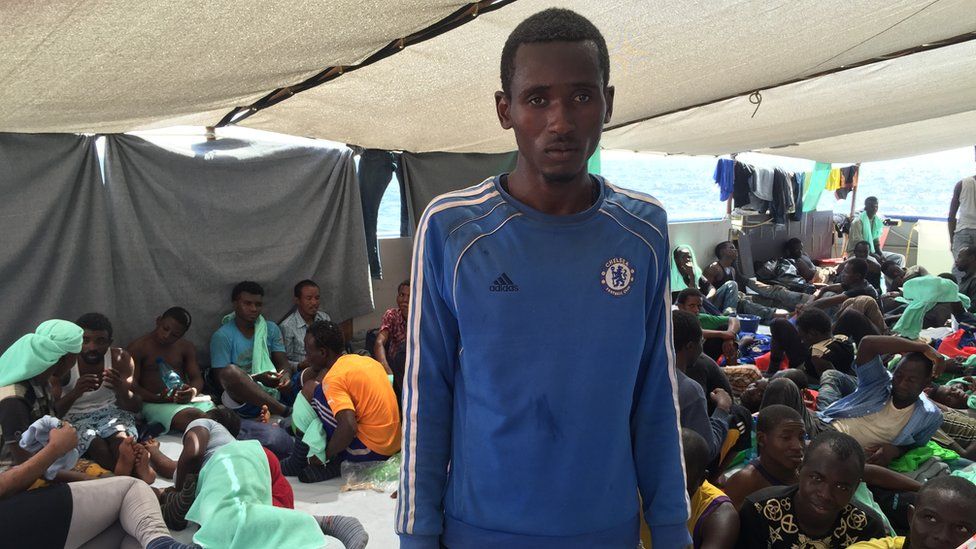 "Chelsea is my team, man," says the 18-year-old. He likes watching their Belgian midfielder Eden Hazard and plays a bit himself, but he's from Guinea Conakry and we struggle with the language barrier.
Although he smiles when we point to his Chelsea badge.
Moussa, Borussia Dortmund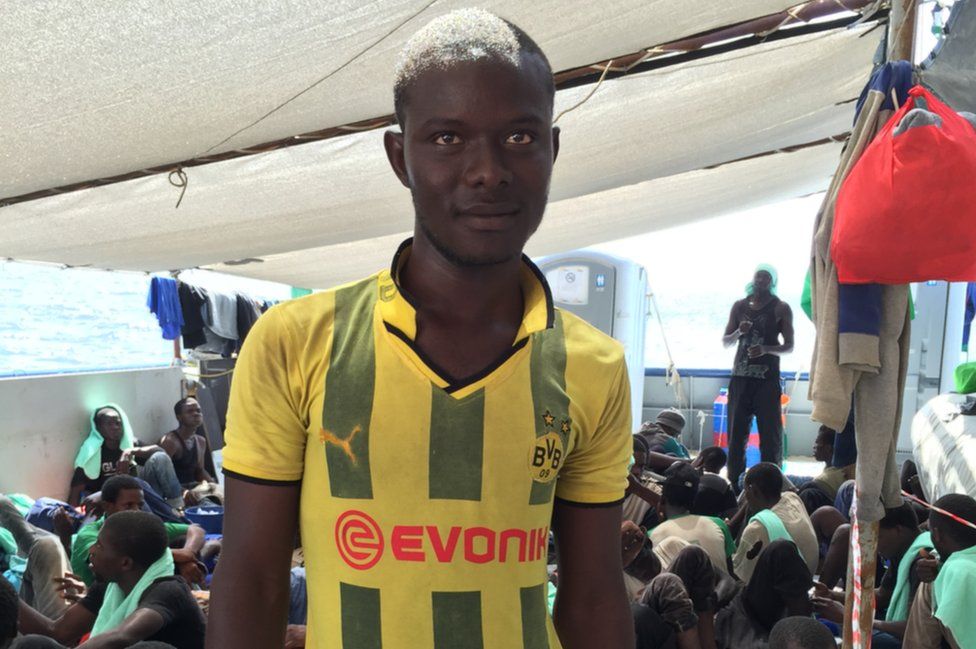 Despite supporting the German side, the 24-year-old from Mali cites Real Madrid's Cristiano Ronaldo as his favourite player.
We don't spend long talking - "my journey was very tiring," he explains.
"The trip from Mali to Libya took me 40 days and then I took the boat across the sea and I was very afraid."
Modibou, Chelsea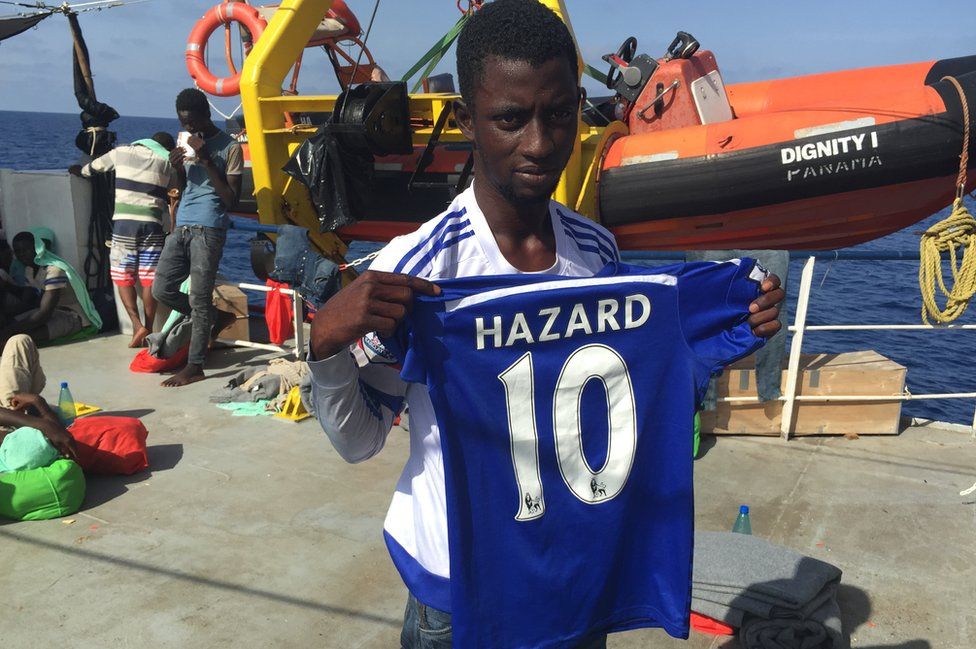 "I love John Terry," says the 22-year-old from Mali.
His smile spreads across his face as we mention Jose Mourinho and Stamford Bridge, but drops when we ask about his journey and reasons for fleeing Africa.
"I was working in Libya but I needed to get out, it was not good, I didn't think I'd survive," he says.
Mohammad, Real Madrid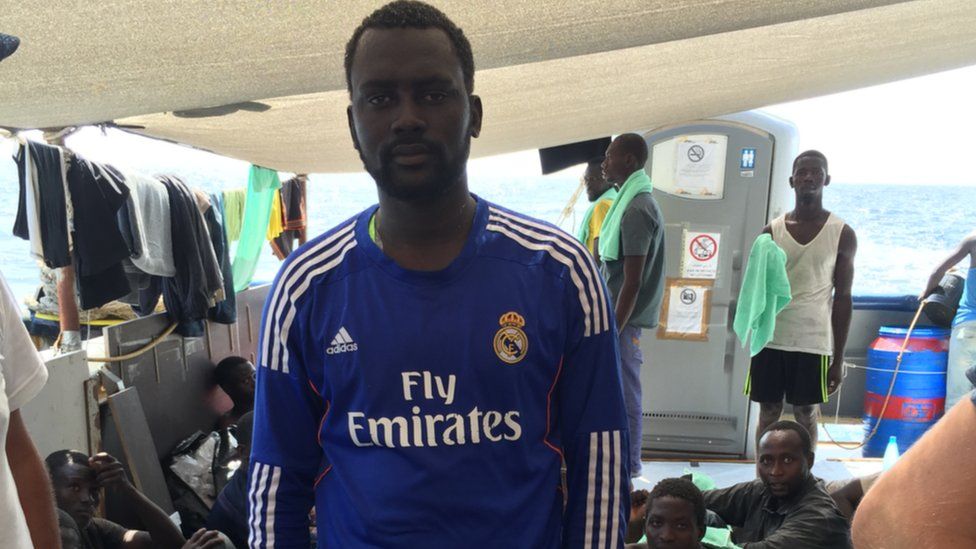 "I like Cristiano Ronaldo" ... a pattern is emerging.
The 28-year-old from Mali explains his journey has been "tough".
"I thank God that I am alive, I've travelled from Mali to Niger and then onto Libya to get a chance to flee the crisis in Africa."
"I'm glad I have my football shirt."
For some on board Dignity I, it is all they have right now.
Follow @BBCNewsbeat on Twitter, BBCNewsbeat on Instagram and Radio1Newsbeat on YouTube and you can now follow BBC_Newsbeat on Snapchat