David Beckham defends giving four-year-old daughter dummy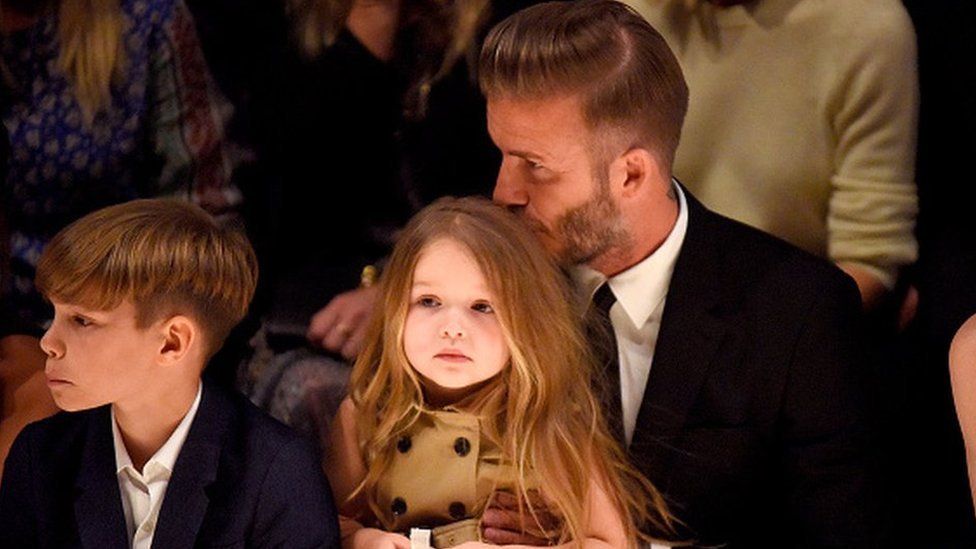 David Beckham has hit out at the Daily Mail for questioning whether his four-year-old daughter should still be using a dummy.
The paper published an article asking: "Why does Harper, four, still use a dummy?" It included a photo of the Beckham's youngest child with a pink dummy in her mouth.
The paper said that using a dummy could cause her "speech or dental issues".
The dad-of-four reacted angrily on Instagram, defending his parenting.
The former England footballer said: "Why do people feel they have the right to criticize a parent about their own children without having any facts ??
"You have no right to criticize me as a parent."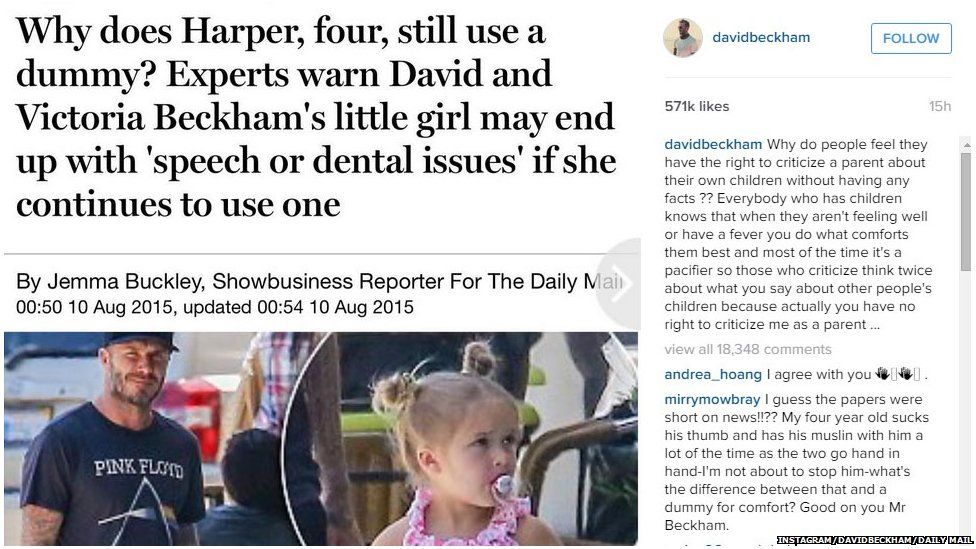 The Daily Mail piece quoted "parenting experts" who said the Beckhams "risked stunting their daughter's speech and were putting her teeth at risk of damage by letting her continue to use one."
Clare Byam-Cook was one of the experts mentioned. "I can't believe she is still using a dummy," said quotes attributed to her.
I can understand that [David Beckham's] cross.
Clare Byam-Cook
Dummy expert
"Many dentists will agree that dummy use at this age really is not good."
In response, Beckham said: "Everybody who has children knows that when they aren't feeling well or have a fever you do what comforts them best and most of the time it's a pacifier."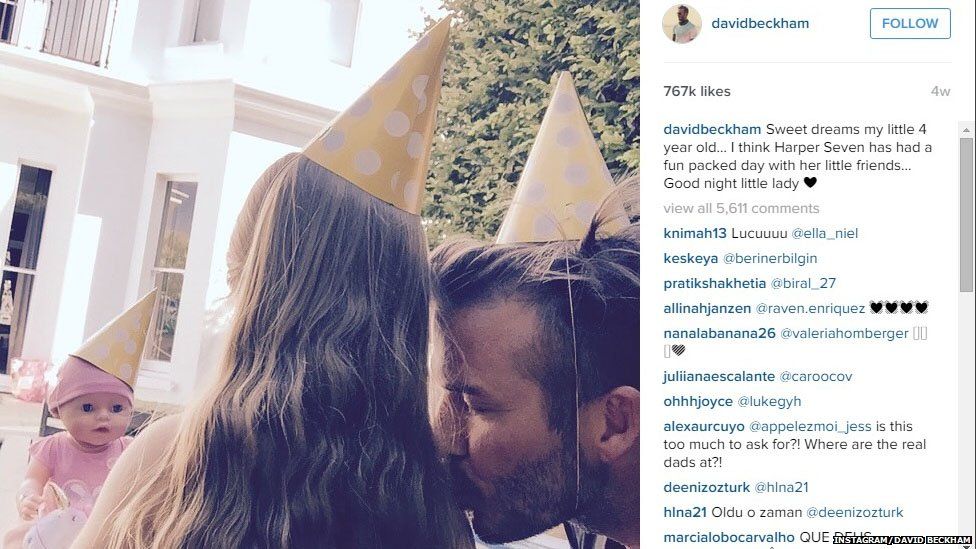 However, speaking to Newsbeat, Clare Byam-Cook says she feels she was misrepresented in the Daily Mail article.
"I am such an admirer of David and Victoria Beckham. I think they are great parents and role models. I can understand that he's cross."
She is a trained nurse and midwife and says she's advised a number of celebrity clients, including Kate Winslet and Kate Beckinsale.
"I think it is so wrong for people like me to pass judgement on their parenting. His daughter wasn't very well and it's her comfort.
"However, I still think aged four walking down the street that she should get her comfort from her father's hand instead. Maybe at home is where you should give them the comfort of their dummy, blanket or whatever."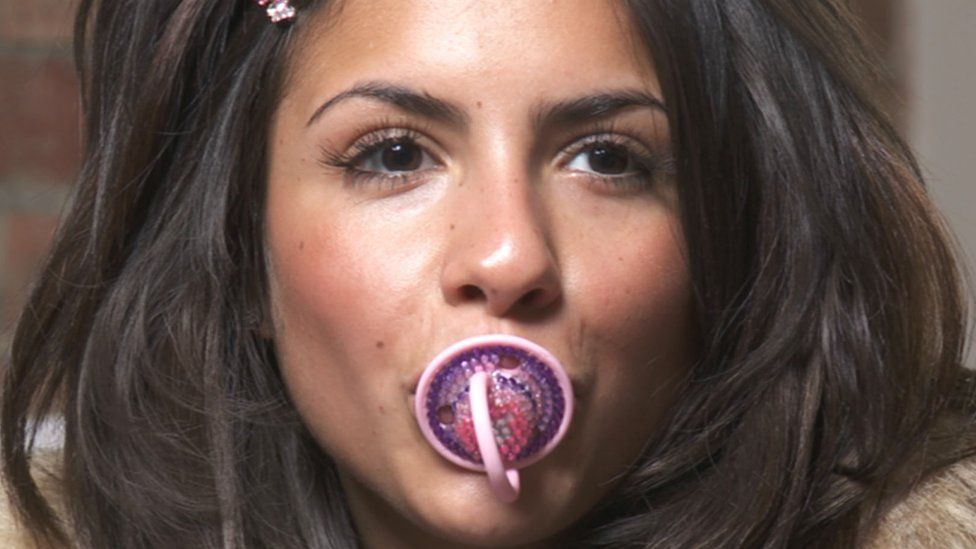 The British Dental Association also recommends that children should cut down on dummies once they're aged one.
The BDA website says: "Dummy sucking is associated with a number of oral health issues."
"Current evidence suggests that for most children there is no reason for concern unless the habit is prolonged or inappropriate. Repeated sucking of a dummy over long periods ... may necessitate corrective treatment."
Dummy sucking is associated with a number of oral health issues
British Dental Association
On Newsbeat's Facebook page there has been a lot of support for David Beckham's comments.
Rebecca Brereton from Stoke-on-Trent wrote: "How they choose to raise their children is nothing to do with anyone else."
Jack Booth thinks David Beckham was right to say something: "It's just an excuse for busy bodies to get their stupid opinions in."
But some think that the Daily Mail had a point.
Cordelia Lemmon said: "They are role models and as such people follow their lead especially in the UK - where four-year-olds start school."
You can still give your thoughts by following @BBCNewsbeat on Twitter, BBCNewsbeat on Instagram, Radio1Newsbeat on YouTube and you can now follow BBC_Newsbeat on Snapchat