Dairy farmer: Why I'm getting out of the business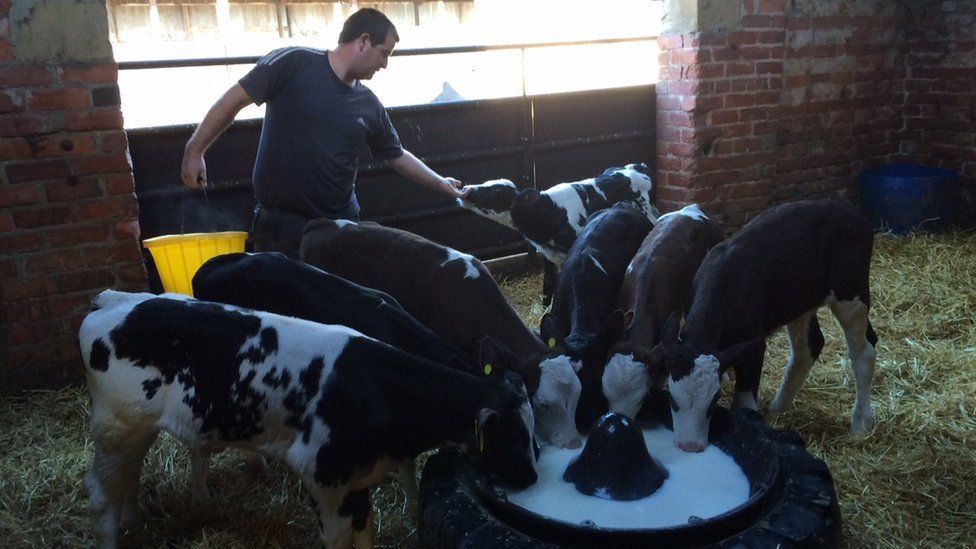 Richard Craggs is a dairy farmer. But not for much longer.
His North Yorkshire farm has been in the family for 50 years, but in February the last milking cows will be sold and he'll start rearing animals for beef instead.
"This dairy crisis has actually killed us, we're having to go out," he says.
The 31-year-old has been organising protests against the low prices farmers get for their milk.
Farmers are going into supermarkets, buying all the milk on the shelves, and either giving it away for free to customers or selling it at what they think is a fair price and giving the money to charity.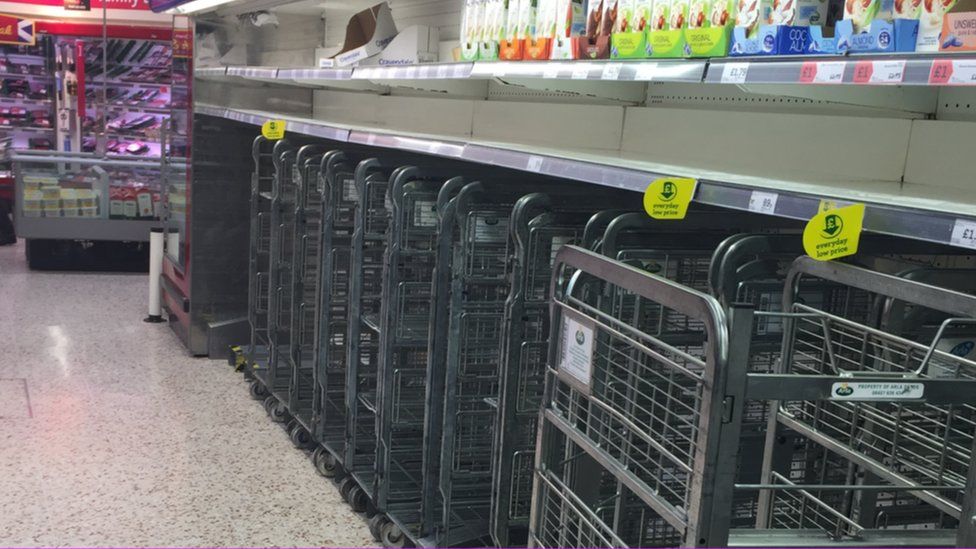 A year ago dairies paid farmers nearly 32p for a litre, now they pay around 24p - less than it costs to produce.
Retailers say too much milk is being produced and that's what's forcing the price down.
Richard said: "It costs us 30p to produce a litre of milk and some farmers are only getting 15p, and our farm produces 3,500 litres of milk a day.
"Our vet bills are over £2,500 a month and we are cutting back on paying ourselves because you don't want to let the animals suffer.
"We've nurtured them and every one is like a pet - there are names for a lot of them. To think that they are going to have to go down the road because you can't get paid is tragic.
"My great-grandfather milked, my grandfather, my father, my brother and me - and now I have a 18-month-old daughter and another on the way, but what will I have to pass on to my children?"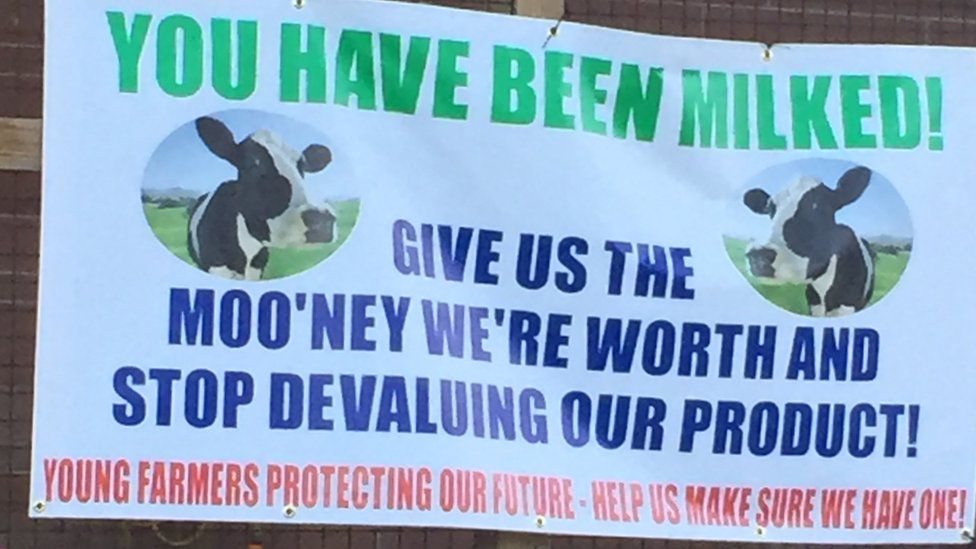 'Milk trolley dashes' have been happening all over the UK, and Richard has organised some locally.
"It's liberating and it feels like you've got somewhere to channel your emotions," he says.
"We're not trying to stop people getting their milk, we are just trying to send a message that this is what's going to happen in six to 12 months because you can't import liquid milk because dairy tankers aren't refrigerated they're just insulated."
On Richard's last dash he bought around 500 pints of milk, took them outside and asked people to make a donation to the Great North Air Ambulance at what the protesters think is a fair price for milk.
"We suggested £1.50 for four pints, and everyone was more than happy to pay that - and that's what we are trying to get across to supermarkets.
"We are fully intending to take things a lot further if needs be after these trolley dashes - our livelihoods are at stake."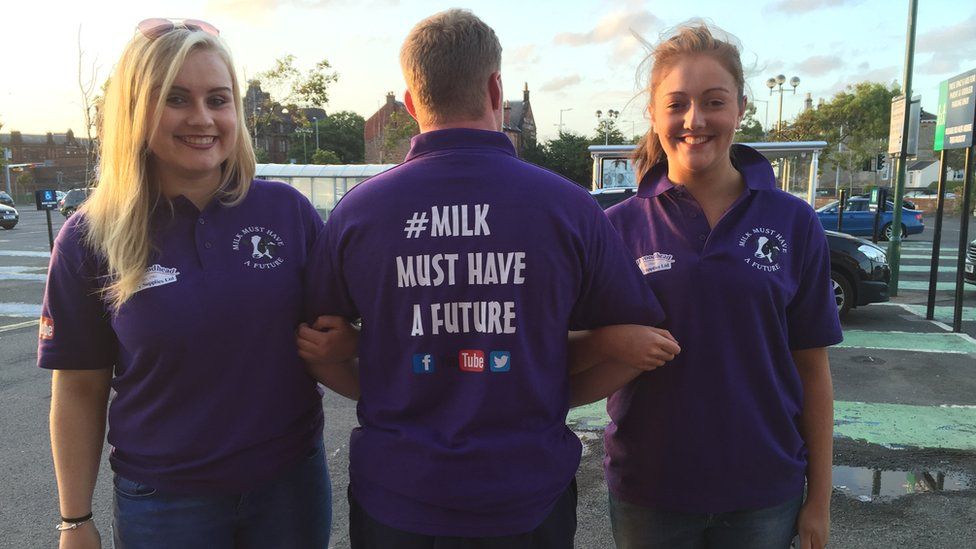 What have the supermarkets said?
Laura Blumenthal from the The British Retail Consortium, the leading trade association for UK retailing, told Newsbeat: "There's no connection between the price of milk and the price that retailers pay farmers for their milk. I think that's the main thing we need to get across.
"It's actually retailers that are investing in the price cuts and the retail industry actually pays a fair price.
She added: "The problem is there's just too much milk in the world and just not the demand."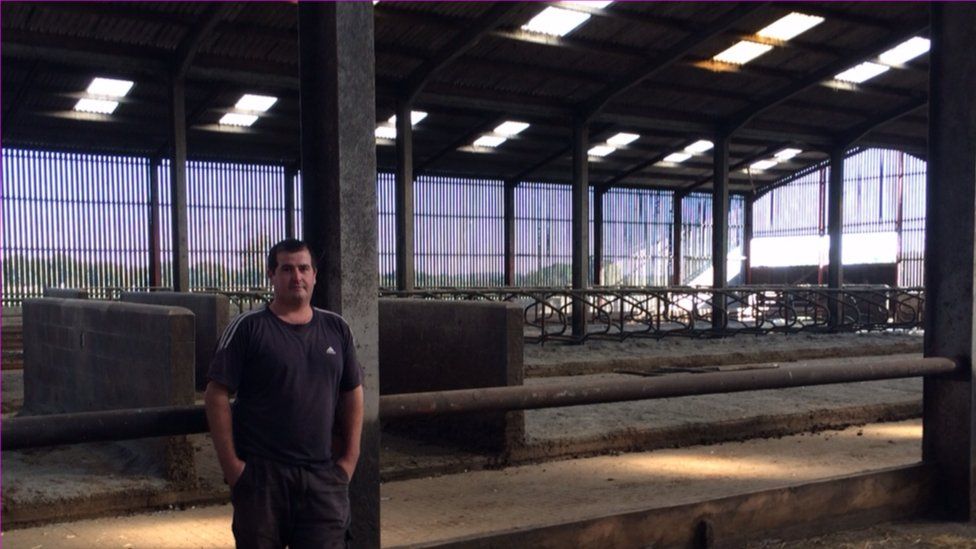 Among the big retailers we approached, Sainsbury's and Asda denied there was a link between shop prices and farm gate prices.
A spokesperson for Morrisons said the company was disappointed by farmers' protests in its stores but has agreed to meet with some in a board meeting on Tuesday.
The spokesperson added: "We want to reiterate that we are not seeking any further reductions in milk prices and we will continue our talks with the NFU (National Farmers Union), in a constructive manner, to finalise our agreed plan of action."
Follow @BBCNewsbeat on Twitter, BBCNewsbeat on Instagram, Radio1Newsbeat on YouTube and you can now follow BBC_Newsbeat on Snapchat